The Lagos State Government has placed a ban on commercial motorcycles (okada) and tricycles (keke) in the state.

The okada ban which took effect from February 1 has caused a lot of anguish to residents of Lagos. There have been massive protests, both online and offline, as Lagosians lament over the difficulty people are facing in getting to their destinations.
The most affected areas have seen massive crowds at bus stops and people struggling to fit into the few buses they could see.


The ban has also caused massive trekking and some individuals resorting to the use of animals for transportation.
Here are the areas in Lagos massively affected by the okada ban and where massive trekking has also been recorded:

5. Yaba

Yaba is one of the busiest areas in Lagos Mainland. With many shops, schools and companies scattered around and the presence of a big market (Tejuosho Market in Yaba), the area receives heavy traffic of both people and vehicles.
Before the ban, commuting to and fro and around Yaba is efficiently handled by Keke Napeps and okada bikes who go from anywhere to Onike, Iwaya, Sabo, Oyingbo, Bariga, etc.
Because there are not close to enough buses to replace what the bikes and keke do, Yaba residents have been left confused and groaning.

4. Surulere

Surulere is another densely populated Lagos Mainland area where over more than half of the residents depend on keke and okada to get to their various destinations each day.
Since the ban, heavy crowds are seen in Surulere major bus stops, waiting for buses that are never enough. People also have to trek from their homes to the bus parks because there are no more bikes or keke to carry them.

A resident of Surulere shared this:

" I trekked from Doyin Bus Stop to Bode Thomas this morning where I eventually got a shuttle bus for N150 instead of the normal N50. Sanwo-Olu said he has a plan of releasing buses to curtail the difficulty caused by the ban — he should do fast because students and workers are not finding it funny. I even had to let some school children sit on my lap as they were late to school and the available buses were very few."

3. Ikeja

Ikeja is Lagos State's seat of government and also one of its most populated areas. Lagos State's busiest technology market (Computer Village Ikeja) is located here, coupled with shops, hotels, restaurants and companies that run in their hundreds.
Getting around in Ikeja was usually facilitated by the use of bikes and keke, but since the ban Ikeja residents have seen a lot of hardship in getting to their destinations.

2. Obalende – Victoria Island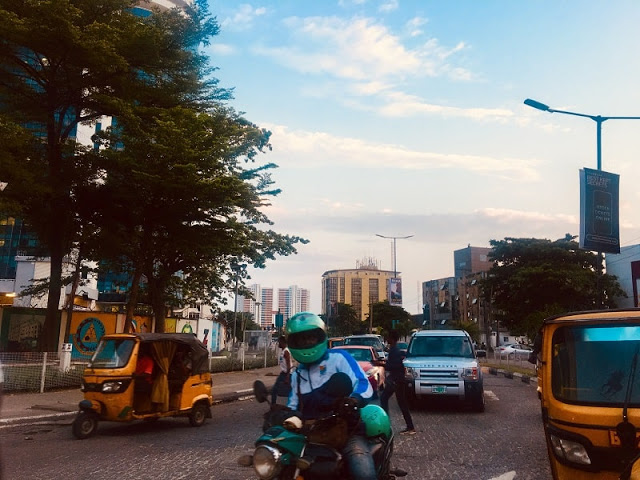 Obalende marks the entry into the Island parts of Lagos from the Mainland. Most buses coming from Mainland Lagos stop here where passengers in their hundreds get off and use either Keke or bike to get to their destinations in Victoria Island or the Ikoyi areas.
Since the ban, massive crowds of people are seen every morning in Obalende desperate for a way to get to their destinations. Some of them eventually resort to trekking, getting to their offices all sweaty and exhausted.

1. CMS – Marina

Just like the Obalende – Victoria Island area, this is another Lagos Island area duly serviced by commercial tricycles (Keke Napeps).

A victim narrated this story:

"I went through hell this morning trying to get a bus to Eko Hotel from CMS. On a regular day, I take a ₦100 or ₦150 bus to Eko Hotel, but on getting to the bus stop this morning, it was an ugly sight. I eventually paid ₦500 to get to Eko Hotel.
I honestly hope something is done soon to help the masses. A BRT bus came along while we were waiting and upon seeing the kind of crowd at the bus stop, he decided to help and asked us to come in.

At the point of payment, the officials said the ticket available was for ₦250 and people started retreating because we were already used to paying ₦100.

The BRT driver said he only had tickets for Ajah and that he just wanted to follow Eko Hotel and drop us off. People couldn't pay and we watched an empty bus leave the terminal. It would not have been so if the kekes were there as they normally were."