by Staff writer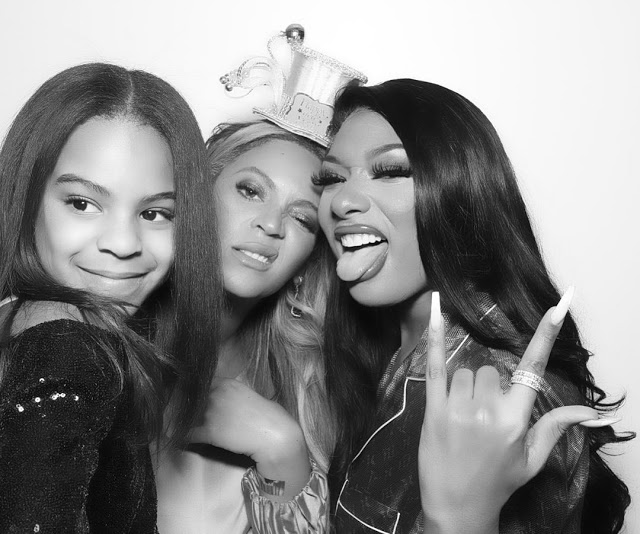 Beyoncé's 8-year-old daughter Blue Ivy has been in the face of several derogatory comments in the media before, most of them being about her close resemblance to her father, Jay Z.
Journalists K. Austin Collins and Violet Lucca got it hot from author and activist Mikki Kendall when they recently made mocking comments about Blue Ivy's looks.

It all started when rapper Megan Thee Stallion shared a picture she took with Beyoncé and Blue Ivy at a New Year's Eve party. The picture which garnered lots of admiring comments for both Stallion and the Carters was liked over two million times on Instagram.
But Vanity Fair film critic K. Austin Collins and Harper's digital editor Violet Lucca disagreed with the others.
In a since-deleted tweet, K. Austin Collins wrote, "I have a feeling the jay z face genes are about to really hit Blue Ivy, and I feel so sorry for her."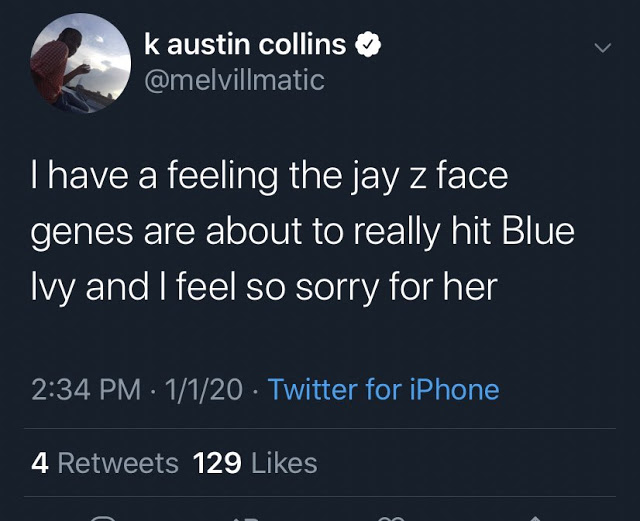 In response, Harper's digital editor Violet Lucca tweeted, "They haven't already?"
Collins replied, "You're right. But she's lucky — if it happens now, she'll definitely grow out of it. Get the ugly duckling phase done early."
Lucca then added: "Or she'll get plastic surgery at 16 a la Kylie Jenner, and we'll all have to pretend that she always looked that way…I can't allow myself to feel too sorry for the incredibly rich!"
In the wake of the comments, many came out in defence of Blue Ivy, especially author and activist Mikki Kendall.

In a Twitter thread Thursday, Kendall called out the journalists, putting it to their faces how ugly mocking kids are.

"There's nothing harmless about insulting a child's features regardless of whether that child has famous parents or not," Kendall wrote.

"There's no value in colourism, anti-blackness or attempting to pretend that class is a justification for targeting a 7-year-old with insults."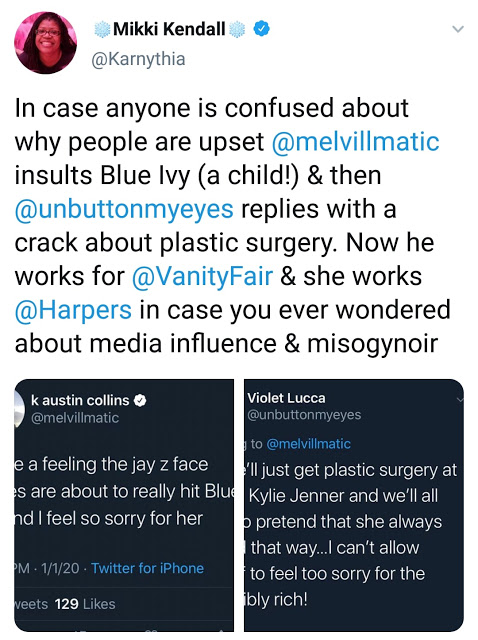 Beyoncé herself has been known to reject criticisms about her husband and daughter's looks, referencing it in her 2016 "Formation" song:
"I like my baby's hair, with baby hair and afros. I like my negro nose with Jackson Five nostrils."
Collins and Lucca have both since deleted their tweets and tweeted an apology.
Collins wrote: "I'm sorry about the Blue Ivy tweet — bad joke, and black girls, in particular, deserve better."

Lucca tweeted, "Sorry I was cleaning my apartment while this blew up … children of famous ought to be off-limits, but time and again they haven't been. So I said something petty and have been called ugly, old, and a racist."