Story narrated Tobi Lawal, penned by Daniel Nkado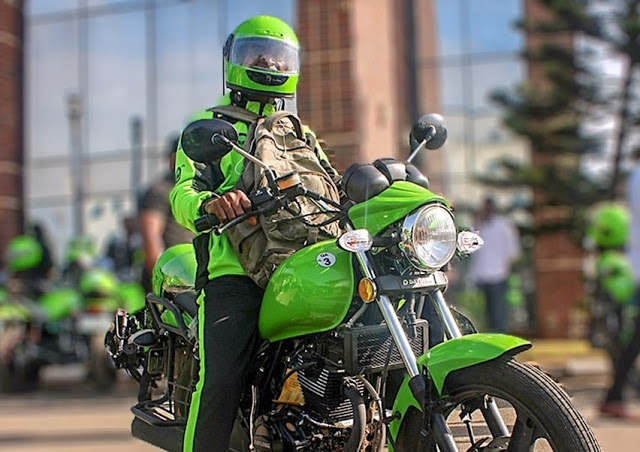 My first reaction to the news of on-demand bike services (OPay, GOkada, etc) coming to Nigeria was mixed. I mean I liked the prospect of using bikes to cut the mad traffic of Lagos, but a part of me remained doubtful of how safe it would be.


Most of that doubt is gone now as I've used OPay countless times and have not experienced any major safety concerns yet.


My first OPay experience was months ago. I was in Lekki at the time but needed to get to my house on the Mainland, pick up a folder and still catch up with an impromptu meeting in Yaba at 9 am. I was confused and totally out of ideas.


"Use OPay na," my girlfriend screamed from the other end of the phone when I called her to seek advice.


"I don't consider them safe," I said.


"Na so, Tobi, you that have been in all the Mama-Put joints in both Onipan and Palmgrove, it is OPay that now wants to kill you abi?"


I laughed and dropped the call.


Not knowing anything else to do, I downloaded the app and requested a rider. At the third minute, luckily, one finally accepted the request. But it was one heck of a task getting to him.


When I called him, he told me straight and direct he wasn't coming to the street to pick me because he didn't know the road.


I told him to use the map and he exclaimed, "Ha! Oga! I no know that one o. Come junction come meet me abeg!"


When the back and forth was getting too much, I had no choice than to jump on an okada to take me to go meet my other OPay okada.


Fortunately, he was easy to spot at the junction. He camped there, on the other side of the road, looking like a big clump of greens.


I crossed over and was handed a blue hairnet and a fairly neat helmet. I climbed on and he marked "Start" on the app and we zoomed off.


It was a little scary, especially when he was on top of the bridge, but he was fast. At some places, the toll gate area especially, the traffic held us too. There was no single space to move so he stayed still with the cars. But unlike the cars who appeared stuck for life, he kept looking around, checking to see if a tiny bit of space has materialized somewhere so he can swiftly use it.


He maneuvred a lot of tiny spaces, sometimes to the anger of the car drivers who either yelled or scowled furiously at him.


There were other Oriders like us on the road. One particular passionately suited man with a heavy stomach caught my interest. The bike he was on seemed to have compressed under his weight. His paper folder and blood-colored tie flew about in the air as his driver tried to whizz through a tiny crack between two smooth cars.


We got to my place at exactly 7:45 am — I was only 15 minutes late eventually. Had I not used a bike, it probably would have been up to an hour or over.


I've used many other OPay drivers since then. Some of them good, others not so great. In fact, on one very funny occasion, one of the riders that accepted my ride request picked someone else instead and started the trip without me.


Amused and confused, I waved down a danfo bus and joined. While on the bus, I kept watching the ride on my phone, somehow feeling like a jilted girlfriend. About 20 minutes after, he ended the trip and the person paid. I was still on the bus, nowhere close to Jibowu. I was flabbergasted.


Today is probably my best experience with OPay though. The driver, Taoheed, was super neat, communicated efficiently and, quite surprisingly, was very experienced at using maps too.


I was "shook" (literally!) when he said over the phone, "I've seen your location, I will be with you in less than 7 minutes."


He arrived a minute earlier. The air of professional courtesy around him was super evident.


He handed me a blue net and a helmet (the neatest helmet I've used – he obviously was still new).


"Let me know when you are ready so I can start the trip, sir," he said.


"Sure, let's go!" Never once have I been that excited to hop on a two-wheeler before.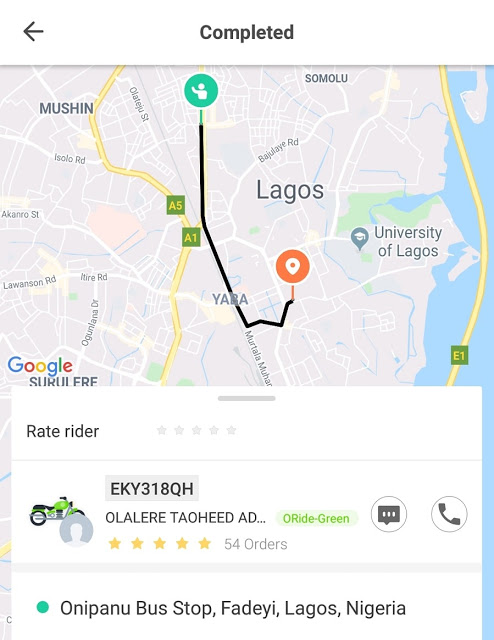 He kept his phone in place on a holder fastened to one of the bike's handles. He was getting all the twists and turns without any need for my input.


I simply relaxed till we got to my destination and I paid. I could have asked for a picture but I was running late. I also did not want to delay him.


Thank you, Taoheed. One thing to take away from this is that you will always stand out if you put in the extra effort.


***


Daniel Nkado penned down this story.


Tobi is an I.T consultant in Yaba, Lagos.

Daniel Nkado is a Nigerian writer and the founder of DNBStories.com.


Get his books on DNB Store, OkadaBooks or BamBooks!