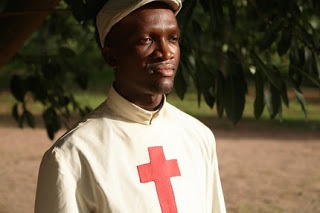 In March 2013, a brutal sectarian violence erupted in the Central African Republic.
The crisis began when mostly Muslim Seleka forces overthrew the government and unleashed a wave of violence, burning down villages and killing untold numbers of people.

In response, civilian militias known as the anti-balaka that were recruited from the majority Christian population began attacking Seleka bases and the Muslim minority.
As Seleka leaders were forced from power and fled, Muslim civilians faced the wrath of these anti-balaka forces.
Town after town, Muslims were attacked and massacred, their homes and mosques destroyed.
One of the most lethal of the attacks took place in the small town of Bossemptele, where anti-balaka forces were reported to have killed more than 80 Muslims.
In the midst of so much bloodshed, confusion and terror became the order of the day.
But one stood.
He was the one that helped.
Reverend Father Bernard Kinvi, he was called.
A handsome man of thirty-two, Father Bernard wears a black cassock with a large red cross printed on the chest.
Day after day, he risked his life to save hundreds of Muslims from what could have been the most awful of deaths at the hands of the ruthless killers.
Yet he is not of their doctrine, or neither does he say prayers like them.
But with humble courage and an infectious smile, he stood up for the most vulnerable.
Some days were so bad he and his small group of volunteers would spend days searching for Muslim survivors, most of them women and children.
And the elderly who had not enough strength to run.
And when they did find any, they would carry them all the way across, dodging flying bullets and roaring flames, to the Catholic Church for safety.
Soon word got to the anti-balaka forces of a young man who had taken it upon himself to save those they hunted.
A warning was sent across to him at once.
But Father Kinvi smiled and continued his work.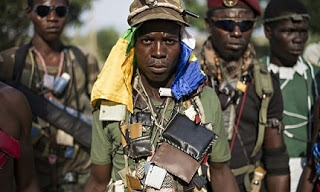 Next thing this warning turned into a death threat, sent his way in all manner of ways and styles, each all so very gravely frightening, yet Father Kinvi did not stop.
His life he readily gave up just so one more Muslim would be safe.
As it was reported, during the course of this conflict alone, he singlehandedly sheltered hundreds of Muslims in the church.
In March 2014, African peacekeepers evacuated most of the remaining Muslims in Bossemptele to Cameroon, adding to the more than a hundred who had already fled the country.
About 70 people, including more than a dozen disabled children, pregnant women and the sick, were left behind at the Catholic mission, too weak to make the journey.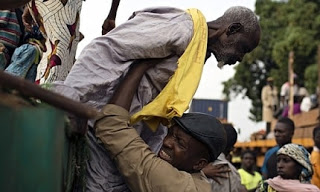 Undeterred still, Kinvi continued caring for the Muslims in his charge and ultimately arranged for them to be reunited with their families.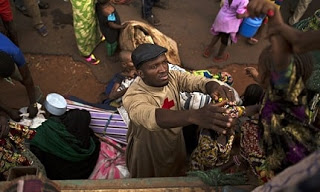 Human Rights Watch USA honoured Father Bernard Kinvi in September 2014, but today we at DNB Stories honour him once again.
Thank you for your extraordinary courage, Father Bernard!