by Daniel Nkado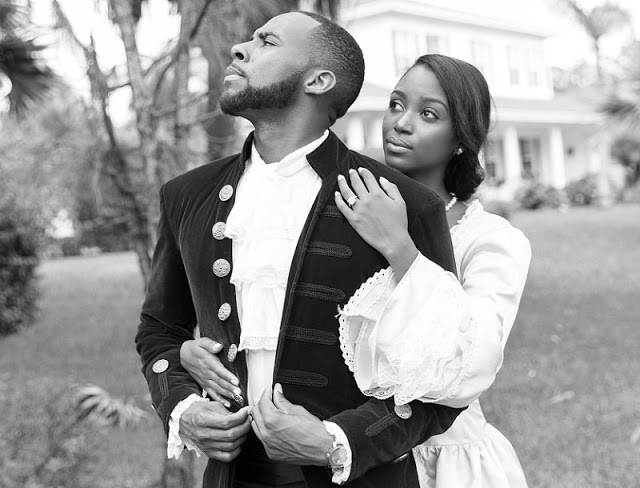 My sister has never brought a man home before, even though she is four years older than me.


My mother always said, though never in her presence, that she would have been married long ago if she went out more.


Or gave men the chance to speak with her. Because she was tall, pretty, and intelligent.

Since her university days and now that she has finished Youth Service and started with Union Bank, I could not tell one boy that is her boyfriend.


A guy named Kelvin used to come around while she was in school, but I was sure he had no sexual connection with my sister.
They were only class mates and once, Kelvin had come along with a girl— tall, dark and pretty like my sister—which he introduced as his girl.
My sister later told me their relationship was famed in the entire faculty. That they even sometimes kissed in class. The way my sister had said this, I wondered if she considered that too huge a thing to do. I did not tell her that even in secondary school, Onyinye and I had done worse things in class.
When she returned from Youth Service, we saw photos she'd taken with her fellow Corps members. The ones she posed with guys were few, but there was this one photo she snapped with a guy that stood out. Maybe it was the way they were both smiling in the picture, the guy's arms entwined around my sister's waist.
'Nne, onyekwa? Who is he, dear?' It was my mother that asked, a good number of her dentition showing in an expectant smile.
My sister saw the picture and jerked it out of my mother's hand. 'He is our NCCF papa,' she said. She started packing all the photos. She collected the ones I was looking at and put everything back into the photo bag even though I hadn't seen all. She left us in the sitting room and walked into her room.
My mother turned to me, her surprise-altered features slowly settling back in place. 'Nnaa, which one is CCFF papa kwa?' my mother asked.
I shook my head. 'Maybe he is the father of another corper whose name is CCFF,' I said.
My mother pulled down her lips. 'Oho.'
But something remarkable happened four days after.
My sister came home from work with this really cute guy. He was tall and big with the cute smile of an actor.
Believe me when I say this because it takes a good deal of courage for me to say something nice about other guys. I had once wished I was the only cute guy in the world. Till I got admitted in the university and discovered that I was not even really that cute. I never believed those images of guys with well-cut bodies and perfect-set features you see in fashion magazines were real, till I entered UNILAG.
My sister introduced the guy as Ben. He is Edo, and even though my mother has never said something nice about Edo men before, other than how deceitful they can be and their in-born thirst to travel abroad even if it meant selling off their parents' houses, she had received Ben with great warmth.
My mother in her excitement had turned the visit into a job interview. She asked the guy so many questions I nearly began to feel pity for him.
But he'd answered all my mother's questions with calm and charm, providing one impressive answer after another.
He works with a bank too, but unlike my sister's watchman-like customer service role at Union Bank, he worked in risk management with Zenith. The invisible big ogas whose salaries come in heavy, premium packages.
He is a born-again Christian too—this one got my mother grinning like a little girl whose dad has just bought her favourite doll.
It was the evening of Feb 14 when Mr. Ben's Toyota Jeep pulled up in front of our compound.
My sister looked elegant in her black gown. The silvery detail at the front sparkled in the white bulb light, as with her gold earrings. And she had just the right smile to crown the entire ensemble.
My mother and I stood watching and waving as Ben drove off with my sister. They were going out on a Val date.
As the last of the dark vehicle disappeared out of sight, my mother turned and threw her fat arms around me. 'I am so happy for her,' my mother said.
'Me too!' I said this with an exaggerated subdued voice to let my mother know how tightly she was holding me.
She released me and held my hand as we walked back into the house.
With the love my sister and her new man had introduced into the air I was forced to call Chinwendu.
I undid the lie I had told before, telling her that I would no longer be going to the drama practice at church again, that we can now go out on our Val date as earlier planned. She only said hmm and knew what that meant.
I left only 5K in my wallet and dropped my ATM card in my room before stepping out of the house. Chinwendu has a natural talent for causing life savings to disappear. Really fast.
I was standing with Chinwendu on the road waiting for a taxi when my phone began to ring. She had insisted we did not enter a bus and wait for a taxi instead. If only she knew she was only cutting from an already hard-set budget.
I brought out my phone from my pocket and saw that it was my sister calling.
I pressed the answering button and put the device to my ear. 'Hello, Prisca.'
My sister's voice was tense. She was saying so many things at the same time that I couldn't understand a thing.
Finally, I was able to pick out something, 'Please come, please. Terra Gardens. Now please.'
I left Chinwendu on the road and jumped into a bus. She can continue on the cab wait alone if she wants.
But sharp girl jumped into the bus with me, landing on the seat almost at the same time with me. She asked what the matter was and I told her all I got from the call. 'Don't worry, everything will be fine, okay,' Chinwendu said, patting my back.
I felt touched. As long as I could remember that would be the most reasonable thing my babe ever said. I've not always been bothered about her brains because she was pretty enough. Hardly will you get the two in one person.
As I streaked toward the entrance to Terra Gardens, Ikoyi, my heart beat faster. I prayed hard nothing bad has happened to my sister.
I realized then just how weak I really am. Love makes us weak, but that weakness is what also makes us human. Without it and we are just walking robots devoid of the true magic of life.
The garden was crowded with people, standing people. They all looked toward one direction. I followed their eyes and saw my sister. Right in the middle of the garden she stood, face buried in two hands.
I shoved through the crowd of people and got to the middle.
Sighting me, my sister ran and fell into me, crying. 'They just took him inside. They said he is a thief. They were beating him.'
'Calm down. Who took him?'
'Some men. They were punching him, saying he stole. I wanted to follow them but they said I shouldn't dare. They barked at me.'
'Did anybody touch you?'
'No.'
I sighed in relief. 'It's okay. Stop crying, I—'
'So where is the guy now?' Chinwendu threw in, her voice taking on a gossiping lowness.
'They took him inside.' My sister pointed to the building standing some distance away from the circular arrangement of thatched canopies. 'It has been some minutes now and since then I haven't seen him. Jay, please we need to do something to help him.'
'Help a thief?' Chinwendu flung out. 'Better we leave here fast before they finish dealing with him and come for us.'
'Come let's go,' I said to my sister. 'Let's go back home.'
My sister shook her head. 'I can't leave him. You don't understand. He is my first and only.'
'Stop crying like a baby jor.' I took her hand. 'Let's get out of here.'
'Prisca, listen to your brother and come let's go,' Chinwendu said, her voice now advisory. 'See how everybody is staring at us.'
I dragged my sister forward. 'Oya jor.'
Just then the light of the garden dimmed and turned miraculously blue, and then red before coming to bright white again. A slow music came on.
From the entrance of the building I saw Ben, hale and hearty, prancing out of the building. Some other guys followed him from behind.
My sister sighted him and ran to him, like a little girl running to her father returning back from work.
The whole crowd cheered, clapping.
A reaction I did not understand.
Then the music changed to this smooth love-filled tune and I saw Ben drop to his knees, holding up a shiny ring. The metal piece gleamed gold in the bright light of the garden.
'Prisca Ohakwe, please do me the honour of becoming my wife?' His voice came from all the speakers around.
Now the entire garden went silent with suspense.
I know what everyone was waiting to hear, who they all silently prayed would say it.
Ben was still kneeling, the ring on the tip of the fingers of his stretched hand, his eyes up at my sister. I could see in them a heavy emotion, something so strong and serious I felt like going there to collect the ring from him and say yes on my sister's behalf.
Finally the silence was broken by a sound. One so surprising it got all mouths wide open. I saw Ben place his palm on his slapped cheek, but he still did not get up or take back the ring.
I still remember this whenever I go to Ajah to visit them. One day I will tell my young nephew this story, of how his father had proposed to his mother on Valentine's Day.
***
Get all complete stories by Daniel Nkado on DNB Store, OkadaBooks or Flip Library!