by Daniel Nkado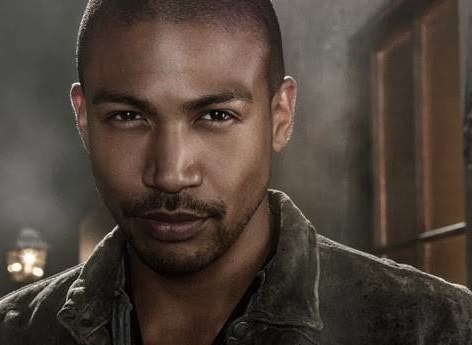 The first time I saw him, it was his eyes that captivated me.
Even before he stood from his chair and started toward my table, I've noticed them—the eyes—a long time.
Maybe he knew. Maybe he didn't.

But I was sure he already knew as he talked to me that evening of the things guys say to girls—those deceiving kind of things—that I had seen what was in his eyes.
Sin.
Like the dark coat of a black cat, it lurked in each socket.
But it didn't make me afraid. Not even the slightest bit doubtful. It enchanted me instead.
Well, what else is sin to do anyways? If not to lure, transform and consume.
But there is a part of it that was beautiful. The part of it that I keep wanting.
The part of it that was irresistible.
'Can I get your number?' he said to me, after that his lies-imbued speech of how I've captured his heart at first sight, how he has never seen anyone that made him feel the way he did.
Ever.
Of course I wasn't listening; the talk was boring, stale, and coming from his lips it seemed more rehearsed than ever.
Like I could just look at his lips and guess how many women he'd deceived with them.
But then his eyes.
It caught my attention and held it.
'Your number please?' he asked me again.
I stirred, collecting myself.
I took hold of my bag and stood. 'The bar man will give you my number after you've paid for my drink,' I told him.
He'd smiled, but I didn't return it before walking away.
Days passed he didn't call.
Weeks…nothing.
It was unlike me that I bothered. But I couldn't keep the thoughts away.
And then the eyes. I saw them each time I closed my eyes, and my breathing would momentarily quicken.
On a rainy Saturday evening, he finally called.
Staring at the new number surrounded by incoming call ripples on my phone's screen, I could tell it belonged to him even when I've not taken it.
There was something particular about the connection I felt with him.
Something that made it seem like a mere repetition of events. Like we've met somewhere before, and had souls that belonged together.
He asked me to come meet him at the bar where he was and I asked him to come to my house instead.
'Is that what you want?' he asked me.
'Do you not like it more?' I said.
He said nothing, but with something more than a guess I knew he'd smiled.
That night in my living room, after a couple of glasses of wine together, we revelled in it.
Sin.
It was sweet. It was beautiful. It was all things amazing. All things that I liked and have not had in a while.
But then afterwards, it became time to go.
Time to set him free. As always.
I thought I had. I mean it has always worked that way for me. Pleasure and sin I was familiar with, but there was that other emotion that I never had any knowledge of.
That emotion that was more powerful than sin. They call it LOVE, and many times I've read and heard what it caused women like me.
What it brought to them.
The calamity. The pain. The suffering.
The stories usually seem more amusing than real, because I did not feel that emotion. I never. I did not know it. I did not recognize it. Did not believe it existed.
Till I met him.
Days passed after the meeting at my place and I haven't heard from him. And then one day it hit me that I actually bothered to think about him again.
It was amusing at first, almost as usual, but then it grew worse—the thinking and the dreaming—that I became scared.
It was the day I subconsciously typed his name in the search bar on Facebook that I knew I was gone.
He'd stolen something from me. Something very precious, something very vital.
My strength.
I remembered all the past stories I've heard about other women and their terrible encounter with the sickly word—LOVE—and felt like shrieking.
And I did in fact shriek, and broke a few things in my living room.
But afterwards, I settled down on my couch, picked my phone and scrolled down to his number.
The hesitation lingered, but I eventually sent the call off.
He sounded excited hearing my voice, or maybe he only was just pretending.
But through the phone his voice came as crisp and delicious as I could remember.
'Can you come to my apartment?' I asked him.
'When, now?' he asked.
'Yes.'
'Oh, no, dear,' I heard him say and suddenly felt my blood congeal.
'Why?' I managed to ask.
It was a great mistake, I shouldn't have asked. I should have ended the call right then and manage to pull the remaining parts of me together.
For once too, I've tasted the horror of the word I never believed existed.
'It's my wife's birthday today,' he told me. 'I can't leave.'
My heart must have stopped for a second. I stiffened on the couch.
But then he came two days after.
And once again the next week.
And then one day, he called to say that he would never come again.
'Why?' I asked him.
'My wife,' he said. 'She is growing suspicious. We need to stop.'
'Okay,' I said.
There were so many other things I could have said. I should have. But I didn't.
Maybe I would have the next day, or next, if I hadn't done what I did to myself that night.
For you see, that was the night I died.
***
Daniel Nkado is a Nigerian writer and the founder of DNBStories.com.


Get his books on DNB Store, OkadaBooks or BamBooks!