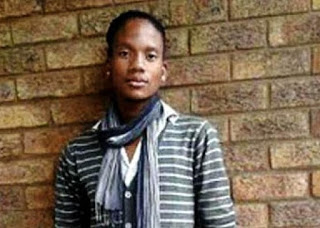 Sometime in June 2012, there was a beauty pageant in a small town in South Africa.
In Kuruman, a town in the Northern Cape Province with about 13,000 inhabitants.
Kuruman is known for its scenic beauty and the famous Eye of Kuruman, a geological feature that brings water all the way from deep underground.

An amazing sight to behold, this wonderful natural spring, many that have been lucky enough to see it say.
But this story is more about that beauty contest that took place in Kuruman than its gorgeous geography.
For you see, this contest was not like any other you are used to. It was organized by people who are different. Guys that called themselves queens and walked in a funny kind of way.
They were gays, and so also was the evening of that occasion.
Transgenders, lesbians, bisexuals and their friends turned up in their numbers to watch and show support.
They screamed, waved and clapped each time a participant came on stage in his colourful costume.
At a corner of the space, the pageant judges sat, watching and recording.
Finally, at the end, a young boy, 23 years old or thereabouts, won the crown.
His co-participants came together and hugged and congratulated him.
Tall and slim Thapelo Makutle, very excited and full of smiles, went home that day with the title of Miss Gay Kuruman 2012.
But despite the country's legalization of same-sex unions and perceived freedom for the LGBT people, there were still a whole lot of persons who found the contest, the crown, just about anything about Makutle's person and personality, intolerable.
On a Saturday evening on his way to his hotel room, Makutle was cornered by two men.
A verbal argument ensued and Makutle was very vocal.
He called them as much names as they did him and employed other gestures that were unique to him.
The boys walked away, but not entirely.
That night, they stalked him all the way to his hotel and into his room.
Now in the company of no other but his ominous-looking invaders, Makutle was not as loud.
Gripped by fear of the unknown, he stared open-eyed at them.
For the two men, the ball was now in their court and their satisfaction showed clearly on their faces.
Left with no other choice than to scream out for help, Makutle drew back and dashed to the door.
But his attackers seized him before he could let out a sizable noise.
The next day was Sunday, the 10th day of June 2012.
It was Makutle's very close friend, the girl he apparently had gone to the same school with, that discovered his lifeless body that morning.
His throat was slit, so severely his head was nearly falling off.
They'd covered his body under the blanket on the bed, in the great pool of his own blood, before they disappeared.
On hearing the news, Makutle's family members were devastated. Despite his difference they'd loved him. So much.
It was a horrific incident, a great crime that must be condemned.
And we at DNB Stories do.
'Let the hawk perch and let the eagle perch,' –Chinua Achebe.
***
To tip us on a story worthy of been featured under the Know Africa page, send a message to submissions90@yahoo.com