by Staff writer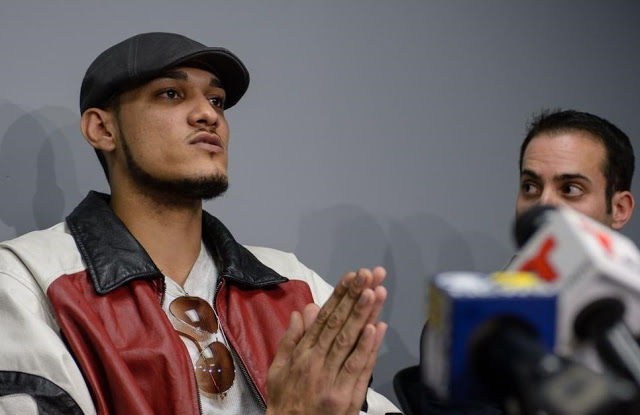 In 2014, a Bronx bouncer slapped a woman on a train after she and her friends repeatedly taunted him about a jacket he was wearing.
The bouncer was arrested and charged for misdemeanor.

But a cell phone video of the train incident soon went viral on Youtube.
The video shows 21-year-old Danay Howard teasing Dominican bouncer Jorge Pena about the " wack 8-Ball jacket that came out in 1990" he was wearing and repeatedly cursing him out.
She then slugs him with a 6-inch stiletto.
That was when the 6-foot-6 macho unleashed a massive smack that sent his aggressor flying unrestrainedly backwards.



"I never in my life slapped anybody," said Pena. "I'm a strong man. I don't want to get in trouble because I can kill someone."
After the video emerged, Danay Howard was charged with felony assault for stabbing a man with her stiletto heel on a subway in a Manhattan court.
She pleaded guilty.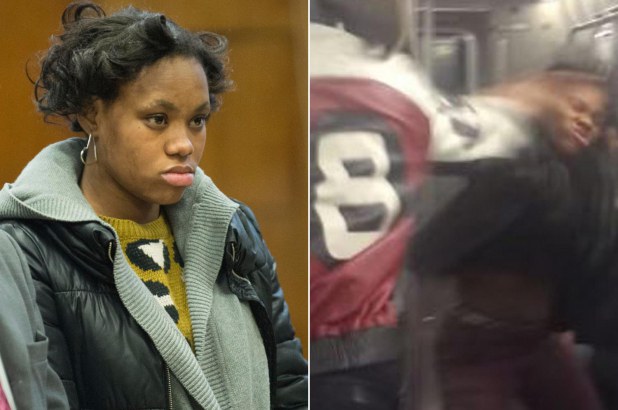 Danay Howard pleaded guilty in court.

"It is alleged that you struck the complaining witness in the head with a stiletto boot, causing that person to sustain a laceration, bleeding and substantial pain. … Are those charges true?" asked Justice Larry Stephen in Manhattan Supreme Court.
"Yes," she answered.
Howard and a group of her girlfriends were allegedly taunting Jorge Pena for wearing the unfashionable leather coat.
"You got wack 8-ball jacket that came out in 1990," Howard yelled at Pena, 25. "Get your money game up."
Howard's pal Shanique Campbell, 20, whacked him over the head with her purse. Then Howard pulled off her stiletto boot and hit him in the head.
The 6-foot-6 Pena turned around and smacked Howard across the face so hard he knocked her off her feet.
Another person on the train then jumped in and started punching Pena.
Pena was initially arrested and charged, but the Manhattan District Attorney's Office concluded he acted in self-defense and dismissed the case.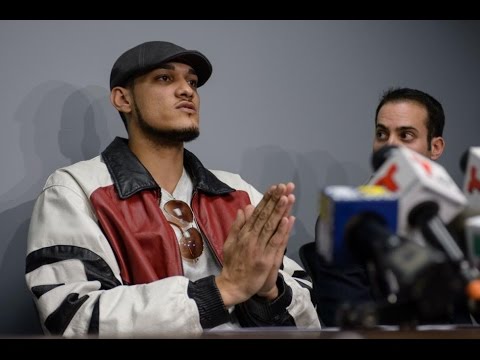 Jorge Pena with his lawyer.
The misdemeanor assault and disorderly conduct case against Howard's friend, Campbell remained pending.

Video of the fight posted on YouTube quickly went viral, racking up more than 14 million views.

Pena won his freedom, but says he can no longer wear his favorite jacket.

"I can't wear my jacket anymore," a choked-up Jorge Pena, 25, said a day after it was revealed Manhattan prosecutors dropped all charges against him, relying on the viral video that reveals he was defending himself.

The former baseball prospect from the Dominican Republic was talking at his lawyers' office while wearing the infamous 8-ball jacket.


Pena said he is now apprehensive about taking train rides, as he's been getting negative comments like:

"This is the man who slapped a girl" whenever he was spotted wearing that jacket.

Jorge Pena said he's disappointed that he may no longer get to wear his favorite winter coat.

"I'm going to say to her (Danay Howard), 'I'm sorry,'" he said of Howard. "You left me no choice."

"I never in my life slapped anybody," said Pena. "I'm a strong man. I don't want to get in trouble because I can kill someone."

Pena's slap has caused him web notoriety, with the video garnering over 14 million views on YouTube.

His lawyer Joseph Indusi, of London Indusi LLP, decried the fact that his client spent days in jail on a $1,000 bail for a misdemeanor, while Howard, charged with felony assault, was released without bail.

Two of her cohorts were also charged.

Another lawyer, Cary London, noted that without the video, "Mr. Pena would have had to go to court for a year" before possibly clearing his name.

But the footage is a double-edged sword, bringing unwanted notoriety to the shy gentle giant, who was only returning from a 12-hour shift and said he just wants to provide to his family and 20-month-old son.

He also lost his winter wear because the 8-Ball jacket – which he received from his brother and only wore about four times – is now an apparel pariah.

"I don't even have a jacket to wear," said Pena. "I love that jacket."