by Staff writer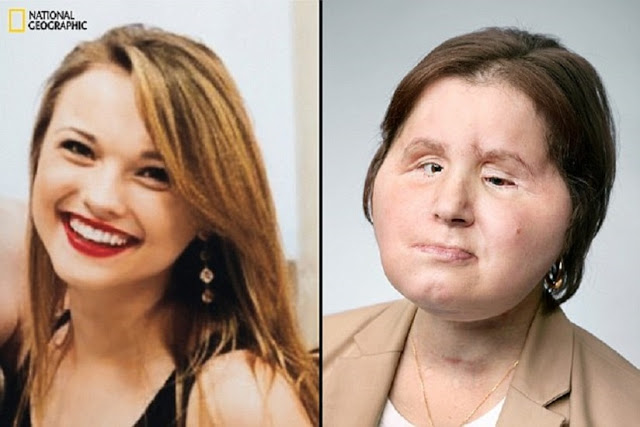 When Katie Stubblefield's boyfriend broke up with her, in a moment of madness and despair, the pretty teenager snatched her brother Robert's hunting rifle, locked herself in the bathroom and shot herself in the head.
When Robert kicked down the door, he discovered his sister with her face 'gone'.

The bullet, which was fired upwards as she rested the gun barrel under her chin, had destroyed almost everything in an upwards and inwards triangle, from her chin to between her eyebrows.
Now, three years after she shot herself in the head, Katie Stubblefield, 21, has become the youngest person to get a full face transplant.
The 18-year-old's nose and sinuses, her mouth (apart from the corners of her lips), part of her forehead, and most of her jaw and facial bones were destroyed. Her eyes were so badly damaged she was left with limited vision.
Astonishingly, Katie survived. Perhaps even more astonishingly, doctors have been able to give her a new face and the opportunity of a life with some semblance of normality.
Three years and 22 operations later, Katie became, at the age of 21, the youngest person ever to receive a full face transplant.
She is one of 40 people worldwide to have undergone the procedure, but surgeons who treated her believe she had the worst injuries of any patient to date, requiring one of the most extensive transplants yet undertaken.
Katie's incredible story, documented by a team from National Geographic magazine, was published this week.
***