by Daniel Nkado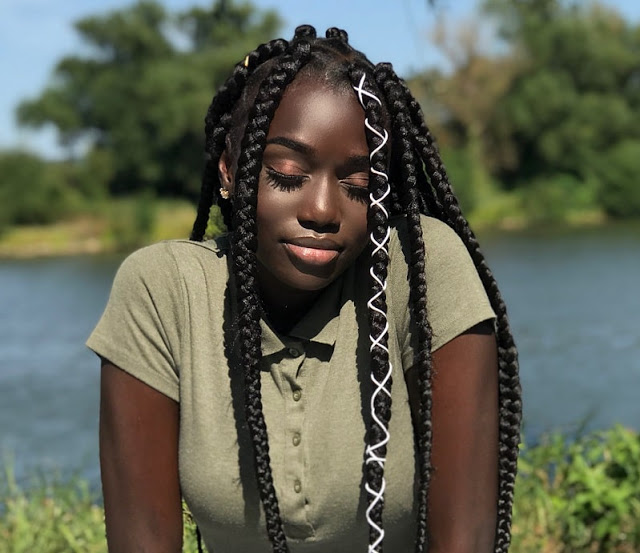 As if to be sure her online message hadn't been discarded as fluff, Vanessa was around on Sunday.
Richard was away at a meeting in Ikoyi.
Mma was with Stella in the kitchen making ofe-akwu.

She'd convinced Madam earlier that morning that ofe-akwu was very good for pregnant women, better than red stew that could 'turn one's baby into an albino.'

Cynthia told her it might be difficult to find where to buy the palm nuts in Gbagada.

'Hia, I seeing one woman having akwu when we passing that small market yesterday na.'

Finally, Cynthia agreed and asked Stella to escort her to the market.

Stella, on her face, was clearly unhappy with the decision, but she said nothing. Since her failed attempt to join the list of Richard's aspiring baby mothers, she'd been keeping more to herself. There was a popular adage that said a witch does not tell well of the story of her own defeat.

Now inside the kitchen, Mma said to her, 'No touching anything o. Just standing there and I telling you what to do.'

She stood aside watching, her empty eyes almost suggesting obedience.

Mma would not take any chances though. When she looked at her and found the straight look on her face quite unreadable, she quietly picked the sharp knife on the nearby surface and threw it into the drawer.

Cynthia was with her visitor in the sitting room. At first they talked and laughed loud about common things; a pair of ugly shoes that costs 250k, a male stalker on Twitter, a new employee who came to work with clog-looking sandals.

Then Vanessa sipped her wine and asked about the girl who was pregnant for Richard.

Their voices went low.

'Did you mention all the conditions?'

'I did.'

'Good. And he agreed, right?'

'All except that he is not finding another apartment for her.'

'What?'

Cynthia shrugged. 'He said she will stay here.'

'Listen, Babe, you can't allow that to happen. You can't be staying under the same roof with a girl who is carrying your husband's child.'

'Husband-to-be.'

'Well if he agreed to the other conditions then I'm not too wrong, am I?'

Cynthia took a slow breath. 'He said he can't send her away.'

'Then do it yourself!'

'Vanessa?'

'Yes. It's high time you stood up to men and their outrageous thirst for control. For goodness's sake he owe you big time.'

'How?'

'Babe, tell me which woman will condone this. Tell me. As long I'm concerned you are the new Mother Mary.'

Cynthia smiled, a dry feeble smile.

'Yes na. Imagine if Alex tries this kind of rubbish with me. I will roast his dick.'

'You've forgotten Richard has been quite forgiving too.'

'Forget that. You were drunk that day. It was understandable. What Richard did was shaming. Gosh! A dirty, smelling village girl. What these creatures called men can do!'

Cynthia snorted. 'Wish you can say that to his face. He feels just too normal about the whole thing, like it was some sort of norm in their place. Maybe because he is Ibo.'

'Forget tribe. The inexplicable nature of men goes beyond tribe, race even.'

'So your advice is?'

'Send the village girl away ASAP. Do it now before it is too late.'

Cynthia relaxed back into the seat, her eyes glazed over with thinking. 'Actually the girl has been nothing but nice. She is funny and quite respectful. You need to see how willingly she agreed to go through the abortion because of Richard and me.'

'Babe, what are you saying?! Don't tell me you are falling for some dirty girl's scheme. These smelling village girls are level-ten schemers. They come as maids, cooks, baby-sitters and the next thing you know, they become madam. If she is truly nice, why sleep with your man in the first place?'

'According to her, she did not know Richard was engaged. She said –.'

Vanessa laughed, cutting Cynthia short. 'Story for the gods! My dear, leave that thing!'

Inside the kitchen, Mma told Stella to stop pounding. 'Stop pounding, letting me to hear what that girl is telling Madam.'

Stella pretended not to hear. She actually might not have heard. She continued to hammer the pestle on the oily mush in the mortar. Sweat poured off her face.

Mma picked a piece from the plate of onion slices in her front and squeezed onion juice into Stella's eyes. 'Foolishing girl. You not hearing what I saying abi.'

Stella screamed and dropped the pestle. Her fingers fluttered frantically in the air as she made incoherent sounds of pain. Prickly pain.

Mma stared at her.

She pushed a cup of water into her hand. 'Taking and washing your face jor. You not cooking with onions before?'

'What's going on here?' Cynthia asked.

She was at the doorway. Vanessa's face poked out from behind her.

'Nothing, ma. Onions entering her eyes.'

Stella stood there, mouth open and her now watery eyes blanker than they had earlier been.

***

From "The Village Girl" by Daniel Nkado.

Visit THIS PAGE to get the complete book.