by Daniel Nkado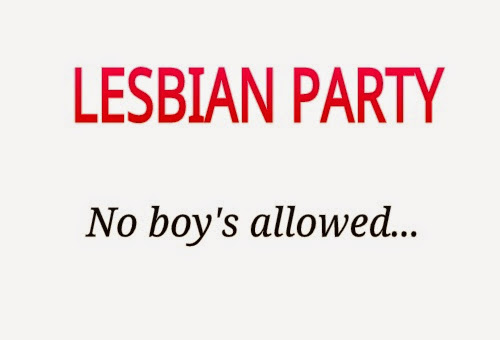 Read Part 1 HERE


I came out of the bathroom still feeling quite uneasy. I watched Raja and Phoenix share another lesbian kiss before Phoenix went on to tell me her actual reason for inviting me over.


There was a lesbian party in town and they needed to attend with a guy. According to her, it'd earn them more class, entering in grand with a tall, fine dude.


She asked if I was okay with it and I nodded. A chance to attend a lesbian party, my curiosity had shot up. And so I agreed, still hoping that Raja would loosen up a bit and talk to me more. It was obvious she is the guy in the relationship, so I wondered if she was a little jealous. Somehow I was scared of him, her.


'So, Raja, what's up with you?' I asked, trying to initiate conversation.


'Just here, man.' She was now rolling up weed in white paper. Her manner was so boy.
I watched her wet the wrapping with the tip of her tongue and press down to hold. She lit it and in an instant the heady smell of burning hemp filled the room.


She took another suck on the burning weed and extended it to me.


I shook my head. 'I don't smoke,' I said.


'Oh.' She took back the weed in the same slow, silent manner she'd offered it to me.


Phoenix went into the room first. Raja followed after burning down another wrap of weed. The period they were inside, I wondered if they decided to have a quick one before dressing up. I fought the urge to stand and go peep.


They had taken quite a time, but the transformation was well worth it at the end. Phoenix wore this dark blue jacket over white bum shorts. The way her brown, fleshy thighs spread out beneath the shorts, one need not to wonder again why lesbians were raped in South Africa.
Raja didn't look any bad either in her cropped top and chinos, though that aura of boyishness still hung around somewhere.


Phoenix smiled at me. 'You ready?'


I nodded. With the way they looked now, I wouldn't mind some lesbian threesome myself.


We set out that night in Raja's car. She drove like a guy she is, never obeying traffic rules and speeding like it was a race.


Just past Glo Headquarters, we got flagged down by the patrol team.


For once Raja acted like a lady. She gave the fat officer this really cute smile that could come off as seductive as she passed her license to him.


The man barely looked at the ID. Raja turned on the interior light and he leaned over and took a glance. The way he smiled at me as he handed Raja's license back, he must have been feeling how lucky I am. Only if he knew.


About ten minutes later, Raja pulled over in this narrow driveway already filled on both sides with cars, some of them parked so carelessly you could tell just how high the people that had drove them were.


I must admit our Naija lesbians have quite an amazing taste in automobiles. All the cars I saw were machines, some of them inexplicable machines.


The sound system boomed as we stepped into the yard, having scaled through two hefty bouncers. They were guys—I hope—two heavy men with faces like the back of an unripe pineapple.


And so we stepped into the party hall, the noise. It was like one entering inside a giant loudspeaker.


We had made quite an entry, the way everyone turned to look at us. But this was only brief and I wondered if it meant something bad, like a flop to the plan. But Phoenix was smiling.


Damn! If there is anything lesbians love more than their forefinger, it must be smoke.


They sat in cliques—it appeared these were formed according to size—three elephant-sized ladies there, four semi elephants at another corner and a group of bony ones at another end.


It didn't take me long to observe the vibes of competition hanging in the air. My girls didn't greet all the girls the same. Some they didn't even behave like they'd seen, some got handshakes of the curtest manner while some, full embraces concluded with kisses and pecks.


Phoenix asked me to a chair and in a moment returned with a tray of Absolut cocktails. In each coned glass, I saw death, but I still swallowed hard and took a glass.


The group beside us smoked from a long metal tube I have never seen before, gushing out this really nasty smelling cloud of smoke after each inhalation. They took the tube in turns, none ever wanting to miss a turn. At that time, as I stared briefly at them, I thought probably that was their substitute for dicks.


Phoenix and I drank while Raja smoked, now as if it was a competition and she wouldn't want the other girls to outdo her.
Each time I look at her, a great cloud of smoke was concealing her face.


I was on my second glass when Phoenix leaned over and whispered something into my ears. The music was loud and I didn't grab all of it, but I was able to make out the 'Enjoy yourself' part.


She stood and led Raja into the dance floor. She must be really proud of him, her mean-looking, bad-ass boyfriend.


The guy lesbians don't wear long nails, l later came to notice. I would later come home from school some days after and ask my sister why she kept her nails short.


I had to give her 2K as soon as she mentioned her nails were short because she didn't have money for manicure. Satan be damned if Jumoke was a lesbian—not that I'm that afraid.
Only scared for my mom, and little Miss Patzzy— since she hardly goes out, always at home 24-7, my mom and the dog are the only two available females to quench lesbian flames with.


Steadily, the dance floor filled up. I wanted to ask Phoenix if the few guys I saw dancing with the ladies were gay guys, but she was nowhere to be seen. Perhaps they had come as handbags too, just like me.


I had picked another glass of drink when this really cute girl passed. My eyes trailed her till she disappeared behind the bar.


But as luck had it, in a short time she was out again, walking past where I was seated again. And this time she looked at me. She must have seen the desire in my eyes when she stopped and said hi.


'Hello,' I responded with that small smile that I knew always highlighted my fine-boyness.


We didn't talk much before she took my hand and led the way into the dance floor. The lesbians sure can dance. She rocked me to stupor. At one time, Phoenix saw us and nodded with a smile.


We had danced for some time when the girl bent to my ear and whispered we should go inside.


She took my hand and led the way again into a narrow lonely corridor. There and then we made out, one crazy hell of a quickie.


So the lesbian party hadn't turned out so bad, I thought.
We were on our way out when I asked Phoenix if straight girls attended the party too.


'No, why?' she said.


'The girl I was dancing with seemed very interested in men. Or maybe she was just drunk.'


'Oh, that's Sasha. And she is not a girl.'


'She is not?'


'Yes. She is a drag queen.'


'What does that mean?'


'She is a guy dressed up as a girl!'


I ran to the back of the car and puked so badly my stomach began to hurt.


***


An exclusive DNB Story.
Get all complete stories by Daniel Nkado on DNB Store, OkadaBooks App or Flip Library!