Something rather strange happened in December 2013 in North Canton, Ohio, United States.

A man cleaning out his dead mother's house found a locker with skeletal remains of a human baby in it.
After several months of investigating and DNA testing, it came back that the bones were those of the dead woman's children.
Judith Shumar was 66 years old when she died.
Forensic anthropologists at the University of North Texas identified the skeletons as Judith Shumar's children, and the babies were likely twins.
Shumar had died of natural causes about two weeks before the grim find on Dec. 9, according to the Stark County Coroner's Office.
Friends said she had suffered a stroke and was in poor health. She was discovered dead in her home on Thanksgiving morning.
Her son Eric Adams had come home from California and was cleaning out her belongings when he came across a blue footlocker, or trunk, stored in a spare bedroom.
Eric who was 41 at the time and lived in California told police he had limited contact with his mother since he left home at the age of 18.
Officers were called to the building after he found the trunk and its contents, comprising small bones and a partial skull that could fit in the palm of a hand.
They were wrapped in a trash bag and tattered blanket, according to a maintenance worker at the park who also witnessed the discovery.
North Canton police searched Shumar's house, which revealed nothing to explain the human remains.
They have no idea how long ago the babies had died and were stored by Shumar.
They're not sure if they were stillborn.
According to experts, the remains showed no signs of injury, but that does not rule out foul play.
With Shumar being deceased, and no one else with knowledge about the babies, investigators have nothing to go on with.

There are loads of questions that would remain likely unanswered.
"The skeletons showed no signs of trauma," said Investigator Rick Walters.
"Because that does not rule out all possibilities of foul play, it leaves the victims' cause and manner of death undetermined.
"We've done everything we can," he said.
"We've had the finest people in the world look at it, and there's just no physical evidence there to give us findings either way."
***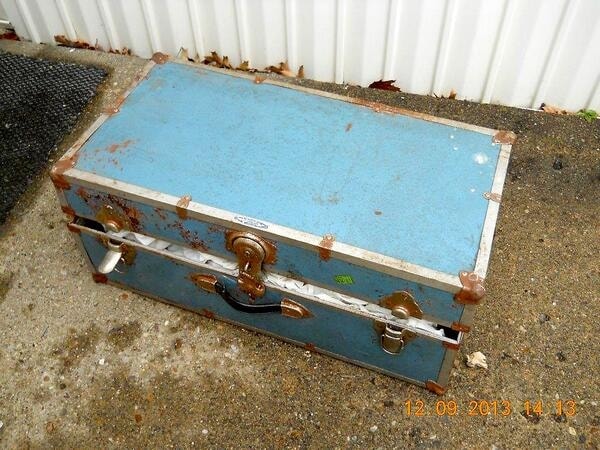 The blue footlocker where the skeletal remains of two infants were found in a

mobile

home in Ohio – December 2013.

***
It remains unclear how long the bones were locked in the trunk where Shumar's son found them while cleaning her home.
But investigators believe it could have been 40 or more years.
Although the DNA of each skeleton was nearly identical, there was no sure way to completely tell if the infants were twins, Walters said.
Investigators had "no way of knowing" if the infants were born stillborn or alive, and he said they were too young for their sexes to be determined.
They appeared to be near full-term, North Canton police Chief Stephan Wilder said.
The findings and investigations were done by the North Canton Police Department, Stark County Coroner's Office and Center for Human Identification at the University of North Texas.

"We're just glad to get the results back and bring some kind of closure to this investigation and for the family," Wilder said.
The remains will be returned to the coroner's office and eventually turned over to Shumar's family, he said.Shumar's relatives did not immediately respond to requests for their comment.
Police and investigators had hoped anthropologists and specialized testing of mitochondrial DNA, which exists inside bones, could help determine how the infants died.
But nothing more was revealed.

This is obviously a secret Shumar has taken to the grave.
"It's part of the mystery maybe that we'll never know," Wilder said.
The case will remain closed unless someone comes forward with additional details, North Canton Police says.
***
Credit:
Reuters


Fox News