by Staff writer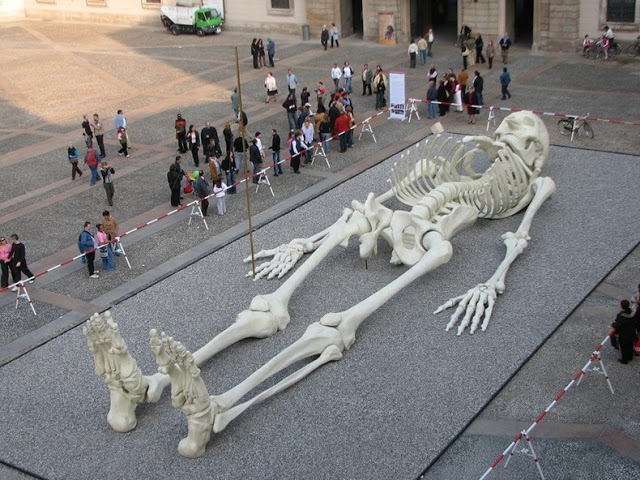 Religious fanatics will never give up! Will they?
In 2007, it was the National Geographic team they claimed had discovered giant humans.

Alongside the story was a digitally altered photograph created in 2002 that shows a reclining giant surrounded by a wooden platform, and a shovel-wielding archaeologist standing nearby and inspecting the gigantic fossil.
The National Geographic Society has since refuted the claims, calling it an "internet hoax".
Today another of such tales has again began circulating round the social media.
The post read, "Praise the Lord my brothers and sisters. The skeleton of Goliath was found in Jerusalem today. Word of God is so true!"
Like always, a picture of a large reclining skeleton was attached as supposed evidence.
But what a lot of people that have accepted the story as true didn't know is that the photo accompanying the post is that of a giant skeleton sculpture in Milan's Palazzo Reale created by Gino De Dominicis.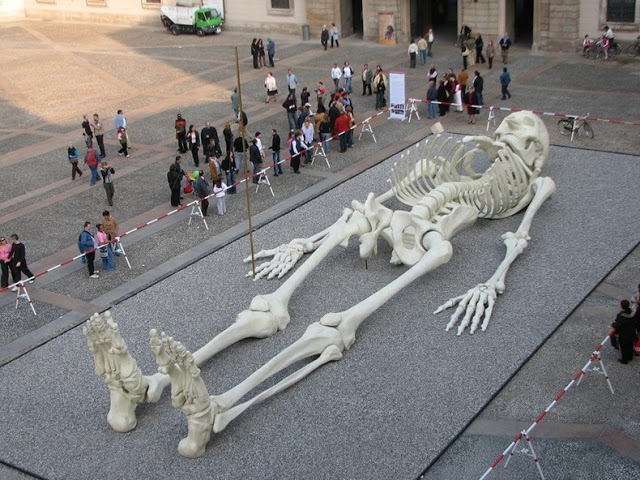 Calamita Cosmica, an artwork by
Gino De Dominicis.

This giant sculpture was displayed in Milan's Palazzo Reale in 2007.
Named "Calamita Cosmica," or "Cosmic Magnet," the sculpture is 28 meters long and weighs about eight tons, or 16,000 pounds.
The artist completed this work shortly before his death. Gino De Dominicis (1947-1998) created the giant skeleton sculpture in 1989, nine years before his own death.
The statue can now be found at the Museo Nazionale della Arti del XXI Secolo modern art museum in Rome, Italy.