by Staff writer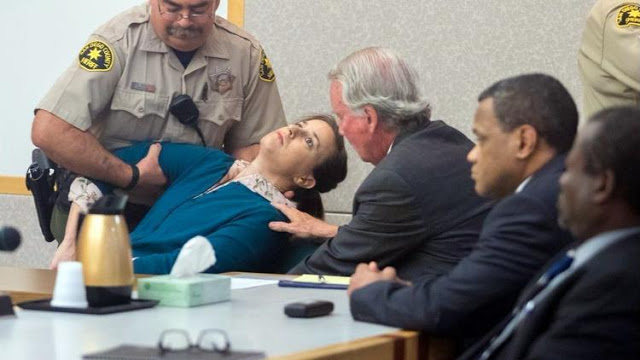 A California woman collapsed in court on Monday after she was found guilty of conspiracy to commit murder.

Diana Lovejoy, 45, collapsed not long after hearing she had been convicted of the conspiracy charge as well as attempted murder.
Authorities described Ms Lovejoy's offense as a botched murder-for-hire plot targeting her ex-husband, who was shot but survived.
Many in the courtroom gasped when she fell, and her family members started sobbing and asking someone to help her.
The presiding judge, Sim von Kalinowski, cleared the courtroom so that Ms Lovejoy could receive quick medical attention.
After paramedics took Lovejoy to a hospital — wheeled out on a stretcher— court resumed.
The same jury also found co-defendant Weldon McDavid Jr., 50, guilty on all counts and allegations, including attempted murder.
As his family watched, Lovejoy's accomplice Weldon McDavid closed his eyes, put his head in his hands and cried.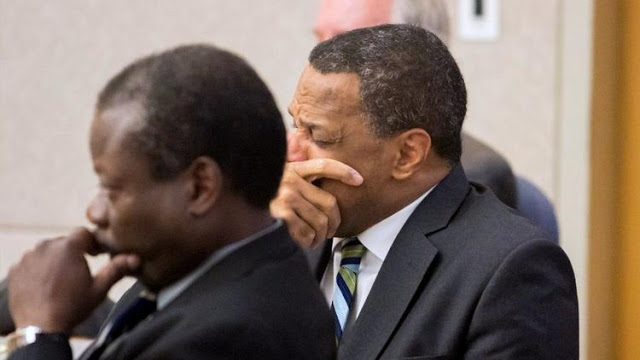 Mr Weldon McDavid Jr. was found guilty of conspiring to kill a woman's
estranged husband in an ambush shooting in Carlsbad, California last
year.

Ms Lovejoy faces at least 25 years to life in prison while Weldon McDavid, as the triggerman, faces 50 years to a life sentence.
Sentencing is set for Dec. 12.
Lovejoy and her ex-husband Mulvihill were two years into a heated divorce and fierce custody battle over their young son, a legal fight that included allegations of abuse and drug use.
It was drawing to a close, with shared custody and an agreement that Lovejoy would pay Mulvihill $120,000.
That payment was due weeks after he was shot.
"She didn't want to share custody, and she didn't want to give $120,000 to her husband," jury forewoman Erin Reed said.