'The Good Ship Jesus' was a 700-ton ship purchased by King Henry VIII from the Hanseatic League, a merchant alliance between the cities of Hamburg and Lubeck in Germany.

Twenty years after its purchase, the ship, in disrepair, was lent to Sir John Hawkins by Queen Elizabeth.
Hawkins, a cousin of Sir Francis Drake, was granted permission from Queen Elizabeth for his first voyage in 1562.
He was allowed to carry Africans to the Americas "with their own free consent" and he agreed to this condition.
Hawkins had a reputation for being a religious man who required his crew to "serve God daily" and to love one another.
Sir Francis Drake accompanied Hawkins on this voyage and subsequent others. Drake, was himself, devoutly religious.
Services were held on board the ship twice a day.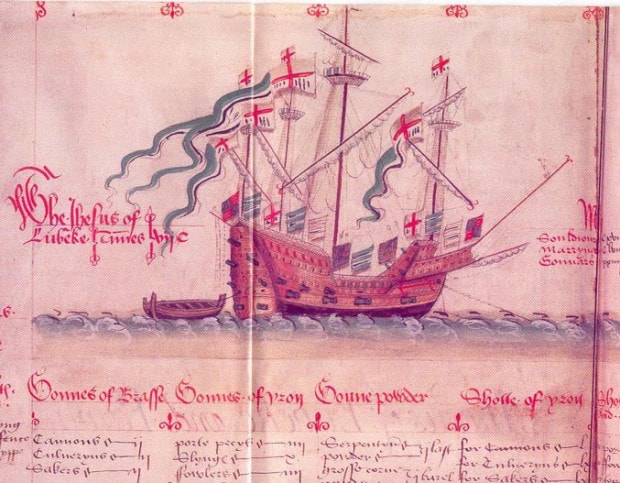 The Good Ship Jesus became involved in the Atlantic slave trade under John Hawkins, who organized four voyages to West Africa and the West Indies between 1562 and 1568.

Off the coast of Africa, near Sierra Leone, Hawkins captured 300-500 slaves, mostly by plundering Portuguese ships, but also through violence and subterfuge promising Africans free land and riches in the new world.
He sold most of the slaves in what is now known as the Dominican Republic.
He returned home with a profit and ships laden with ivory, hides, and sugar.
And thus began the slave trade!
During the last voyage, Jesus, along with several other English ships, encountered a Spanish fleet off San Juan de Ulúa (modern day Vera Cruz, Mexico) in September 1568.
In the resulting battle, Jesus was captured by Spanish forces.
The heavily damaged ship was later sold for 601 ducats to a local merchant.