by Dustin Bilyk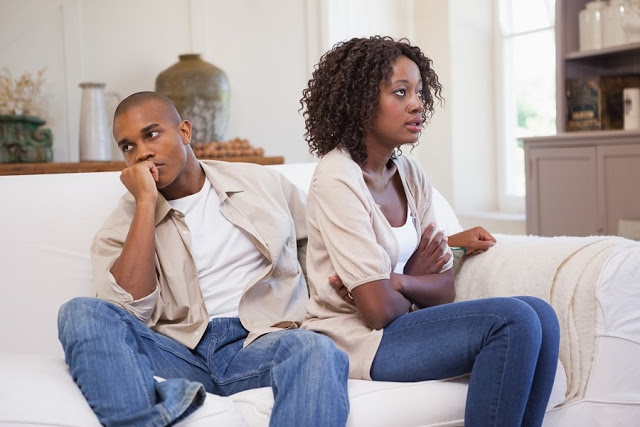 It's July 2015. My wife and I are on the rocks.
We haven't been getting along for at least a year, and then she disappears on a random ten-day excursion to the Western United States with her best friend.

I'm pretty thrown off, so I take the time to visit my hometown and for the first time I reveal to a few of my closest friends that my marriage is on the brink of falling to pieces.
They're all shocked to find out that my wife and I haven't had sex in the last year, we've completely stopped being intimate with each other, and we fight almost every other day.
I tell them I'm sleeping on the couch in the cold basement, and I'm drinking alone, wishing I had the balls to call off the marriage. They don't understand how a man can sit in the dark and whisper the words "I want a divorce" over and over again for six months and never actually pull the trigger.
To be honest, I still don't exactly know why.
I guess I feared failure. I feared being a divorced man. I feared what my parents would think and what my friends would think. I feared being single. Losing my dogs. Losing everything I'd built, and saying goodbye to my niece and nephew.
It was all of that and more, and keeping those things outweighed the eight hours a day I spent in a loveless home with a wife that wouldn't touch me or show me any affection.
It wasn't always like that. But for a good three years it was, and we both found ourselves constantly looking back, trying to rekindle what we once had. So many attempts and just as many failures. We were both in a hell of our own making.
Still, before I leave my hometown, I decide that I'm going to give it one final shot. I'm going to demand that we go see couple's counselling, get our sex life back on track and start showing affection for each other like a husband and wife should.
I got home before she did, and she walked through the door and laid her suitcase on the ground. I greeted her and gave her a hug, but I knew something was wrong. She wouldn't even look at me, and I knew right then she was going to ask for a divorce. So I tell her to come upstairs onto the couch because I have something to say.
Before I could even get in a word she told me she was a lesbian, and in that one single moment, my entire life changed.
I was speechless and neither of us said anything for a while. I remember looking at my arms and they were pale and covered in goosebumps. She cried, said she was sorry, and then the shock subsided. A flood of emotions ran over me.
Anger. Suspicion. Fear. Rage. Sadness. Betrayal.
Hope. Love. Happiness. Freedom.
I still didn't know what to say. I cried, but they were the strangest tears, and really the first tears in the ten years we were together. They were both tears of joy, but also of a deep, deep sadness. I felt a giant weight lifted off my shoulders, and then another heaping weight laid back on them.
I was free. If she was gay, there was nothing I could do to change that. There was nothing I could fix, nothing I could say, and nothing ANYONE could do for us.
But it wasn't that easy.
Anyone that gets divorced knows it sucks. There are assets, feelings, animals, in many cases kids, and so many other things you need to work out when you break up. It's painful, emotional and incredibly depressing.
To begin with, my wife was the daughter of super religious parents. My first order of business was fighting off their pleas for me to try and change their daughter back to a straight woman, as if I hadn't done my manly duty and f*cked her enough to keep her that way.
I politely refused them, and told them that they had to accept that there is nothing anyone can do about it. It's not a decision that she made. It was a reality. And if you're reading this and you think otherwise, I'm sorry but you're an idiot.
I had to go through everyone feeling sorry for me, and pitying me because "there was nothing you could have done", like I didn't know that. And at the same time, our politically correct world had to add "Oh, but yes, she's very brave for coming out like that as a married woman."
That was the single hardest thing for me to reconcile.
She wasn't brave to me at the time. Fuck. That.
She lied to herself for years, lied to me for years, and she put me through emotional hell. We built a life together and it was based on a lie. We had a home, two dogs that we both loved dearly, strong relationships with other couples, a nephew and niece that I adored, and I beat the living piss out of my self-esteem trying to understand what was so wrong with me that my wife, who swore she loved me, found me so repulsive and wouldn't even sit next to me when we were alone.
I was a husk at the end of our relationship, and her bravery came a good four years too late.
I recognize that she suffered as well. Probably even more than I did, because she had to watch me suffer too, knowing that she was the cause of it. Coming out was difficult for her on so many levels, and I'm not saying that it wasn't. But to say that she was brave was like a slap to my face every time someone said it to me (which was a lot).
It made me resent the LGBTQ community, and, keep in mind, I am very liberal-minded, and I have always been an ardent supporter of gay rights.
My sister is a part of that community, and I love her and always will love her more than words can ever say. I've celebrated at pride parades, and I have openly defended the community's right for equality.
Yet, at this juncture in my life, all I could think was how this loving community gave NO shits about the straight men and women that were affected by a spouse coming out of the closet. All I received from people were pitying looks and shitty jokes about how me, the straight man, must have turned her gay.
Seriously?
I got asked all the time: "How didn't you, of all people, see it coming?" or "How didn't she know sooner?"
These questions are harmful because they are the very questions I asked myself as I laid in bed at my friend's place (I was kicked out) and beat my pride and confidence to death wondering what the hell was wrong with me.
Truth was, no one saw it coming. Not her parents, not her best friends, not my lesbian sister, and certainly not me.
"You should have sought out professional help!" I still get told.
Well, guess what? Counselors and mental health professions don't have a clue how to deal with people in my situation. I saw three different professionals, and all of them were more interested in the story and were more focused on her journey than mine. In my sessions they did more damage than good, and I had to look elsewhere for help.
Thankfully, there was some support out there. The web is a beautiful thing, because I know of no one else, personally, on this planet that has gone through this. That was the toughest part about it.
The support I found was on a website called StraightSpouse.Org. It was the only place on the web where I was able to read stories that mimicked my own, and the general feeling from most people was the same:
No one understands what I'm going through, and it feels like no one cares.
My spouse is being celebrated while I am being forgotten.
I feel lied to and betrayed.
The website is an amazing tool for men and women who have been affected by their spouse suddenly switching sides. The stories on there are riveting, and they provide a support network, online counselors and videos that make you realize that you're not alone. They call the "straight spouse effect" a silent epidemic in the modern world, and, honestly, I couldn't have put it better.
You'd think what happened to me is rare, but guess what? It really isn't.
An estimated four-million women are or have been married to gay men. Unfortunately, I was unable to find the stats on men in my situation, but you'd have to imagine it's similar, and people need to be made aware of this as the LGBTQ community grows and more people feel comfortable coming out and leaving their marriages.
I know how that might sound to some of you — like I want to somehow slow the LGBTQ community's growth and stop this from happening to other people.
But the truth is simply that it will continue to grow, and both I, and the Straight Spouse Network, are allies of the LGBTQ community.
I recognize that, if my ex-wife had been more comfortable coming out and didn't fear the negative consequences, it would have happened a lot sooner and the damage wouldn't have been as brutal as it was for either of us.
Lifting up gays and lesbians, and everything in between, is imperative to a safe and accepting world, and my hope is that the men and women of the future don't have to go through the crushing hurt that we had to go through.
But we're not there yet, and in a way the LGBTQ plight and the Straight Spouse plight are intrinsically tied together.
My hope is, that in sharing my story, you'll be able to point that one person you know or might meet in my position toward the Straight Spouse Network, and that you won't make shitty jokes and take their plight any less seriously than you would if they were the ones that came out gay or lesbian and needed the support.
I'm happy to say that, two years later, I am doing amazing and I no longer hold any ill-will toward my ex-wife.
And while it has been far from an easy road, I wish her, and everyone who has been affected by situations like this, happiness and the love they want and deserve.
***
Dustin Bilyk is a 31-year-old professional writer and freelancer. He writes novels and blogs at www.DustinDoes.com.

You can visit the link to check out some of his writings.