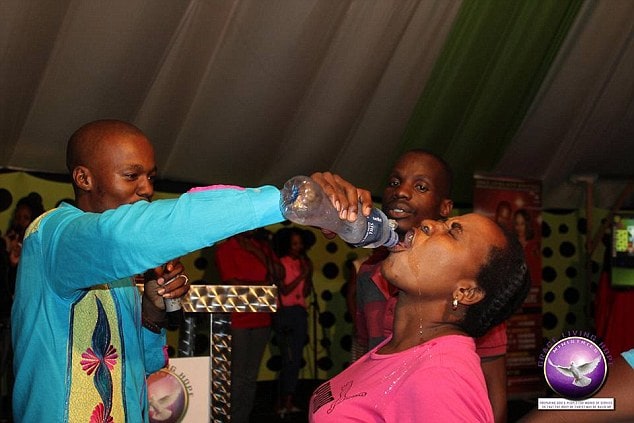 A Christian pastor in South Africa sparked outrage online after encouraging worshipers at his church to drink a deadly rat poison.

Pastor Light Monyeki told worshipers at the Grace Living Hope Ministries to drink from a bottle of water laced with toxic Rattex to 'nourish their bodies' and 'heal their sickness'.
After the pastor took a sip from the bottle, 'a multitude of congregants voluntarily ran to the front to have a drink of the deadly poison', the church wrote on their Facebook page.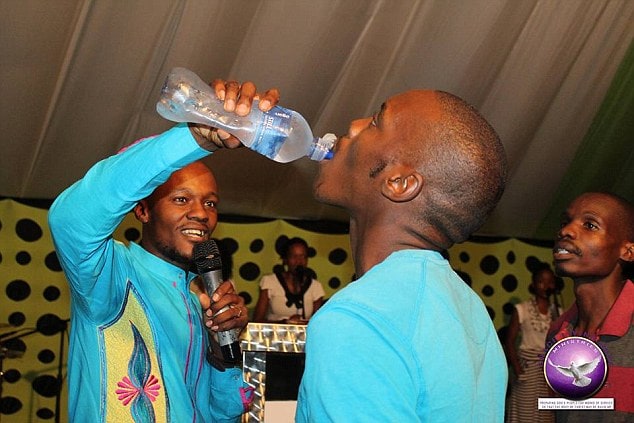 Sharing pictures of Monyeki pouring the poisoned water down congregants' throats, the church wrote in a Facebook post:
'The man of God, Prophet Light Monyeki demonstrates power of faith by causing congregants to drink Rattex; deadly poison to show forth their faith.
'As he was doing that he said "we do not need to proclaim faith because we are believers. If nyaope [a street drug] boys can smoke Rattex for more than eight years, who are we? Death has no power over us".
'Then he declared life from above upon the water mixed with Rattex; and spoke nourishment unto bodies and healing unto the sick.
'A multitude of congregants voluntarily ran to the front to have a drink of the deadly poison. After declaring nourishment and healing, Prophet Light was the first one to drink.'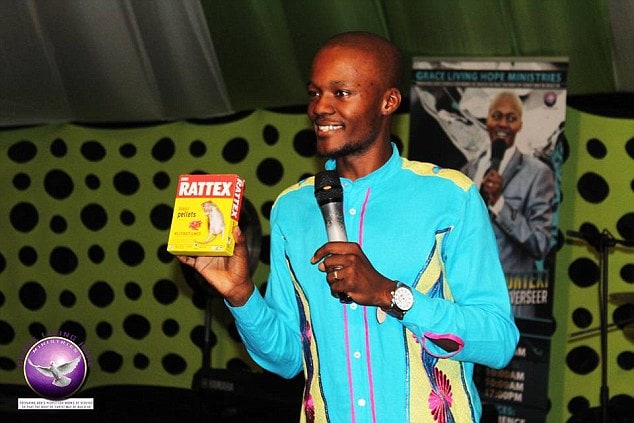 Rattex can lead to death in humans, as it prevents clotting in the body, meaning those who ingest it can bleed to death
The pastor faced widespread criticism since the photographs were posted online.
There are now reports that 5 of the church members who drank the rat poison are dead while 13 others are still in the hospital.
Monyeki is not the first controversial South African pastor to have encouraged unorthodox practices among his parishioners.
In 2014, the 'miracle worker' Pastor Lesego Daniel of Rabboni Centre Ministries in South Africa convinced members of his church to eat grass, telling them it would give them strength and healing.
A year later, another controversial young pastor named Penuel Mnguni allegedly commanded a snake to turn into chocolate, then told his congregants to eat the animal's body as a show of faith.
He was later arrested on suspicion of animal cruelty.
Prophet Lethebo Rabalago of Mount Zion General Assembly church claimed he could cure HIV and cancer with insecticide.