by Staff writer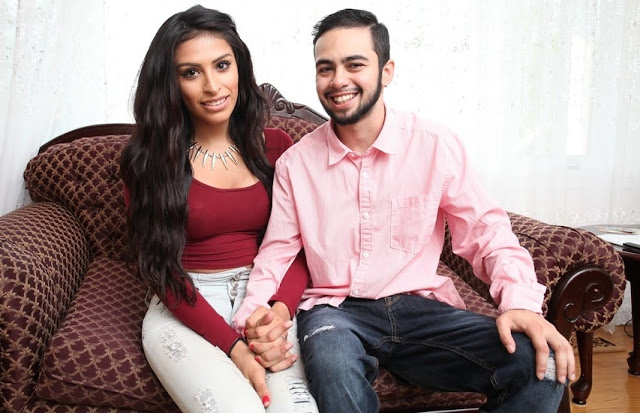 Ryan Said, 27, and girlfriend Jasmine Merino, 21, are a couple from Toronto, Canada.

Despite both being born of opposite genders, Ryan and Jamine managed to find love in a happy relationship and are now treated like any other couple in their progressive home country of Canada.
Ryan who was born a girl has been living as a man for four years after his sex change when he met Jasmine.

Jasmine who was born a man had only began transitioning two years earlier.

Ryan takes testosterone as an injection every two weeks, while Jasmine took two months to grow her breasts using estrogen shots.

And despite not undergoing full gender reassignment surgery, they say their sex life is great after learning to adapt.

In an interview, Jasmine said: 'At first being intimate was kind of hard. It was different. But then we found our ways.'

Although they feel happy and comfortable together now, growing up transgender was tough for both of them.

Especially for Ryan. Ryan said: 'My family didn't accept it at all. They gave me a really hard time. They said I was a disgrace to the family.

'At one point they took me to a lot of psychiatrists, and thought I was sick in the head or something. 'My parents always forced me to be girlier, but I was always into boys clothes.'

Eventually, his family came to accept him as Ryan rather than Sarah, the name he was given at birth.
Ryan and Jasmine found each other on Instagram and chatted on Skype for a month before deciding to meet.
Ryan believes it was love at first sight for them both. But he has a lot of competition. Boys are always hitting on Jasmine, leaving Ryan feeling a little insecure.

Jasmine said: 'A lot of guys message me. People from my old school too. A lot of guys hit on me.'
The attention Jasmine receives can make Ryan feel insecure.

Ryan said: 'The attention she receives, it's like she's beauty and I'm the beast. That's how I feel people see us.'

Ryan and Jasmine plan to marry and have children one day, using Jasmine's sperm and Ryan's eggs.

But should they not be able to have children due to the hormones they are taking, they plan to adopt.