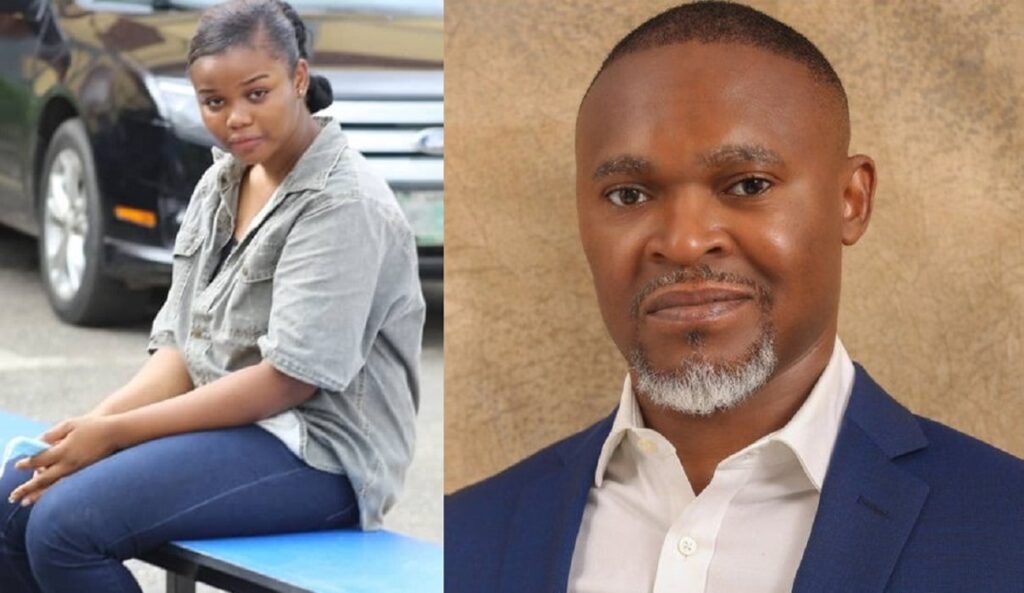 Chidinma Adaora Ojukwu – the 300-level UNILAG student arrested for allegedly killing Super TV CEO, Michael Usifo Ataga, has narrated what she claimed happened on that day.
Chidinma Ojukwu who lives with her parents at the Alagomeji area for Yaba in Lagos State is a student of Mass Communication at the University of Lagos (UNILAG).
The 21-year-old was arrested and paraded by the Lagos State Police Command for allegedly killing the CEO of Super TV, Mr Usifo Ataga, in Lagos.
According to a report by the Lagos State Police, Chidinma Adaora Ojukwu conspired with others, now at large, and allegedly murdered Mr. Usifo Ataga by stabbing him several times with a kitchen knife at a short-let apartment in Lagos.
Police also said Chidinma made away with Mr Ataga's iPhone and ATM card after allegedly killing him.
Chidinma Ojukwu told journalists on Thursday, June 24 that she stabbed Mr. Michael Usifo Ataga to death in self-defense.
Read her narration of what allegedly transpired between her and Mr. Ataga, as shared by the News Agency of Nigeria (NAN).
"On a Sunday, June 13, he asked that I get a place where we can stay. I checked online and sent to him, he asked me to go check it out which I did and paid. On Monday, June 14, we were together drinking, smoking and I also went to get food.
"On Tuesday, June 15, he was making advances at me and I resisted, so he became violent and later had his way. In the afternoon, he ordered for smoke, ate and we became high because I also smoked with him even though I was still angry about the first one he did.
"So, I was on my own, watching a movie on the couch. He came at me again and I said no because I wasn't happy with him. I told him that he doesn't help me but only plays me around, he kept trying to make advances and I was resisting so I had to defend myself.
"At some point, he hit my head on the wall and was choking me. I tried escaping but the door was locked so he pulled me back. "I grabbed a knife from the kitchen and stabbed him twice in the neck and threw the knife on the bed. "He then tried reaching for the knife so I picked it again and stabbed him the third time."
While being paraded by the Police, Chidinma Ojukwu also told newsmen that she felt a lot of remorse over what she did.
She shared:
"I checked for the place we lodged in online on Sunday and sent the details to him and he paid. On Monday, we were together drinking and smoking, we had fun and so I went to get food. On Tuesday, he was trying to make advances at me, but I was tired and he became violent and forced his way and I gave in.
"In the afternoon, we smoked and ate. We became high and I wasn't happy with the first round of sex; so, I was on my own smoking, drinking and eating my food when he came to me, while I was watching a movie. I told him I was not happy with what he did the first time.
"I told him he was not assisting me with anything, but was playing around with me. He told me to take his ATM card and withdraw any amount I wanted and gave me the PIN, but I told him that was not what I meant. So, he became violent; I was defending myself and at some point, he hit my head on the wall and I retaliated.
"He was choking me and I was on the kitchen cabinet, so I stretched out and grabbed a knife and stabbed him twice in the neck and once in the stomach. We smoked SK and Loud. While he was lying there, I changed my cloth, looked for the key from where he kept it, and left the room.
"When I left, I didn't reach out to anybody. I didn't feel good about what I did. I withdrew N380,000 and not N5m from his account. I feel a lot of remorse. I wanted to use the money I withdrew to pay my school fees. I felt disappointed when the police arrested me at my parents' house and it was when I was arrested around 10 pm that my parents got to know about the incident.
"I live with my parents; I left home on Sunday and told them that I was going for ushering job. I used the foreign number I generated in texting the owner of the apartment."