Two brothers were sentenced to 20 years in prison on Monday after attempting to kill their parents.

Chrisopher and Cameron Ervin were also sentenced to 30 years probation in a Georgia court.
The two brothers were arrested in early September of 2015 after allegedly drugging, beating and attempting to murder their parents, Yvonne and Zachary Ervin, in their home.
Christopher, 22, spoke first, apologizing to the court and everyone there. He blamed the incident on his addiction to drugs and alcohol, according to The Atlanta Journal-Constitution.
Cameron, 17, expressed his regret and remorse, saying:
"During my time that I have spent in the Gwinnett County Detention Center fighting this case, I've spent two birthdays in here. I've had at least one visit a week, which is at least 60 visits, with my parents, one on one."
"Thirty minutes a visit," he continued. "That's over just a day, two days spent talking to one another. And I realize how much I love them. And I realize how much I love them. And I realize how much they love me."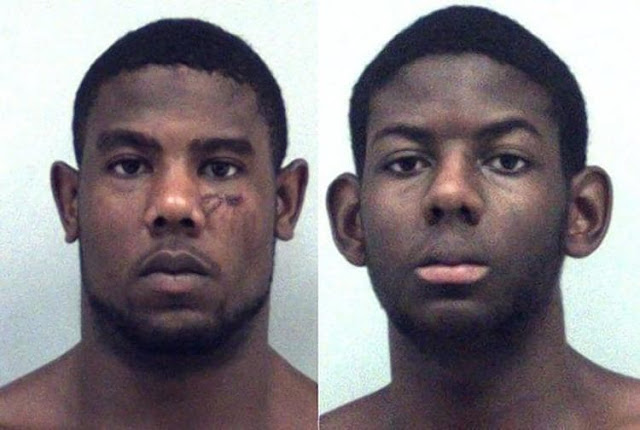 Christopher and Cameron Ervin (Credit: Gwinnett County Sheriff's Office)

The Ervins' parents, who survived their sons' attack, asked the judge to give them 10 years in prison, the lightest sentence legally possible.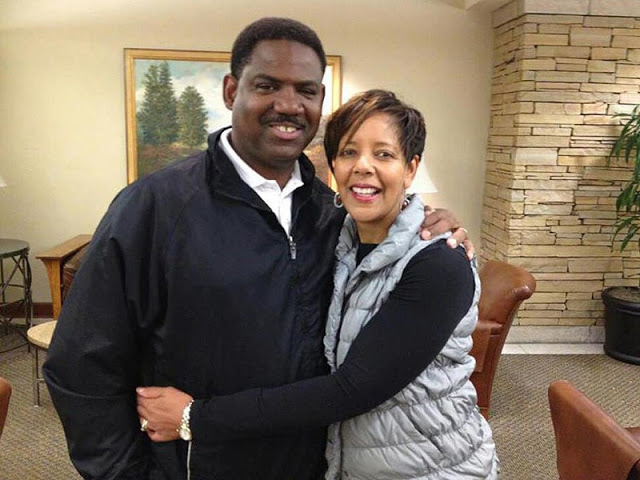 Zach and Yvonne Ervin

Gwinnett County Superior Court Judge Ronnie Batchelor sentenced them to 20 years in prison with 30 years of probation after that.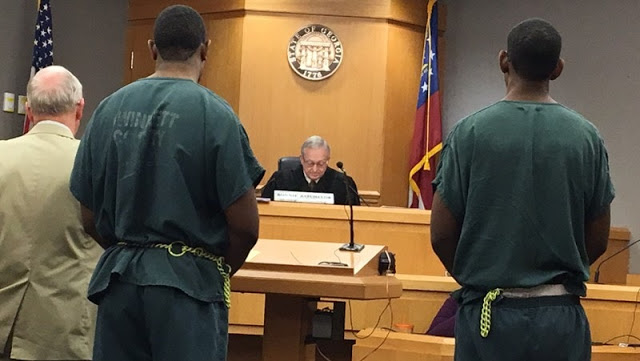 Christopher (L) and Cameron (R) Ervin both apologize before hearing their sentence from Judge Ronnie Batchelor.

In a frantic 911 call later released by Georgia police, Yvonne breathlessly spoke to the dispatcher, saying "Please send someone to my house. My children are trying to kill me."
Yvonne, 50, also told the operator that her sons had attacked her and her husband after drugging them with Xanax.
"I heard them saying that they put Xanax in our drink," she said. "That's why we were so sleepy; we didn't understand why we were so sleepy, but that's why."
"They're trying to strangle us and shoot us," she continued. "They beat me up, they beat [my husband] up. They're trying to kill us. Please hurry."
Her husband distracted his sons long enough for his wife to call the police. He stumbled to the garage and attempted to blow the car horn.
When the dispatcher asked why their sons were attacking them, Yvonne didn't have an answer. "I don't know why they've done this, I really don't," she said. "I guess they want the insurance money; I'm not sure."
When police arrived at the scene, Zachary was hospitalized in critical condition. Their sons were immediately arrested within the home and charged with two counts of felony aggravated assault and two felony counts of first-degree arson after police noticed that the home's gas line had been tampered with, according to WSB-TV at the time.
Yvonne and Zachary both took the stand on their sons' behalf, asking for leniency.
"These are not the sons we raised. My sons would not do something like this," the mother said.
Her husband reiterated the message, adding:
"That night, being in that room, being in that house that night, I saw Satan. And I knew shortly after that that what had happened to us wasn't my sons. And that's why I've been able to stand with them to be advocates for them."
***
On Sept. 5, 2015, Cameron and Christopher Ervin served their parents Xanax-laced cocktails and waited.
When their parents finally — and drowsily — went to bed, the brothers lit candles in the living room, turned the gas on and sat outside.
They hoped their home would blow up, as one had done under similar circumstances in their family's favorite show, "The Haves and Have Nots."
It did not.
They'd planned for their parents to go quietly, cleanly, but that was no longer an option. They'd have to go back inside and deal with it another way.
They tried to strangle their parents that night, and they beat them with the butt of a shotgun.
They stabbed their father over and over and over again, in the kitchen, in the garage.
Their mother, though, managed to call 911, and the police arrived. Both parents survived and, on Monday, Cameron and Christopher Ervin — 17 and 22 years old, respectively, at the time of the attack — pleaded guilty in Gwinnett County Superior Court.
They expressed remorse, and their parents expressed forgiveness, and they were sentenced to serve 20 years in prison.
But what led to the attack?
What sparked the rage of two brothers raised in a seemingly comfortable, middle class, suburban Snellville household?
How did things get so bad?
Testimony during Monday's hearing did not shine much light on what really went wrong.
But the surprising incident showed what havoc years of simmering familial tension, drug and alcohol abuse and possible mental health battles could wreak.
***
After Christopher Ervin graduated from Shiloh High School, he went to the University of Charleston in West Virginia to play football. His dad had played in college — and had been a "star," according to a Gwinnett County police detective — and Christopher had big shoes to fill.
Christopher's time in West Virginia, though, was short-lived.
He left after only a year, and transferred to Valdosta State University. He soon, however, didn't have enough money to continue or enough credits to graduate.
He moved back home, eventually tried finishing at Georgia State, and failed.
After his failing drug tests cost him the opportunity to join the Air Force or start a job at the company where his father worked, Christopher got into a car accident.
According to his father, Zachary, he'd been drinking but was pardoned by the responding police officer.
His father later found Xanax in the pocket of the pants he'd been wearing.
His parents knew he'd been smoking marijuana, they said on Monday, but didn't realize the extent of his problems.
"Before I came here, before I was arrested, I honestly was at the lowest point in my life," Christopher Ervin said during the hearing.
"After graduating high school, I increased drug use to the point where it became not only something that I felt that I needed to have, to cope through my days, but it was also something that hindered me from being my best."
***
While his older brother struggled, Cameron Ervin was doing much of the same. He played in the marching band and was a smart kid, but he also battled a bad temper, had "issues not coming home" and had girls over when he wasn't supposed to.
He too fell into drugs, often ones shared by Christopher.
Zachary Ervin began to notice money being taken from his dresser. He made his sons take lie detector tests, and Cameron's "showed deception."
Both brothers were "resentful" of the test, the father told police.
"I spent so much time in my life holding a grudge and hate in my heart against my family, my parents especially, for something that they did in the past, even though it was for the best and I didn't realize it," Cameron said on Monday, his 19th birthday.
"And I tried to combat that with drug and alcohol abuse."
During one of their regular jailhouse visits, he would tell his parents that the days and weeks and months before the attack were filled with "bouts of just not feeling adequate, not measuring up."
According to testimony by his mother, Yvonne, Cameron stated that, during the incident, it was like a 'black silhouette' hovering over him.
A psychological exam administered after Cameron's arrest suggested he could have narcissistic personality disorder.
Cameron's parents recently launched a nonprofit foundation which appears to be especially inspired by the traumatic family event.
***
A dozen people testified on behalf of Christopher and Cameron Ervin before they were sentenced Monday. Ten of them said the brothers were good kids from a good family, and that they had no idea what could've led to last September's events.
Yvonne and Zachary Ervin also vouched for their sons.
"There's nothing that I know of … that could cause such an act other than the fact that there was something, it had to be something seriously wrong," the father said.
"These are not the sons we raised," the mother said. "My sons would not do something like this."
While the brothers weren't drug tested after their arrest and, at least publicly, have never explicitly said they were drunk or high at the time of the attack, Yvonne Ervin hasn't been shy about speculating such is possiple.
In a letter sent to Judge Ronnie Batchelor in January, she suggested they were "given some type of hallucinogen, like PCP, without their knowledge."
Whether she was grasping at straws, correct in her assessment or somewhere in between, she can't be blamed for trying to reach an explanation — just like everyone else — as to what truly went wrong.
***
New York Daily News
People.com
Ajc News