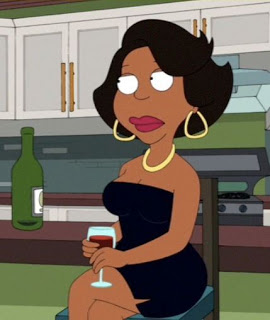 My DNB peeps, I greet you all!

Daniel has given me the job of rambling every Friday now. Not that I'm complaining though—after all, rambling has always been my thing.

It is more or less like punishing a rat with dry fish.
I got so much to talk about, but there is a word-length restriction so I will just manage my words.

First, I want to complain to all of you. Do you guys know that my comments go through an approval too before they show on the blog?
A whole editor like me. ***starts weeping***
Simply because I am a woman, chai. They said I don't know how to do anything.
Baba God, in my next world I must be a man, a man like Ebubedike!
LOL!
I pity the girls in that time though, because I will be a very stingy man. Even as a woman, my stinginess pass DSTV own.
The other day I was at the market to buy food items. I was already leaving when I discovered I have forgotten to buy Maggi. I checked my purse, the 5K he gave me has finished.
I have like 4K in my purse that is mine, but I wasn't going to touch it.
I picked a bike all the way back to the house to collect N50 for Maggi and then back to the market.
Do you blame me? I already do enough na. After doing that one, I go come add financial support join? Hian! Na me kill Jesus?
That one aside, make we gist better gist.
Actually, I personally asked them to remove me from the admin page before I go scatter something.
I don't know if anybody is as eager as me to find out what has happened to our beloved roommate.
Loveth, where are you?
Are we going to lose a roommate so early? God forbid! Let's wait and see tomorrow. We will also find out how Georgina's lee-lee date went.
Let me use this opportunity to beg our silent readers; please please please, if you are reading DNB Stories and have not commented ever, it means we don't know you.
We don't feel you.
It's like living in a country without permit. Illegal immigrant. Refugee.
That is bad na, when your visa is only a comment away. So please always endeavour to comment.
If you use Opera-mini and it is not allowing you to comment, delete it and download a better browser. You need to see how DNB Stories opens on my Chrome browser.
It even looks better than on desktop. We have spent money to make our site beautiful, so please always comment.
I appreciate our current Top Commenters – Iyke, Pamela, Sekinat, Ijeoma and Emmanuel—you guys rock!
Baba Iyke has dey that top since, no moving. I hail.
Ok, before I go, let me do a little marketing.
Thanks to mobile and online transfers, you can now buy our eBooks any time and day you want. Even if it is 2a.m in the morning, once we receive your alert, we will send you the books you want.
Most smartphones now come with ebook readers pre-installed. If yours didn't come with one, you can visit your respective app store and download one. It is usually free and there are many options. I use PocketBook on my Android and it's awesome.
We are now in the digital world, no time for carrying heavy Paperbacks around.
And why are we even reading foreign novels when we can read our own stories.
Lastly, I want to advise those that are sending their works to us to always use simple English.
Sprinkle your big words, don't litter them. It makes for easier read.
I changed the way I write after reading Dan's The Village Girl. The simpler is the sweeter.
Have to go now, thanks a lot for the support.
Catch up with me with your comments!