A Girl's Mystery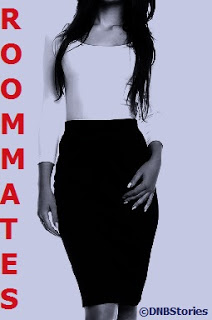 This would be the third time Georgina would wake up in the middle of the night with her eyes wetted by tears.
But this time her tears were different.
The dream was different too.

It was no nightmare this time.
In this one, she'd seen Nwamgbeke as usual, but she was not covered in blood and looking sorrowful like always.
She was in fact smiling and waving at Georgina.
Georgina on sighting her, ran up to meet her.
The two sisters held hands for long, saying nothing to each other, only staring.
Then Georgina's face crumpled and she began to cry.
Nwamgbeke quickly wiped the tear away.
'Not tly that lubbish again, you hearing me?' she told Georgina.
Georgina stared at her.
'You hearing?
Georgina's eyes came open at the same time she was nodding.
And in the morning, she found she was different.
She felt surprisingly light and calm, all the sadness gone.
***
For the past one hour or so, Philomena has been with her phone—a BlackBerry Q10—talking and smiling with one person or the other.
Georgina dropped the book she was reading on the bed and positioned a puckered mouth at her.
Loveth sat on the chair, one heavy leg over another and both eyes fixed into the air as she struggled to cram in the few sentences she had read a few moments ago.
Now Philomena threw out a sudden laugh, uncrossed and re-crossed her legs on the bed. 'Oh please stop teasing!' she said into the phone, her eyes playfully rolling.
The look on Georgina's face got worse.
Finally Philomena was done. She was dialling another person when Georgina put up her palm and said, 'Nne, hold it, inu!'
Philomena looked at her. 'Yes, dear, anything?'
'Nothing. Just go outside and continue with your calls because as you can see, we are trying to read.'
'Oh, was I disturbing?' Philomena said.
Georgina shook her head, her mouth sarcastically contorted. 'Mba, you wasn't.'
Philomena made a face. 'I'm sorry all the same. Will it be okay if I stay in the bathroom?'
'You can jump inside the toilet bowl if you wish as long as I stop hearing your voice,' Georgina said and turned back to her book.
Now a big frown settled on Philomena's face. 'Why are you so rude, this girl?' she shouted.
Georgina turned back to her. 'Are you alright?'
'I should be asking you that! Here am I pretending with all my might and trying so hard to be nice to you yet you keep on vomiting rubbish!'
On sudden impulse, Georgina threw the book she was reading at her.
It hit Philomena on the mouth.
Now Loveth abandoned her cram job and looked at them.
Philomena quietly picked the book Georgina threw at her. She closed it back and, appearing to glance at the title for half a second, placed it on the mattress.
She stood, gave Georgina a tiny smile and entered the bathroom.
Georgina simply picked her book and opened it back to the page she was reading.
Inside the bathroom, Philomena took the toothbrush Georgina used in the morning and turned the mouth part round in the water in the toilet bowl.
Afterwards, she placed it back where it had been before and then leaned into the tiled wall and started with her calls again.
When she finally came out, Loveth asked her, 'If you know so many people, how come you were stranded at Campus Junction three days ago?'
Philomena smiled. 'My dear, there is a big difference between knowing a lot of people and having a lot of friends.'
'If the amount of dissolved gas is proportional to its partial pressure in all gas phases,' Georgina was reading out loud, 'then—'
'That's Graham's Law of Diffusion,' Philomena said quietly, walking past her to the wardrobe.
Georgina looked at her, surprise in her eyes. 'How did you know that?'
'I read Chemical Engineering.'
'Serious?' Loveth this time.
'Yep!' Philomena said but did not look at them. She took out a skirt from her green box and wore it over her thin shorts.
'Are you a graduate?' Loveth asked.
'Yep! Graduated three years ago.'
'Wow!' Loveth said.
Now Philomena turned. 'Yes, babe.' She picked a comb from the plastic rack and started to comb down her hair.
Georgina and Loveth continued to stare at her.
'Can you help me solve this problem?' Georgina came out finally.
Philomena looked at her. 'Who, me?'
'Yes, please. I've gotten the answer already, just to know if there is another way to solve it. You know sometimes these things get a little confusing and—'
'Sorry, my dear, no!' Philomena cut her off.
Georgina's eyes came wide suddenly. She hissed. 'Sorry I asked, inu.'
'The sorry is for you, my dear,' Philomena gave her back at once. She rubbed her face over with cream.
Georgina was looking at her. 'Nekwa!' she said. 'Biko sokopuo! If truly you read Chemical Engineering, then you should have known that that thing you just rubbed on your face is not a face cream.'
Philomena checked the label on the cup. 'It says body cream here, Miss Solomon!'
Loveth turned to them. 'Actually, Philomena, it is not. I just used the empty cup to borrow some relaxer from a friend!'
'Oh God, my face!' Philomena screamed.
'What is happening to your face?' Georgina said.
'It's burning!'
'Just that?'
'I'm not joking, my face is on fire! Help me please!'
Loveth quickly got up and guided her into the bathroom.
***
April opened the door and entered.
She saw Philomena sitting on the mattress with her whole face shinning like fried chicken.
'What did you rub on your face?' she asked Philomena.
'Groundnut oil.'
'What? Why?'
Georgina started to laugh. 'Our sister here who is indeed a certified Chemical Engineer from St. Theresa's Grammar School, Ukwu-ube went and rubbed Loveth's perfumed hair relaxer on her face thinking it was body cream.'
April's lips formed a sudden O. 'Aw!' she said. 'And I've actually told Loveth to get rid of that rubbish Tessy gave her. The thing is too caustic and I guess by now it might have even expired!'
'It literally burnt my face,' Philomena said.
'So sorry, dear,' April said. 'Who now asked you to rub groundnut oil on your face?'
Philomena pointed. 'It's Georgina,' she said.
'Actually, I recommended palm oil first and she refused,' Georgina said in her defence.
April let out a small smile and shook her head. 'Please, what's in the kitchen?' she asked, 'I'm dead hungry.'
'Pots, spoon and plates of course,' Georgina returned.
'Wish it had been your face that was burnt!' April said and walked past.
***
It was some minutes past 6 in the evening.
April was lying on the bed, reading a textbook she'd borrowed from a course mate while Georgina sat on the chair, chatting with Abuchi on Whatsapp.
Philomena and Loveth were out to buy things for egg sauce.
A knock came on the door and April asked Georgina to please get it.
Georgina opened door and it was a guy called Frank. He lived in the lodge too but downstairs.
'Yes?' Georgina said.
'Please I'm looking for Phil,' the boy said.
'Who is Phil?'
'Phil, your roommate.'
'Nnaa, please go and come back later, inu?'
'Okay … but why?'
'Come back later, oh.' Georgina slammed the door.
***
When Philomena and Loveth walked in, Georgina told her about the boy who had come to look for her.
'Oh, Frank, what did he say?' Philomena said.
'Shut up!' Georgina said. 'This is your fourth day here, how did you know him?'
'I met him yesterday at the gate. They were playing ball and he was shirtless.' Philomena placed one hand on her chest in desire. 'Oops, he was such a sweaty sexy god!'
'Blasphemy!' Georgina muttered.
'What?'
'Nothing. Did you have a lick of his sweat?'
'I so wish I had. Gosh, there are lots of cute boys in this compound!'
Georgina shook her head. She turned to April. 'Madam, this is your specialty,' she said. 'Over to you.'
April stared softly at Philomena for a while. 'Philomena,' she called, 'you see, there is a standard we have always maintained ever since we were here.'
'What standard is that?'
'We don't mingle with boys in this lodge.'
'And why is that?'
'Because they are all loudmouths!' Loveth shouted. 'Show one your pant today and tomorrow they've all slept with you.'
'How?'
April stood. 'My dear, they are young growing boys constantly being nurtured by societal impulses. They would make fun with anything just to stay relevant.'
'So you mean neither of you have ever had anything to do with any of the boys in this lodge?' Philomena said.
'No!' Loveth shouted again.
'Really?'
'Yes!'
April made a gesture. 'You are free to greet and smile with them,' she said, 'but that should be just about it and nothing else. If you need a man, you go out and get yourself one. In this world we live in where girls frequently get shamed for the same thing boys get praised for, every girl needs to wear her cloak of caution all the time.'
'So what makes you think the men outside will not still insult and gossip about you?' Philomena said.
'Oh sure those who will will,' April said, 'but, my dear, you should know that distance deadens gossip.'
'I don't get that statement.'
'Philomena, in this lodge I am April. Everybody knows that. Outside here, I am most likely to be 'just one girl from that campus'. Spot the difference?'
Philomena was silent, just staring at April. It might not really be the words themselves that got her stilled, it could be the way April delivered them. With her characteristic grace and composure.
'Thanks for the advice,' Philomena came through at last.
April gave her a slight smile. 'It's nothing, girl. Just always remember that a girl is incomplete without her mystery. It's all you've got so always guard yours cautiously.' She turned to Georgina. 'Gee Gurl, is there anything you have to say?'
Georgina's lips went wide apart in a great yawn. 'Nne,' she called in a yawn-distorted voice, 'the first thing you have to know is that a girl is incomplete without food in her stomach! So please, my dear, follow Loveth into the kitchen and make your elder sister proud!'
April picked a book from the table to strike Georgina and she ran into the bathroom.
***
Loveth's sauce was delicious. Only April did not finish her yam slices. Gladly, Georgina was nearby to render a helping hand.
She did three things at the same time— munching her yam and slurping Loveth's egg sauce, and still reading a blog story on her phone.
'Georgina, why not drop your phone till you are done with your food?' April said.
Georgina shook her head. 'Mm-mm, this story I'm reading is just as delicious as this sauce!'
'Which story is that?' Loveth asked.
'Ola. I think it's my best from DNB.'
'You read DNB Stories?' Philomena asked.
'Since time immemorial nu!'
'Wow nice.'
'I like the blog,' April said, 'only that I always find it hard to comment.'
'Me too,' Philomena agreed.
'My dear, my own is that none of my comments ever shows,' Georgina said. 'It's always Chidinma Grace and Coded Baby and Diana Rose that steals all the spot!'
'You are right,' Loveth this time. She drank some water. 'They are always the top commenters.'
'You read the blog too, Loveth?' April asked.
'Not really…read a story there once and it made me cry so I swore never to open that blog again!'
***
Very deep in the night, when all the girls have all slept, Philomena got up and crept out of the room.
And this was the beginning of their trouble!