by Daniel Nkado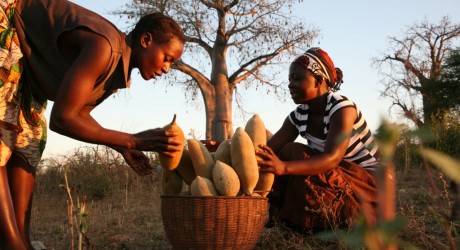 I grew up listening to neither Michael Jackson nor Diana Ross.
I was already 16 when we first had electricity.
The loud buzzing of an alarm clock didn't wake me each morning. The shrill cry of the rooster did. He was red-coloured and always on time.

Mornings were usually cool and calm. The singing of birds and chatter of squirrels formed a strange, yet pleasant, melody.
Often, I would pause sweeping the compound and stand the long broom to listen. Till Mama yelled out at me, 'Nnenna, won't we eat this morning?'
Mama would say morning, but breakfast was usually at noon.
The goats must be fed first and the sheep taken out.
Two or three trips to the lake and then we would pick the basket and cutlass and head to the farm. Somehow Mama believed we'd get a better yield if the cassavas were harvested in the morning.
Back at home, we'd cut the tubers into threes or fours, load them inside the big clay pot and fill with water.
They'd stay some days and then the real job will commence.
'What is the real job?' my husband asked.
I smiled at him. 'I'm sure you don't want to know,' I told him.
'Come on, Nena, I love everything about your culture.'
I nodded, still smiling.
He does actually. I know. He is one of the few non alumni to join the CWAS Society of the Department of African Studies and Anthropology at Birmingham.
He liked Things Fall Apart by Chinua Achebe and Half of a Yellow Sun by Chimamanda Adichie, though not so much her latest—Americanah—which he claimed didn't give him as much Africa as he would have wanted.
But each time my husband says something like this, expresses his deep love for my culture, there is always this guilt feeling that pricks me.
I feel I've not given in as much as I've received. I do not care so much about my husband's culture.
At least, not as much as he does mine.
Many times, I pretend the nods, the smiles, the laughter and all. I do not like hamburger, cheese, pies and sausages. Jackets, furry coats and hats.
I do not like the color of the sand here. I miss the red earth back at home, where red head termites built shelter tubes on.
We would cluster round them and draw them out with sun-wrinkled blades of spear grass.
I feel selfish. I feel like I have married a man that I don't deserve.
I want to go home. To the sun, the grasses, and the smell of fermented cassava.
One night, my husband finally asked me. 'What is bothering you?'
I know he'd noticed a long time. He is white, pale-haired and shrewd.
'I want to go home,' I said.
To my surprise, he smiled instead.
'You miss Africa, don't you?'
I nodded and said 'Yes', even though I didn't like the way he used Africa instead of Nigeria.
It is common to hear him say, 'My wife is from Africa' and I usually don't like it. Statements like that make Africa look small, parallel…belittled.
'We'll go together next summer, how about that?' my husband said.
A settling sigh flew out of me. I quickly clung to him. 'Thank you,' I said.
He rubbed my hair. 'I love you.'
'I do you too.'
We arrived Agulu in August.
I was shocked. I didn't see most of the things I wanted to see.
Most of the trees were gone. I couldn't hear the birds sing because Chris Brown blared from my cousin's window.
The central road has become tarred and every so often you'd hear the screech of a vehicle speeding past.
I did not see squirrels on the few trees that still stood. The air has lost its scent, and peace, and texture.
In the evening, when I asked a boy to help me get some fruits, he brought me back apples and grapes.
He couldn't find the soursop I requested.
I joined Mama on the bench. 'When are we going to go to the farm?' I asked her. 

She smiled and told me there was no need. That she had paid the tractor men to till the land for her. 'Everyone uses them these days,' she said.
'What of the lake,' I asked.
'A bridge has been built across it.'
'Can we go and fetch water?'
'The borehole is just down the road. Everyone goes there now.'
I checked and saw that the clay pots have all gone, replaced by plastic jerry cans. Yellow, black, white, all colours.
I touched Mama's hair. 'Mama, your hair has changed.'
'Oh, that is wigi, the white people's hair, that I'm wearing. Your brother bought it for me last Christmas.'
I was disappointed. I felt like crying.
My husband kept laughing at me.


***
Daniel Nkado is a Nigerian writer and the founder of DNBStories.com.  Get his books on DNB Store, OkadaBooks or BamBooks!