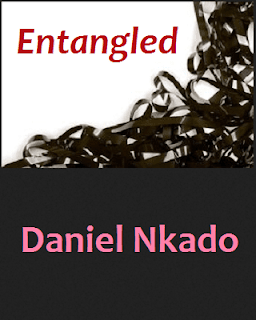 Hello, DNB Mamas and Papas.
Our next chapter story is Entangled.
Entangled tells the story of a young couple in love who find themselves trapped in a messy complication.
Entangled is all things DNB — simple English, African plot, smooth narrative style and wit.


New chapters of Entangled will be posted every Monday on DNB Stories.
***
You might have noticed that we have not approved any chapter story from guests since the inception of this blog.


This does not mean that we don't receive chapter-story submissions—we actually do. But the thing is, right from the beginning, we created a style we intend to always go by.


If you have submitted a series story to us once, or intend to do so, these are the things we look out for:


1. Plot Line:
Your story has to be centered on Nigeria or Africa. Your characters can travel to anywhere, but they must be African. And if you choose to create a robot, make sure you name it Okechukwu or Segun.


2. Pacing:


Because DNB Chapter Stories are not full-fledged novels, we pay particular attention to pacing. If you spent the entire first chapter telling us what your character's nose looks like or what time they like to wake up, we are probably not going to approve it.
We should at no time find your story bulky or skip a sentence!
Have in mind that this is DNB Stories. Think about when you are telling a story to someone that could sleep off any moment.


3. Characterization:
We love extraordinary characters, people who are not everyday people, but be mindful while at this because your story is going to be read by people who are not everyday people too.


Your characters can be outspoken, dangerous, sinister, just about anything, but they have to be realistically so too. Very important.


And yes, please let your main character(s) be someone people would love to read about, and possibly want to meet.
4. Dialogue:
Let only the things that need to be said be said. If a dialogue is not helping the story, you can skip it.

5. Suspense and Tension:

Your story is your story alone. Only you can tell it to us, both in your style and voice. But we like it when each chapter ends with us on a steep edge or getting an icy tingle at our sides.

6. Message and Ending:
A story is worthless if it doesn't convey a message [at least that's what we think] so always have this in mind while creating your work, but remember, it is the job of your readers to discern this message themselves. Do not shove it all over their faces with every sentence.

You can also check: Writing The DNB Style

Thank you all for the support and please remember to always share links to our stories and tell your friends about us.