If you've heard the phrase 'cash me ousside' recently, and are wondering what on earth all the fuss is about, here is everything you need to know.

13-year-old Danielle Bregoli is the girl behind the 'Cash Me Ousside' meme.
At just 13 years old, American Danielle Bregoli is quite a menace.
She says her signature accent, which has won her viral meme fame, is from "the streets".
Danielle also claims to have stopped going to school in the seventh grade.
Sassy teen Danielle made quite a scene when she appeared on American talk show Dr Phil with her mum Barbara Ann.
Danielle appeared on the Dr Phil Show in September 2016, in an episode that dealt with parents and their unruly teens.
Danielle's despairing mum Barbara Ann revealed that she has been very anxious about her child – who would run away from home four times in one day, fight and scream every so often and steal her credit cards.
While her life was laid bare on camera, Danielle became annoyed at the audience members of the show who were laughing at her.
She called them whores!
Turning to threats, Danielle then asked the audience: "Catch me outside, how about that?"
But, because of her accent, it sounded a lot more like: "Cash me ousside, how bow dah?"
This has become her signature catchphrase – and a meme which has gone all over the internet.
When asked about the catchphrase on TMZ, Danielle replied: "It's just something that happened! I can't control what ya'll people decide to do with me."
Despite the incident launching her newfound fame, she has slammed the Dr Phil Show, claiming it made her appear guilty by exaggerating the fight with her mum when "really it wasn't that bad".
She's become something of a celebrity, with Danielle reportedly charging over $35,000 for a public appearance at Rolling Loud Music Festival, in May.
According to TMZ, Danielle is being paid the five-figure sum for meet-and-greets with her 'fans'.
It's also been reported that the teen plans to sell tickets to her 14th birthday bash coming later this month.
According to Celebrity Net Worth, the viral sensation could also be set to 'become a millionaire' by the end of the year.
Danielle is already doing product placements on Instagram for different organizations.
Celebrities with Danielle's following can apparently make as much as $50,000 on a single post.
Paired with her $35,000 meet and greet charges and the possibility of having her own reality show, the website has estimated Danielle already has a net worth of just over $180,000.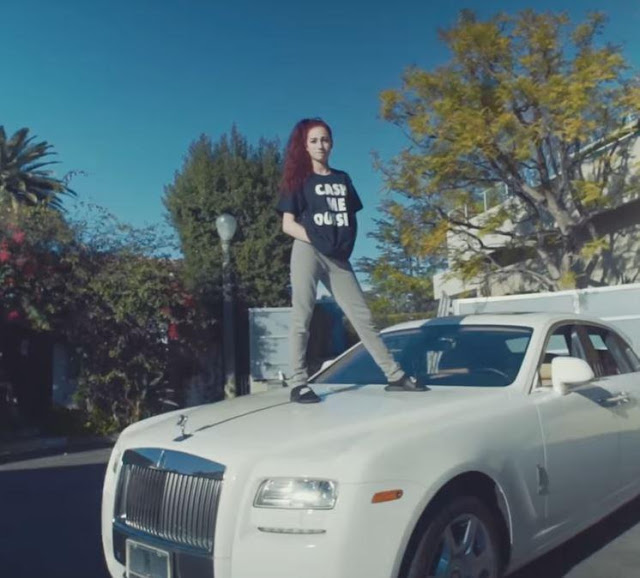 Cash Me Ousside girl standing on a Rolls-Royce
Therefore the site said it is "completely possible" for Danielle to be a millionaire by the end of 2017.
All these for being a disrespectful brat, hope our Nigerian mothers are reading.