by Mr Jackson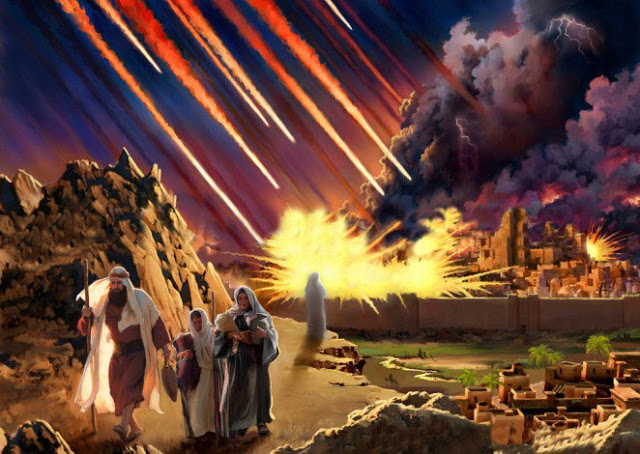 Talk to any anti-gay Christian today and you'd discover the chief reason for their hate is the Christian story of Sodom and Gomorrah.

But what actually was the sin of Sodom?
It's commonly assumed that God destroyed Sodom and Gomorrah out of his wrath against same-sex relations, but the only form of same-sex behavior described in the story is an attempted gang rape — nothing like a loving, committed relationship. The Bible also explicitly condemns Sodom for its arrogance, inhospitality and apathy toward the poor — not for same-sex behavior.
Gang rape is less about pleasure than about humiliating or establishing dominance. That the local men wanted to bully or dominate the visitors seems a better explanation than that they were just eager for sexual pleasure.
To me, the story was more about rape. Yes, it was homosexual rape, but the homosexuality isn't highlighted as the crime.
In fact, the Bible itself expressly describes the sin of Sodom elsewhere as radical inhospitality.
According to the prophet Ezekiel, the real "guilt" of the Sodomites was the fact that, although they had "pride, excess of food, and prosperous ease," they "did not aid the poor and needy" and were "haughty" (Ezekiel 16:49-50).
Similarly, the Letter to the Hebrews warns Christians by alluding to the true sin of the Sodomites as inhospitality:
"Do not neglect to show hospitality to strangers, for by doing that some have entertained angels without knowing it" (Hebrews 13:2).
To me, it is clear that the real sin of Sodom is radical inhospitality, or turning one's back upon the strangers and the neediest in our midst.
Rather than welcoming traveling sojourners into their homes and feeding them, the men of Sodom wanted to gang rape them and exert their power over them.
In fact, gang rape is precisely what happens to the unnamed concubine in Judges 19, which is the parallel story to Sodom and Gomorrah in the Hebrew Bible.
The true sin of the Sodomites as described in the Bible has nothing to do with same-sex acts per se.
Rather, the ancient Sodomites were punished by God for far greater sins: for attempted gang rape, for mob violence, and for turning their backs on strangers and the needy who were in their midst.
In other words, the real sin of Sodom was radical inhospitality. And, ironically, it is often anti-gay Christians who are most guilty of this sin today.
***
Jackson writes exclusively for DNB Stories!