FOUR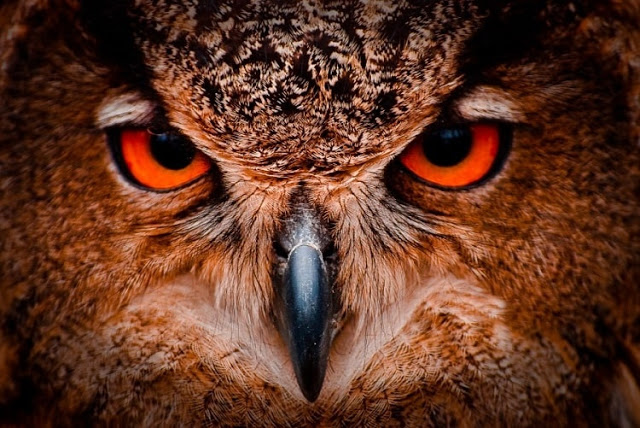 Read previous chapters HERE:
***
Dikezue was short and round. He looked quite younger than one would have imagined he would be from the rumours.
Or maybe that was because the first Dikezue –the real one— had died many years ago, and this one, his first son, had only taken up his job a few years back.
And he did it quite differently.
It was Jennifer's elder sister that clapped. She was the one who had been to the shrine before. She was the one who has experienced Dikezue's competency before.
'Enter!' came a male voice from inside the hut.
The thatched, round hut stood secluded in the thick forest, surrounded by tall trees and drying shrubs. A few of the trees, the ones with bigger trunks, had red and white cloth wound round them. One, the one with the biggest trunk and closest to the hut, had a cluster of feathers and blood at the base.
Varied animal sounds filled the air.
The two sisters inched closer to the small thatched building, one quiet foot after another.
'I said, enter!' Dikezue's voice came again.
Edith lifted the red cloth hanging in front of the hut and they stepped in.
'Greetings, Eze-dibia,' Edith said.
'Good evening, sir,' Jennifer joined her sister with.
Dikezue welcomed the two ladies with a nod. He rarely smiled. He waved. 'Sit.'
The two sisters lowered on the long, carved log lying to the wall behind them.
Across from them, Dikezue was sitting on the ground. The mat spread in his front had on it several worship items, from bones to chalk, shells and clay bowls. Further into the hut, were a bunch of statues of various sizes surrounding a large, centrally-placed, scary-looking mask. It was painted black— the face of an ugly woman with a hideous smile. The air in the room was dirty with evil.
It was Edith that narrated to the dibia the reason they had come and what they sought for him to do for them.
Dikezue hummed in the usual style he did when receiving issues from visitors. And this one was a familiar one, and quite an easy one too.
'Let me have what you have brought.'
Edith turned to her younger sister. 'Bring out the pictures,' she whispered.
'Ok.' Jennifer seemed tense in her voice. She fumbled inside her handbag and brought out two photos – one a passport of Christian's she had taken from his wallet and the other she had printed from the image she took from his phone.
Christian had given his phone to a passer-by the day they went to the beach and the young man had taken a wonderful photo of him and his lovely wife with smiling Baby Blossom sandwiched between them.
He very often opened the photo in his phone, or laptop—he had it on all his devices—to look at it, smiling and being thankful.
Now as Dikezue stared at the photos, he seemed taken by the beauty and love depicted in them too.
'Is that the man,' he asked, showing Christian's passport.
Jennifer nodded. 'Yes, that's him.'
Dikezue hummed again. He dropped the other picture on a corner of the mat and put Christian's passport in a large clay bowl sitting by his side. The bowl was half-filled with green-tinged water. For a moment, as the passport settled into the water, it appeared the water turned greener.
He brought out the wet picture and dropped it in a calabash. He passed the calabash to Jennifer. 'Say it as you want it.'
Jennifer's hands were shaking as he collected the calabash from Dikezue. Her sister nudged her to be still.
'Tell Agbala-ohia what you want and seal the talk with your spit,' Dikezue said again.
Edith nudged her sister again to begin talking.
'Mr. Christian Ugochukwu, I want you to be mine,' Jennifer began. 'I want…I…I want…'
Edith gave her another elbow push. 'Go on,' she whispered. 'Say everything as you want it done.'
'I want you to myself, Christian,' Jennifer continued, her voice coming bold now. 'You will forsake your wife and come to me. From today onwards you shall become mine, mine to love, mine to control. Mine till your death.'
She spat three times into the bowl and returned it to Dikezue.
'Good.' Dikezue nodded. 'Agbala-ohia has heard your plea, my child. And the mighty goddess of the forest will oblige you.'
'Thank you, wise one,' Jennifer said.
'Thank you, Dike kala aka,' Edith joined with.
'Now, let me have that which you have brought for our great mother.'
Jennifer opened her purse and brought out a wad of N1000 naira notes. The dibia pointed and she dropped the money into a black pot sitting among the cluster of clay bowls on the mat.
'You can go now, my children. I will take it from here.'
The two sisters thanked him and stood. But before they could step out of the hut, the dibia called, 'There is one more thing!'
The two sisters turned back.
'He must not see you when you are in your flowers,' Dikezue said, his eyes on Jennifer.
Jennifer nodded.
'Nor shall he sight any stain of your blood.'
She nodded again.
'You may go now.'
'Thank you, great dibia.'
***
Christian has never believed much in the metaphysical. In fact, there were times he followed his wife to church just to please her. He never opened the Bible Susan had given him to drop on his desk at work. He always preferred Susan prayed, because he felt God, if truly he existed, would answer more easily to someone who believed more in Him.
But that night, after two ladies had gone into a deep forest with his picture, Christian had a strange dream. One that may as well give him a rethink about the true borders of this world's physicality.
In the dream, he had seen a woman, tall and pretty, standing across from him, a narrow stream separating them. The stream flowed gently with camel-coloured water. Christian knew it was not deep, but he also knew the water was contaminated. One shouldn't step in it.
On the pretty lady's face, Christian saw distress and sadness. He pitied her. He felt he should help her, even though he had no idea what help she needed. And then he realized she might want to cross the stream.
He drew back and with a few running steps he jumped across the stream to help the woman in distress.
But now that he was on her side, he saw that the woman wasn't pretty at all. She has turned into a hideous monster— dark, cracked skin with curved horns and long ugly ears.
She growled and grabbed Christian, determined to throw him into the stream. Christian saw now what the water of the stream truly was.
It was blood.
Death.
Evil.
He was struggling with the she-devil when he came awake on the bed with a scream.
Susan got up. 'Honey, are you okay?'
He stared at his wife and then managed a nod. 'Yea.' He rubbed his forehead and tried to settle his breathing. 'Yes, Baby, I'm fine.'
But he knew he probably wasn't. As he lay back quietly beside his wife, he pondered on the events of the dream. It has changed something in him, he could feel it.
For one, he now has this banging headache, like there was a tiny carpenter, or carpenters, in his head, working on a new bench.
That same morning, he didn't eat breakfast with his family as usual. He just perked his wife, squeezed lightly at his daughter's cheek and dashed out.
After she said goodbye and watched her husband hurry out of the house, Susan shook her head in understanding.
She thought it was the job stress. She once again wished the promotion hadn't come. It was changing her husband in ways that were now beginning to make her worry.
'Mommy, why didn't daddy eat with us?' Baby Blossom asked, her face crumpled.
Susan bent over daughter. 'Honey, daddy has to be at work early today. He will join us tomorrow, now eat your food.'
Baby Blossom nodded and picked her toast with two hands.
But Christian did not join them for breakfast the next morning either. Nor the morning after.
The change had been radical.
***
Drop a comment if you want this story to continue…
Visit THIS PAGE to buy the complete book and save yourself the stress of having to wait!