by Nduka Dike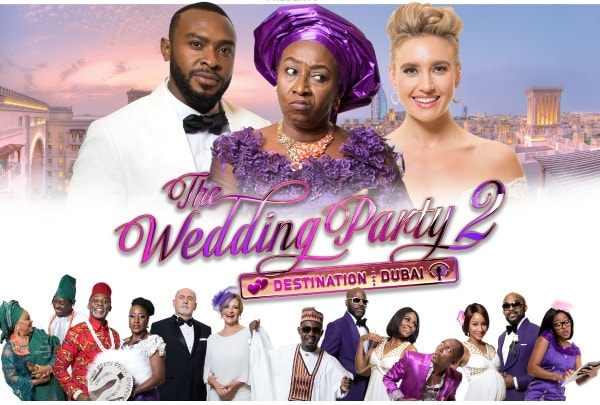 The sequel to last year's mega hit, The Wedding Party 2: Destination Dubai, is not worse than its predecessor.

It's not better either; it's just as pointless and shallow.
The actors and the characters they play are still pretty, they are still dressed in shiny clothes and the set is even prettier this time – because, well, Dubai. And speaking of Dubai, the whole movie is just, and quite shamelessly, a really long ad for Dubai.
In this second installment of what might become a trilogy (seeing as they're making a gazillion amount of money), the first Onwuka son, Nonso, played by Enyinna Nwaigwe, accidentally proposes to Deidre, played by Daniella Down, and has to marry her.
This leads to a cacophony of events that are, for lack of better words, pointless.
The movie tries to portray two different cultures and worlds colliding, but, because Dubai, it just settles for one world on a beach.
There's the Onwuka family whom we've already been introduced to in part one, but this time they've doubled in size as the Cokers have practically become part of them.
There's an aunty, played by Patience Ozokwo, that literally appears from thin air and Dunni who is now heavily pregnant. On the other hand there's the Winstons who are supposed to be British Royalty (Deidre is 2365th in line to the throne).
Deidre's father takes the news of his daughter getting married to a Nigerian quite hard, but is quite willing to go down to Nigeria and experiment with the culture. There's an attempt to have an Igbo traditional marriage, which goes awry and the couple decides to move the wedding (and their family and literally everyone from the first movie) to Dubai.
Let me just mention here that according to the Igbo culture, the Igbo traditional marriage has to be performed if the bride is Igbo. So, there really wasn't any need for the whole 'traditional Nigerian' marriage mess.
The premise is a tad convoluted and pointless. The supposed lead characters Nonso and Deidre are not given enough screen time for their love to grow or for us to like them.
Instead the screen time is wasted on their relatives and friends who are becoming more and more unlikeable. Deidre's father comes off as a jerk. Mrs. Coker, played by Sola Sobowale, is loud and incredibly nosy. Gozie and Dunni, played by real life husband and wife, Banky and Adesua, are boring.
And Mr and Mrs Onwuka, RMD and Ireti Doyle, have even less chemistry than they had in the first movie. Oh and speaking of lacking chemistry, the pairing of Sola and Yemisi is too predictable. We can already see a Wedding Party 3 in the works, yet another couple that seem like they'd rather be doing anything else than share screen time.
The movie, just like its predecessor relies heavily on its star power, than on story or even acting.
The actors don't seem to be obligated to delivering any performance, they just show up dressed in shiny clothes. The dialogue is boring and sometimes non-existent.
And in general, the movie lacks heart and is shallow. There are moments though, when it seems like two characters are about to have a meaningful conversation, something deep, but some interruption occurs and the moment is lost.
Take for example a scene where Deidre and Dunni are about to talk about Deidre's cold feet, but Gozie interrupts with suya. In another scene, Deidre confesses that all the problems make her want to marry Nonso the more and Nonso confesses he loves her, but we do not know how they arrived there!
They both had just been having cold feet! But then the writers are not interested in taking us through their love story; they're more focused on giving their too many stars as much screen time as possible. In the end, what they thought would be its strength, was the movie's biggest weakness – way too many stars!
One might argue that it's a comedy and as such shouldn't be taken too seriously, but even as a comedy, it still doesn't work. The jokes are stale and rely too much on stereotypes. They're unfunny, very unfunny. Including the awful cameos from AY and Saka.
In the end, the movie doesn't achieve what it set out to do. Two worlds or cultures do not collide to give us an awesome, dramatic, cinematic experience.
Instead they settle for a beach in Dubai, where everyone would have dropped their traditions (and claims to the throne) at home.
They did convince us though, Dubai is really an awesome place – like we didn't know that already!