by Staff writer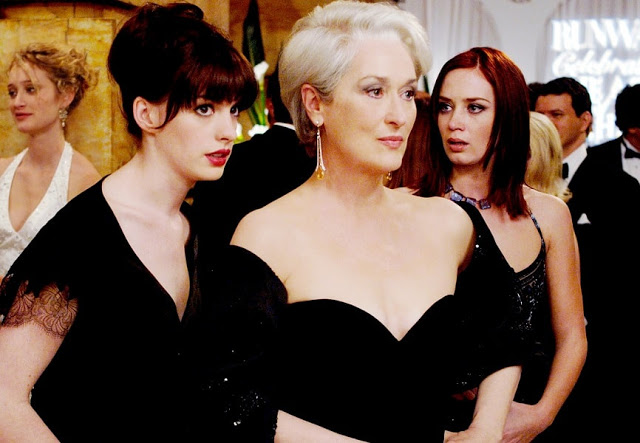 The Devil Wears Prada may be one of the most brilliant films of the last decade but it wasn't without flaws.
Here are some of the most noticeable goofs in the movie:

1. When Andy tries to speak to Miranda at the 'Runway presents James Holt' luncheon, to warn her, Miranda replies with 'can I smell Fresians-I shall be most unhappy if there are Fresians…

A Fresian is an inhabitant of Frisland, part of the Netherlands, or a horse , or most commonly a cow originating from that region-it's most probable that Miranda meant 'freesias', a flower often used in displays and decorations-they are highly aromatic.

2. When Emily is sick Miranda calls it "an incubus of viral plague."

An incubus is not a breeding ground or carrier of germs. It is, in general language, a burden. Originally, the word meant an evil spirit who visited women at night to have intercourse or nightmare. It's possible that Miranda meant "an incubator of viral plague," which makes a great deal more sense.

3. When Andy goes to the fashion party on Nate's Birthday her hair ornament is a white butterfly, but when she finally gets home it has changed to a white flower.

4. When Andy arrives at work, on the day Emily and Miranda see her makeover for the first time, when she is seen holding the door for someone pushing a rack full of clothes through the doorway the purse she has hanging on her shoulder is made of brown leather and has a long strap with a large tassel hanging on it.

Later in the same day at James Holt's party, when she was picking up the sketch of Miranda's dress, her clothes and jewelry are the same but she's carrying a completely different purse.

5. When Miranda is initially interviewing Andy, Miranda starts out with her glasses in her right hand, then when the cameras goes back to her, it shows her glasses in her left hand.

6. When Andy is approaching the interviewer at the New York World he calls her "Abby."

7. Nigel states, when James Holt is previewing his line, that the only smile Miranda ever made was for Tom Ford in 2001.
In actuality, Tom Ford was still the creative director for Gucci at the time.