A Party To Remember – 2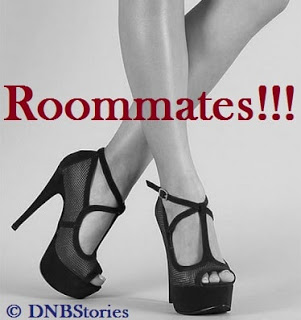 April was not really in the mood of meeting people. She rarely responded to the numerous 'Hi's' and 'Hello's' she was getting with something more than a blasé glance.
She had had to run inside when it appeared the men outside were the horniest kind on earth.
But inside too, with its obvious difference of older guests, the situation remained the same.

The only thing she was enjoying now at the party is the abundance of drinks.
Serving boys and girls in their uniform and gleaming silver trays seemed to be everywhere, as though they had been firmly instructed to see that all the guests got drunk before the party was over.
A serving boy in a white shirt and black bow tie approached April with his tray. 'More wine?' he said.
April looked at her glass. She showed it to the boy. 'As you can see, my cup is not empty yet,' she said.
'You can drop it and pick a full glass,' the boy said.
April turned and gave him a look. 'What would you possibly gain if you get me drunk?' she asked him. 'A raise?'
The boy flashed clean-white teeth in a smile. 'I just want to be of service, ma. You can tell me anything else you'd like me to do for you.'
Now it became obvious to April that she liked the boy. She looked at him again, her lips curved slightly in a smile.
The boy returned the smile.
He was really cute—unfortunately not too tall, but all the same appealing.
'You know what—'—April dropped her glass on the boy's tray—'—help me dispose of this, if you may please, I think I've had enough.'
The boy nodded. 'No problem, ma.'
Ma, again? April turned to look at the boy again. His natural courtesy was endearing. She opened her purse and brought out a N1000 naira note. She extended it to the boy.
The boy shook his head. 'Thanks, but I won't accept that.'
Confusion glinted in April's eyes. 'Why?' she asked. 'Company policies?'
'No, but you can't possibly pay me for doing my job.'
'You are nice, take the money,' April said.
'No, please, you need not to pay me for being nice.'
'I don't understand. You didn't ask me for the money, I just want to give you.'
'I think people should have the freedom to be nice without getting paid for it.'
April stared at him. 'I see.' She glanced at him a few more times as she returned the money into her purse.
'My name is Kelvin,' the boy said, 'please can you tell me yours?'
'April, I'm April.'
The boy smiled, very broadly, as though hearing April's name had got his spirits miles high.
'Why are you smiling like that?' April asked him.
'Your name, it is so beautiful.'
As stale as the line was, April still felt the whole delighting effect of it. Her smile showed it.
'You know he is just a waiter,' someone said behind her, interrupting the fun.
She turned and saw the middle-aged man in a grey native attire and black cap that had spoken.
'Yes, I do,' April said.
'Then allow the young man do his work.' He gestured at the boy to mean he should walk away.
The boy quickly obeyed and walked away with his tray.
Turning back to April, the older man extended a hand. 'I'm Chief Piuf, Pius and Sons Nig. Ltd.'
'What is that?' April said, making no attempt to take the hand.
'What is what?' the man asked, nearly as confused as he was surprised.
'Pius and Sons, what does that mean?' April said.
Now the man was clearly shocked, insulted even. 'You do not know Pius and Sons?'
April shook her head slightly, her cheeks depressed.
'You do not know the number one importer and exporter of special quality motor spare parts in this country?'
April showed no sign of familiarity with the name still.
'I can't believe this,' the man said.
'Well you better,' April said. 'By the way, with that tummy, you'd better add gym equipment to the list of items you import.'
She was gone before the man could muster enough consciousness to say anything else.
***
The truth is that the only thing Loveth liked more than the sound of a party is not attending one.
She is that type of girl that screamed out the most whenever a party is mentioned, that will cry her eyes out if perchance she did not get an IV, but on the day of the event, all that excitement suddenly disappears.
And right now our thick-bodied roommate stood by the pool, sipping her drink and checking her phone, all the while praying hard the time sped on a little faster so that she and her friends could go home.
The young boy beside her had to say 'Hello' a few times before her attention was finally caught and she turned and looked at him.
'Hi,' she returned.
'I'm Peter,' the boy said. He was brown-complexioned, very slim and with a smiling face.
'Loveth,' Loveth said.
'Care to dance?'
Loveth shook her head. 'No.'
The young man reached and took her hand instead. 'Come on, don't be shy,' he said.
Loveth took back her hand. 'I'm not shy, I just don't want to dance.'
'Oh come on, I so want to dance with you.'
Loveth let out a sigh, her eyes rolling. 'Please,' she said, sounding evidently patronizing, 'some other time.'
'Some other time, really?' the boy said, his manner of talking coming off just as spry as his body language, '—Like there's going to be another party here tomorrow, come on.' He reached and took Loveth's hand again.
Loveth tried to pull her hand free, but the boy held on. 'Come on,' he said.
Right then there was a loud punch and the boy found himself in the pool.
A little of water splashed and people turned to look.
But the boy didn't make noise; he just quietly floated to the other side of the pool and climbed out.
The surprise on Loveth's face hadn't entirely formed when she turned and saw the person that had punched the boy.
It was Anthony.
'Hey,' he said. 'I see the boy was harassing you so I thought to help.'
Loveth stared at him, at the same time trying to bring back her breathing to normal. 'You look familiar,' she said, almost in a gasp.
Anthony smiled, and then nodded. 'I was the guy that allowed you to go the time Lady B paid us to teach you some manners.'
Loveth took a full gulp of air, straightening out her features. 'Well thank you for that,' she said. She looked across the pool; the boy that was hit now stood there trying to get water off his shirt.
'Little kids of these days,' Anthony said, 'completely devoid of manners.' He was looking across the pool too.
'Yes,' Loveth said with a detached nod. 'Thank you for that too.' She turned to walk away.
'Wait,' Anthony called.
Loveth stopped and turned back.
Anthony stepped closer to her and Loveth smelt his fragrance. She hated it— something close to the heady scent of marijuana, too strong it was nearly sickly. Or perhaps it was the wearer that disgusted our roommate the more.
'I've been meaning to talk to you,' Anthony said.
'Ok,' Loveth said. She took a step back. 'What about?'
Anthony turned to look round. 'Can we go somewhere more private and with less noise and stay and talk?'
'No!'
'What?'
'Say whatever you want to say here.'
'You sounding harsh, why sound harsh to me?'
'I need to get back to my friends.' Loveth left him and started away in brisk steps.
'Hey,' Anthony called. 'Hey, wait. Did I say something wrong?'
Loveth did not turn back again.
Anthony clenched his fingers around his glass. The glass broke and red wine spilled.
***
The door opened and Georgina and her high heels sashayed into the room.
Mrs Onwa sat on the bed, staring at her with something close to admiration—or lust—on her face.
Georgina winked sexily at her and made her way straight to the fridge.
She poured herself a glass of wine before moving to join Mrs Onwa on the bed.
She sat down and crossed her legs.
'How do you do?' Mrs Onwa asked her.
'Well, I'm fine,' Georgina said. 'Though still not happy about the way you treated me.' She sipped her wine and gave the woman a look. 'Look at me, do you really think I deserve your silence?'
Mrs Onwa smiled. She touched Georgina's thigh. 'I'm sorry, my dear, have really been very occupied these past months.'
'Really?' Georgina said. 'That's not what you told me the first time you asked me to start sleeping with you.'
'But we ne—'
Georgina put a finger to Mrs Onwa's lips immediately. 'Say no further, my love, I forgive you.'
Mrs Onwa stared at her.
Georgina gave her a smile and then a wink, all seductively so, before taking back her finger. 'I don't have all the time,' she said, 'go quickly and shower. I need to be touched.'
Something close to surprise flickered in Mrs Onwa's eyes.
Georgina inclined her head. Then she pushed out her chest so that her bra-reinforced breasts appeared larger and rounder. 'I can't stay for too long, should I come into the shower with you?'
Mrs Onwa stood. 'No,' she said. 'I will be with you soon.'
'Alright, honey.'
As soon as the door of the bathroom closed behind Mrs Onwa, Georgina took out the USB voice recorder from her bra and pressed the saving button.
When Mrs Onwa came out of the bathroom in a towel, some minutes after, she didn't see any sign of Georgina.
She ran and checked her bag on the table where the TV sat and discovered her phones were gone.
Quickly, she ran to the hotel's phone beside the bed and dialled the security men at the gate.
***
Nwamgbeke stood aside while the man she came up with slotted the keycard into the hole on the door. There was a tiny flash of blue.
Turning the handle, he opened the door.
They entered and he locked back the door.
He walked to the table and dropped his keys and phone.
Nwamgbeke looked round the room. 'This your house fine o,' she said.
'This is a hotel room, not my house,' the man said.
Nwamgbeke let out a small hiss. 'Where is my sense sef,' she muttered.
The man looked at her and then walked to the wardrobe. 'So would you like to shower first?' he asked.
Nwamgbeke opened her mouth in surprise. She raised her arm to her nose as if to smell her arm pit. 'I smell?'
The man turned to her. 'Of course not,' he said. 'It's just that some ladies feel more comfortable after they'd had a bath.'
Nwamgbeke smiled. 'Oh, I getting your point now. But don't wolly, I feel comfort any time any day. Even my Engrish name is comfort sef.'
'Oh so you finally remembered your name?'
Nwamgbeke smiled again. 'It just disappear that time.'
'I see,' the man said.
Now only in his singlet and boxers, he walked to the bed and sat. 'Why still stand there,' he said, 'take off your clothes and come to the bed, let's get down to business.'
'Mm?'
The man looked at her. 'Take off your clothes.'
'Ha. I lemoving my cloth before we start?'
'Yes, or do you not like it that way?'
Nwamgbeke shook her head. 'Trusting me, I coming here to make you laugh but if I lemoving my cloth, is crying you will do.'
The man looked curious. 'Why do you think that?'
Nwamgbeke tapped her belly. 'You not seeing my belle like this, like someone that is having pregnancy?'
The man appeared to smile. 'Come on,' he said, 'you look good enough.' He stood and walked to Nwamgbeke. He made to hold her and Nwamgbeke shifted.
'What you doing?' she asked.
'What does it look like?' The man was coming to her again.
Nwamgbeke pushed him slightly. 'Oga, I not mixing my business with preasure o,' she said. 'Go and sitting down, let me start.'
A little confusion came onto the man's face. 'I don't get.'
'Go and sitting down let me start telling you the joke na. I start with Mbekwu Nwaniga, after that I telling you about Nwokolo Mbachu and then finishing evelything with Egedege Theresa, that's all.'
'What are you saying?' the man said. He grabbed her. 'Come jor.'
'Ha, oga, leaving me na!' Nwamgbeke struggled to pull free, but the more she did, the tighter the man's grip became.
'Oga leaving me na!'
The man pulled her to the bed, came on top of her and pinned her down to the mattress.
Nwamgbeke's phone started to ring then.
The man took the phone from her before she could answer the call and hurled it to the wall.
That was when Nwamgbeke started to scream.
The man held her lips shut with one hand, and with the other hand he gripped Nwamgbeke's arms together while his big strong legs trapped Nwamgbeke's lower half to the bed.
Nwamgbeke struggled on and on, making muffled noises.
***
April took the phone off her ear and turned to Georgina and Loveth. 'She is not answering,' she said.
'Dial her again,' Loveth said.
April sent off the number again and put the phone to her ear.
A moment passed and she brought down the phone, surprise on her face. 'Switched off now.'
'What?' Georgina said.
April tried the number again and it was the same result still.
'How can she turn off her phone, does she not know we have to leave immediately?' Georgina said.
'What if she—' Loveth was saying.
'No!' Georgina said, cutting Loveth off. 'Let's go look for her immediately.'
Turning, they saw two uniformed men coming out from a corner of the space.
And they saw them too. The one in front pointed. 'That must be her!'
Quickly, the roommates took off their heels and started running.
Outside, people stared open-mouthed at them as they ran past to the gate.
But some of the security men were also at the gate, vigilant and eager to pounce on them.