A pious Australian woman is making headlines after deciding to attend her son's wedding to his male partner.
Vanessa Hall, known for her deep commitment to Christianity, walked her son, Lachlan, down the aisle.

For the event, she wore a rainbow sash to show her support for gay marriage.
"I had bought the sash specifically for the wedding and wasn't sure if I'd use it," Ms Hall said.
"When I put on the sash, it was both a sign of the promises of God and the acknowledgement of gay people being loved and accepted," Hall added.
Vanessa Hall said that she and her son, Lachlan, have always been very close – especially as Lachlan's father died when he was only eight months old.
Hall, who sent Lachlan to a Christian school, also said she had to do a lot of thinking and praying when her son came out to her as gay.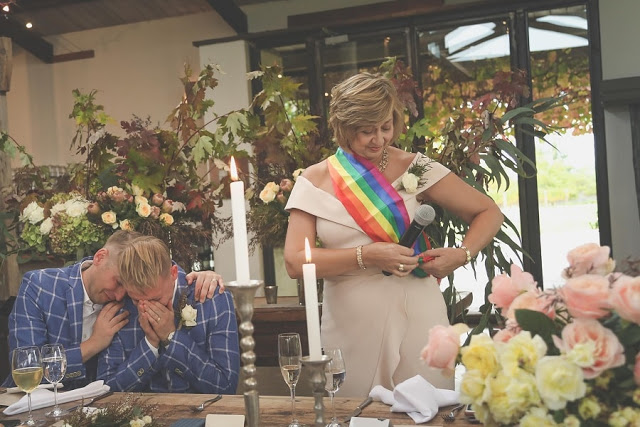 "We cried together than night, sitting in the restaurant, hugging each other. I knew then that I loved my son, and nothing would ever stop me from loving my son. But I had some thinking and some praying to do. Lots," Ms. Hall said.
The doting mum said that her son's sexuality had never been an issue for her but it hurt her to see him being bullied at school and to hear the comments of her Christian friends.
Vanessa said she's received lots of praises and support from people since the event, even though there were others who criticized her.
Vanessa says she feels sad for them.
"I've had Christians thank me for helping them understand and embrace gay people in a way they never have before," Vanessa tells Metro.co.uk.
"And sadly I've had some Christians tell me I'm wrong, I've betrayed Jesus, and that I should repent. I feel sad for them. I'm at peace."