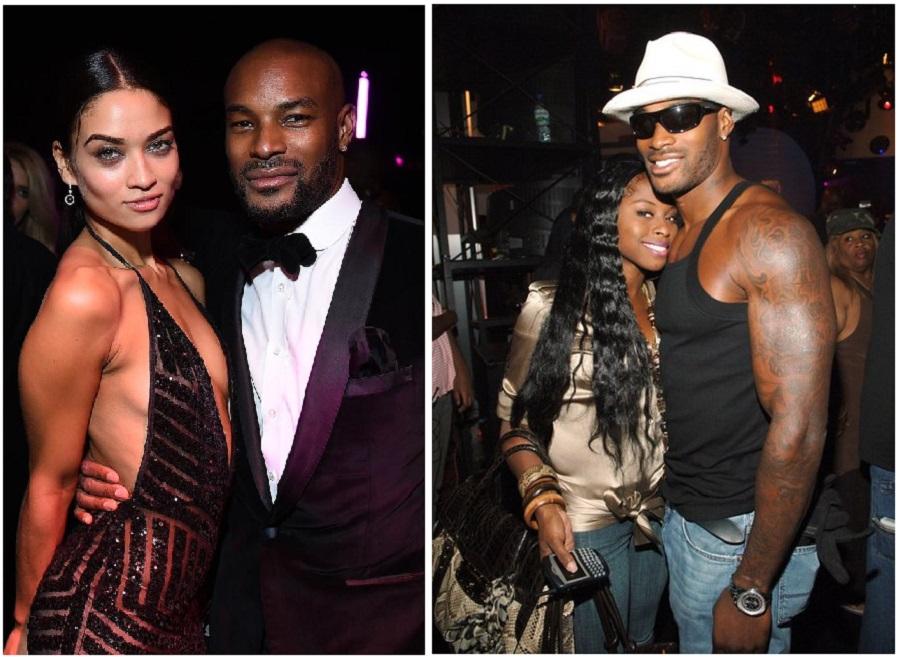 Who is Tyson Beckford?
Tyson Beckford is an American model and actor. He is often regarded as the most successful black male model of his time. Tyson Beckford has modelled for top fashion brands like Ralph Lauren Polo and many others. At the peak of his modelling career, Tyson Beckford achieved "male supermodel" status akin to his female counterparts.
As an actor, Beckford has appeared in movies like "Addicted," "Supermodel," "Chocolate City" and "Kings of The Evening." He has also played the male love interest in several music videos.
Tyson Beckford was born on December 19, 1970, in Rochester, New York, the United States to his parents – Hilary Dixon Hall (mother) and Lloyd Beckford (father). As of April 2023, Tyson Beckford is 52 years old.
About Tyson Beckford's parents
Tyson Beckford's mother, Hilary Dixon Hall is Jamaican. She is married to Lloyd Beckford (Tyson Beckford's father).
Lloyd Beckford is Tyson Beckford's father. He is a Chinese-Jamaican of Panamanian nationality. Not much information is currently available about him.
About Tyson Beckford's siblings
Tyson Beckford had an older brother named Patrick Beckford. According to reports, it was Patrick who encouraged Tyson to pursue a career in modelling. Sadly, he was murdered by street robbers when he was just 24 years old.
Tyson Beckford's sexuality and gay rumours
Probably due to his looks and line of career, Tyson Beckford has faced multiple speculations of being gay in the media.
These rumours were made worse in 2018 when popular reality TV star Kim Kardashian made a comment that implied Beckford is not attracted to women.
Beckford had taken to Instagram to comment on a photo of reality TV star, Kim Kardashian, writing:
"Sorry, I don't care for it personally. She is not real. Doctor fucked up on her right hip."
Kim Kardashian fired back at Beckford, writing:
"Sis we all know why you don't care for it 💅🐸"
In 2021, Beckford seemed to respond to his 2018 spat with Kim Kardashian while speaking with VladTV. He said:
"Man, fuck all of them! I ain't ever been gay, nor do I have a problem with gay people. It's just like, don't try to turn a situation into something because I got the best of you."
About Tyson Beckford's marriage and wedding
As of April 2023, Tyson Beckford is unmarried and has no wife. However, he was previously married to British model Berniece Julien.
Before his marriage and divorce from Berniece Julien, Tyson Beckford dated stylist April Roomet in the 90s and the relationship produced a son.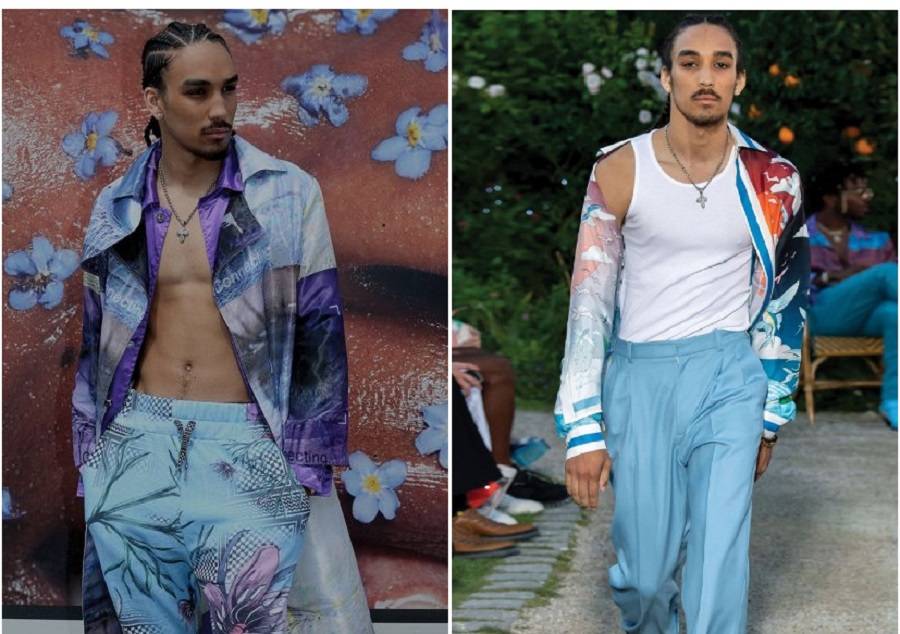 List of Tyson Beckford's girlfriends
Below is a list of women Tyson Beckford has dated or been romantically linked with in the past:
Tyson Beckford dated April Roomet in 1997.
Tyson Beckford and CariDee English dated in 2008.
Tyson Beckford dated Nikki Giavasis in 2001.
Tyson Beckford and Foxy Brown reportedly dated in 2005.
Tyson Beckford dated Imogen Thomas in 2007.
Tyson Beckford dated Shanina Shaik in 2008.
Tyson Beckford married Berniece Julien in 2009.
About Tyson Beckford's relationship with April Roomet
April Roomet is a celebrity stylist, fashion designer and reality TV star. She has styled celebs like Eminem and Snoop Dogg.
April Roomet and Tyson Beckford dated for two years from 1997 to 1999. They welcomed their son, Jordan in 1998. More details of their relationship are scarce at this time.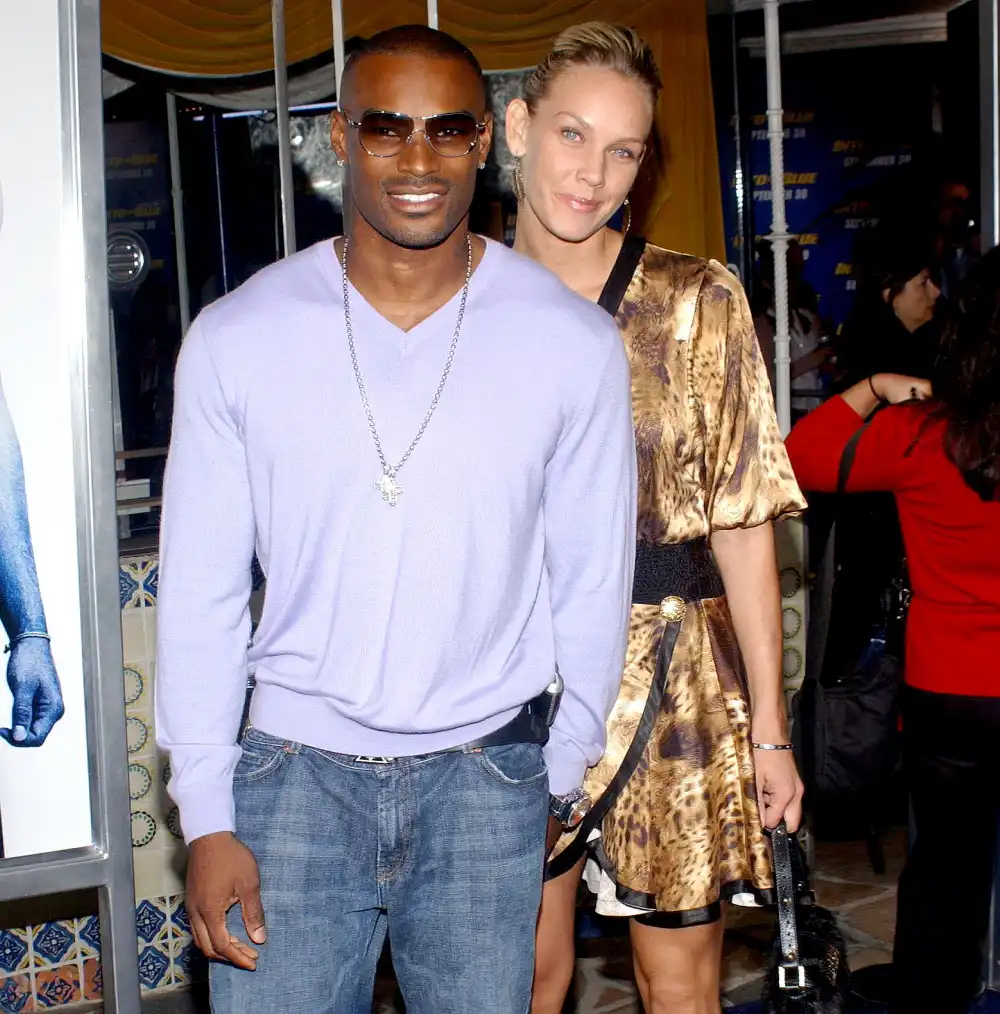 About Tyson Beckford's relationship with Foxy Brown
Foxy Brown (born Inga DeCarlo Fung Marchand) is an American rapper. She is popularly known for her hit songs like "Get Me Home," "Tables Will Turn" and "Candy." Foxy Brown was born on September 6, 1978, in Brooklyn, New York and she is currently 44 years old.
Tyson Beckford and Foxy Brown were romantically linked between 2005 and 2006, around the time that Brown started suffering from hearing loss. During their relationship, Beckford showed Brown a lot of support and was even present at the press conference Brown held to announce the loss of her hearing. Sadly, their romance was short-lived as Beckford started spending time with other women shortly after.
However, in 2021, Beckford dismissed the rumours about him dating Foxy Brown, claiming that they had only simply been very good friends.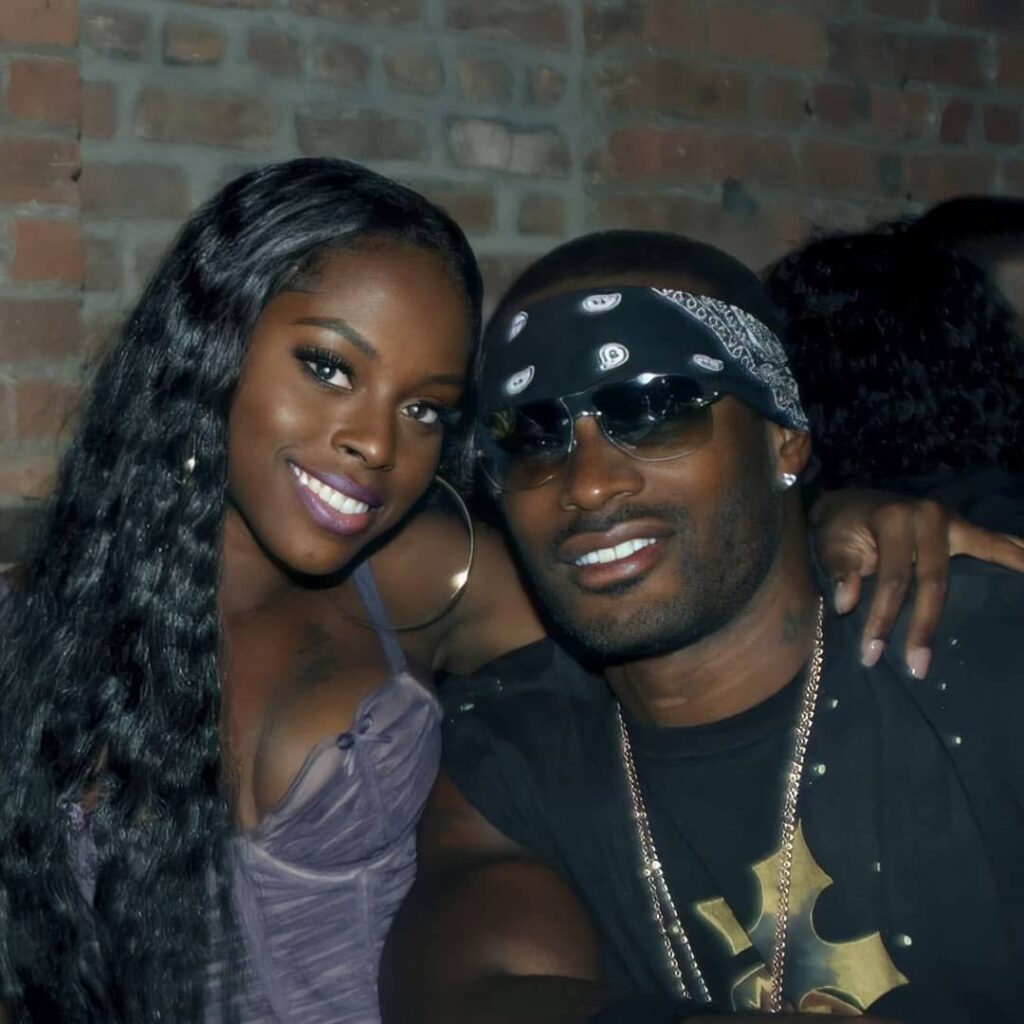 About Tyson Beckford's relationship with Shanina Shaik
Shanina Shaik is an Australian model. She was born on February 11, 1991, in Melbourne, Australia and she is currently 32 years old. Shaik has worked with brands like Intimissimi, Spiegel and Sasha Samuel.
Shanina Shaik and Tyson Beckford met in 2018 while filming the Australian show, "Make Me A Supermom." Sadly, they split in June 2015 after dating on and off for about seven years. After the breakup, Beckford took to his Instagram to share a picture that read:
"Not everyone you lose is a loss. Unless it's me then you fucked up."
Immediately after the split, Shaik started seeing DJ Ruckus (born Greg Andrews). About the breakup, Shanina Shaik said:
"When you're being hurt a lot, like any relationship, you need to move on and I needed to go away. I'm a much happier person and I'm very happy that I did because I got to meet the love of my life and I know what true love is now."
DJ Ruckus and Tyson Beckford later got into a brawl.
In response, Shaik said:
"I only know of one man and he fights for me."
She also said:
"It's a lot of issues that weren't resolved with himself that he needs to move on from …. He didn't turn out to be nice…he's not a nice guy."
Shaik also fired shots at Beckford by claiming that it was DJ Ruckus who showed her what it meant to be loved and respected. She said:
"It opened my eyes to a whole new world about how women should be treated and respected."
Shaik has since moved on and is currently in a relationship with Matthew Adesuyan.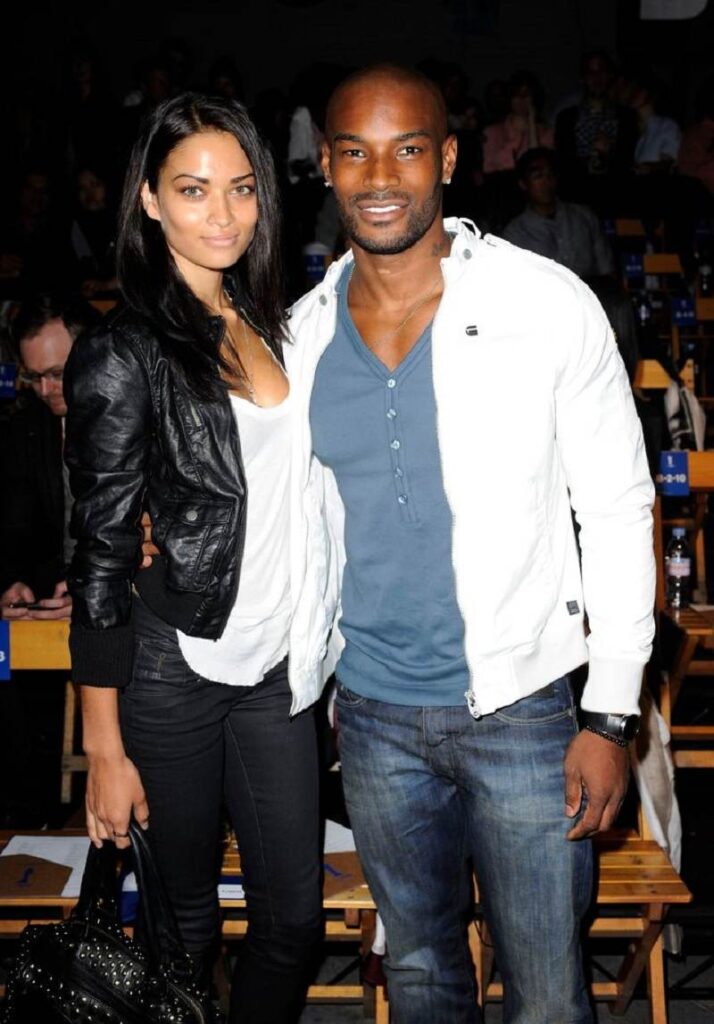 About Tyson Beckford's relationship with Berniece Julien
Berniece Julien is Tyson Beckford's ex-wife. She is a British entrepreneur and former model. Not much information is currently available about her. According to what DNB Stories Africa gathered, Berniece Julien is an extremely private person who likes to stay out of media attention.
Throughout their relationship, Beckford and Berniece Julien kept a low profile. They got married in 2009 and quietly divorced the same year. It is believed that their split happened because of Beckford's relationship with Shaik while other theories point to Beckford's controlling nature and high-handedness.
About Tyson Beckford's kids
As of the time of publishing this article (April 2023), Tyson Beckford is the father of one child. The model has a son named Jordan Beckford from his previous relationship with stylist April Roomet.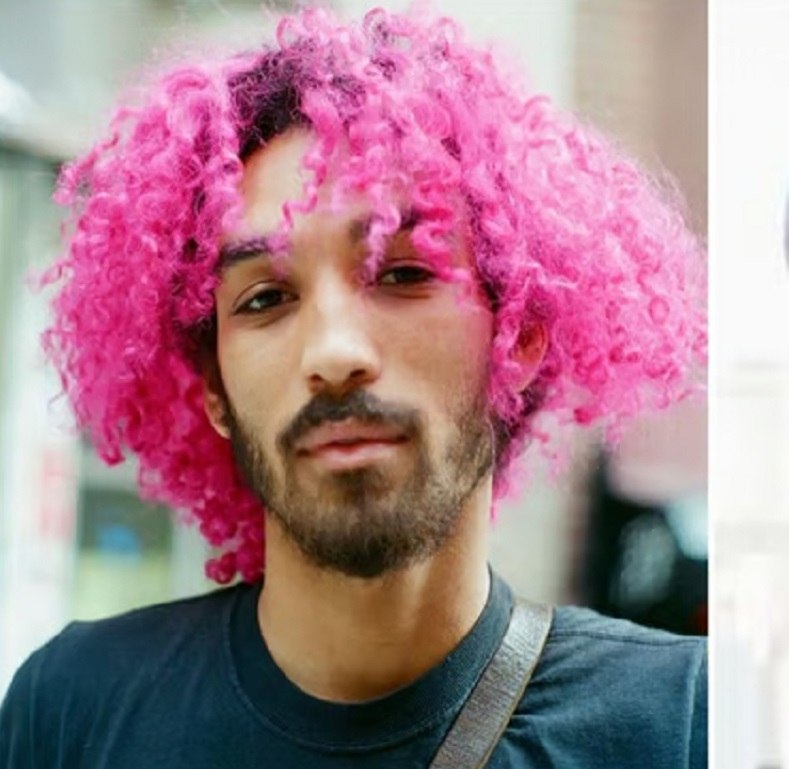 a. Jordan Beckford
Jordan Beckford is Tyson Beckford's only son. He was born Jordan Craig Beckford in 1998 to Tyson Beckford and his then-lover April Roomet. Jordan Beckford is a model and a singer. He is known professionally as Grey Craig. As of April 2023, Jordan Beckford is 25 years old.
About Tyson Beckford's fight with DJ Ruckus
In May 2016, Tyson Beckford got into a fight with DJ Ruckus over Australian model, Shanina Shaik. The brawl was said to have taken place outside the Up&Down nightclub in New York. Tyson, who used to be friends with Ruckus, was furious that Ruckus was dating his ex. According to eyewitnesses, Ruckus flipped Tyson Beckford off which made Beckford approach him. They yelled at each other before the fight took a violent turn. Ruckus reportedly punched Tyson in the groin and Tyson kneed him in the same area.
Weeks later, in June 2016, DJ Ruckus challenged Tyson Beckford to a fight, saying:
"If you want to fight, I'll fight."