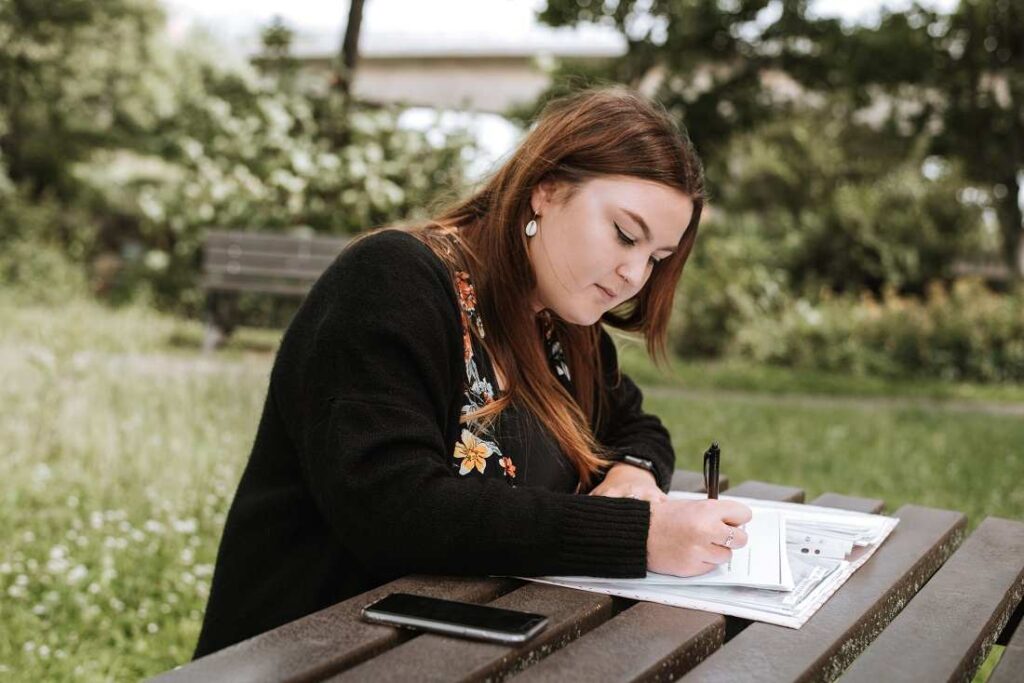 What do your favourite ice cream flavour, a shooting star, and the perfect college application essay topic have in common? They all are rare gems that leave a lasting impression! As the most important phase of your entire academic life starts, the moment when expressing yourself is of utmost importance. You end up finding yourself to be staring at a blank sheet, unable to figure out what to pour and how. Well, we all have been there.
The secret to crafting an essay that captivates admission officers lies in the art of topic selection. Most students fail to find the correct equilibrium of topic selection, research, and writing. Hence, they prefer taking help from academic tutoring websites such as My Assignment Help.com with college application essays.
Are you on the hunt for the secrets to perfection? Get ready to dive through the labyrinth of self-discovery and the perfect path to express yourself through your college application essay. Let's dig in.
Steps of Choosing the Perfect Topic for Your College Application Essay
The college application essay is a crucial component of your college admission process. It provides an opportunity to showcase your personality, experiences, and writing skills to the admissions committee. Hence you must make sure to pick the right topic. But how will you do that?
Here's how –
1. Reflect on Your Experiences
Your essay must express you and your experiences. Consider moments that have shaped your personality, values, and aspirations. Colleges want to learn about the real you, so choose a topic that reveals something meaningful about your character.
2. Showcase Your Passion
Colleges are interested in students who are passionate and enthusiastic about something. It can be anything that expresses your passion and interest. Discussing your passion can make for an engaging and authentic essay. Avoid generic topics and focus on something that truly sets you apart.
3. Be Genuine and Authentic
Honesty and authenticity are vital in your college application essay. Admissions officers can recognize when an essay is insincere or exaggerated.
4. Demonstrate Personal Growth
Colleges are interested in students who can adapt and grow. Consider writing about an experience that challenged you or changed your perspective on life. Discussing how you overcame a difficult situation or learned from a mistake can demonstrate resilience and maturity.
5. Connect with Your Future Goals
Your college application essay should connect your past experiences to your future goals. Choose a topic that allows you to showcase your aspirations and align them with the opportunities the college can offer.
6. Consider Your Audience
Remember that college admissions officers will read your essay. Avoid topics that may be too controversial. You must focus on creating positive value for your readers through your impeccable essay.
7. Showcase Your Writing Skills
The college application essay is an excellent opportunity to demonstrate your writing abilities. Engage the reader from the beginning and maintain their interest throughout the essay.
8. Avoid Common and Clichéd Topics
Steer clear of overused topics such as sports victories, travel experiences, or the importance of family. While these topics can be meaningful, they often lack originality and fail to stand out. Instead, seek out unique angles and perspectives on more common themes.
9. Seek Feedback
Once you have brainstormed potential topics, seek feedback from teachers, counsellors, or trusted friends and family. They can offer valuable insights and help you choose the most compelling and impactful topic.
10. Revise and Polish/Reader
After choosing your topic and drafting your essay, revise and polish your work. A well-crafted essay enhances your chances of leaving a lasting impression on the admissions committee.
In conclusion, the most important step of composing an exemplary college application essay is to pick the right topic which can convey your story appropriately. Reading your essay, the admission officers must gain a proper and positive insight into who you are and why you are the right one for the university or program.
Template of College Application Essay
You can refer to this template to compose a perfect essay.
Title: [Title of Your Essay]
Introduction:
– Engaging opening sentence to grab the reader's attention
– Briefly introduce yourself and your background
– State the central theme or message of your essay
Body Paragraph:
– Present a specific experience, accomplishment, or challenge you want to discuss
– Provide vivid details and examples to support your story
– Reflect on the significance of the experience and how it shaped you
Conclusion:
– Summarise the key points of your essay
– Reinforce the central theme or message
– End with a memorable closing statement that leaves a lasting impression.
College Essay Topics on Various Subjects For You!
Here are expert-tailored topics to choose from for your college application essay:
1. Personal Growth and Reflection:
a. Overcoming my fear of public speaking and gaining confidence
b. How a travel experience changed my perspective on life and culture
c. The impact of a life-changing book on my beliefs and values
d. Learning to manage stress and time effectively during challenging times
e. Embracing vulnerability and its role in personal growth
f. Exploring my cultural heritage and its influence on my identity
g. The lessons I learned from a significant setback and how it shaped me
h. The role of mentors and role models in my personal development
2. Passion for Learning and Academics:
a. My research project and its impact on my academic interests
b. Discovering my passion for a specific subject and pursuing it further
c. The joy of intellectual curiosity and exploring diverse topics
d. How extracurricular activities complement my academic interests
e. Overcoming academic challenges and strategies for improvement
f. The satisfaction of mastering a difficult concept or skill
g. The role of teachers in inspiring my love for learning
3. Leadership and Impactful Initiatives:
a. Leading a community service project that made a difference
b. Organizing a successful fundraising event for a meaningful cause
c. How teamwork and collaboration led to a successful project
d. Creating a positive impact through my role in student government
e. Mentoring and supporting others in achieving their goals
f. The responsibilities and challenges of leadership positions
4. Cross-Cultural Experiences and Diversity:
a. A meaningful exchange program that broadened my perspective
b. Celebrating diversity and multiculturalism in my community
c. Building connections and friendships with people from different backgrounds
d. Navigating cultural differences and promoting understanding
e. Embracing my international background and cultural heritage
f. The importance of diversity in enriching academic discussions
5. Extracurricular Engagement and Pursuit of Passions:
a. How my involvement in the arts has enriched my life
b. The journey of becoming a skilled athlete and the life lessons it taught me
c. My dedication to environmental advocacy and sustainable practices
d. The challenges and rewards of balancing multiple extracurricular activities
e. How I discovered my passion for volunteering and community engagement
f. Pursuing entrepreneurship and exploring innovative ideas
6. Social Impact and Community Involvement:
a. Volunteering at local shelters and its impact on my worldview
b. Addressing food insecurity through community-based initiatives
c. Advocating for mental health awareness and destigmatisation
d. Combining technology and social innovation for positive change
e. How my involvement in service-learning projects influenced my career goals
f. Supporting underprivileged communities through educational programs
7. Challenges in Diversity and Inclusion:
a. Navigating cultural identity and assimilation in a diverse community
b. Addressing micro aggressions and promoting cultural sensitivity
c. The importance of inclusive language and respectful communication
d. How I stood up against discrimination and promoted equality
e. Addressing unconscious bias and fostering a more inclusive environment
f. Bridging the gap between different social and economic backgrounds
8. Overcoming Adversity and Personal Growth:
a. Coping with loss and finding resilience in difficult times
b. Embracing my learning differences and turning them into strengths
c. Overcoming personal insecurities and building self-confidence
d. The role of mindfulness and self-care in managing stress
e. How I persevered through a significant health challenge
f. The support system that helped me overcome a tough period in my life
9. Hobbies and Creative Pursuits:
a. How photography allows me to capture the beauty of the world
b. Embracing culinary arts and the joy of experimenting with recipes
c. The role of dance in expressing emotions and building self-confidence
d. Writing as a form of therapy and self-discovery
e. Building friendships through shared hobbies and interests
f. The process of designing and creating artwork that reflects my emotions
10. Future Goals and Aspirations:
a. My vision for pursuing a career in healthcare and helping others
b. How I plan to combine my interests in art and technology in my future profession
c. Advocating for sustainable practices and environmental conservation
d. Exploring opportunities to create positive change through policy-making
e. My aspiration to become an educator and inspire future generations
f. Using business and entrepreneurship to address social issues
Pick the right topic and land on your dream university. Good luck with your college applications!