TWELVE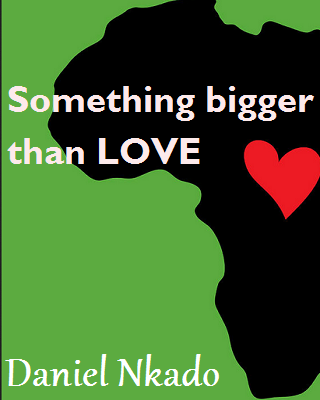 Adaku was surprised to see so many people in the hall.
She had come as early as 8, yet she met no free seat.
She climbed a bench like other students at the back.
She craned her neck, but still could barely make out the slim woman whose thin voice saturated the hall.

The way she held the megaphone gave her more the impression of a Deeper Life preacher than a lecturer.
She was teaching GSS 101 and for the fifty minutes the lecture lasted Ada wrote down nothing.
The woman's diction was odd already and the megaphone only made it worse.
When she got to Science Village for Physics 101, there was a bit of relief. Because she'd run all the way from Multi-Purpose Hall with the boys, she was able to get a space at the fourth row.
But the Physics lecturer did not make things any smoother. He taught like he was tired, like it meant nothing if he added a little zeal because they would still not understand.
Till they buy the 'hand-out' and the textbook which he co-authored.
At the end of the lecture, Adaku joined the other students hustling for past questions outside the classroom.
A slim man in shirt and trousers everyone called Voltage was selling the past questions.
'Past questions, come and buy yours now!' the man continued to scream, even as he'd already been swallowed up by a sea of desperate students. 'Come and buy yours o! When you fail, don't say I didn't warn you o! Save yourself from carry-over with just N100 now! Don't say Mr Voltage didn't warn you o!'
Adaku was relieved when she finally bought one.
At BIO 101 later on, she finally was able to jot down something.
It was after the lecture, as the crowd filed out through the door that she heard someone screaming, 'All Zoology students come to the back! All Zoo students come to the back!'
At the back of the building, Ada saw about forty students; the boys were loud and chatty while the girls all looked lost, as though they were yet to believe that they were in UNIZIK, to study Zoology, with these boys.
Mary saw her and came and hugged her.
'Nne, kedu?'
'Fine,' Ada said. She adjusted the arm of Mary's blouse that had slipped below her shoulder.
Mary pulled her cheeks down. 'I came late o.'
'I came late too,' Ada said.
After they had introduced themselves, the tall, slim boy that had called the meeting, told them a lecturer would like to meet them later in the afternoon to talk to them about their induction.
It was at this meeting that Ada first met Felix.
***
This would be the second night the boys would be sleeping in Ore's room.
Ore on her own has been nothing but nice.
Yesterday, she'd made them noodles in the evening. While Obinna was trying to be nice, telling Ore she shouldn't have bothered, Ahanna picked his fork, dug out a high heap of pepper-garnished noodles and then threw into his mouth.
Obinna ended his goodwill message abruptly and picked his own fork.
Ore hasn't complained of anything—even, Obinna was sure she might never, even if they stayed for months.
But he wasn't really comfortable living with a girl.
When he talked to Ahanna about it, he nodded and told him that he too wasn't all that relaxed and that they'd leave as soon what he was planning worked out.
'What are you planning?' Obinna didn't hesitate to ask him.
'Nwanne, we need to find a place, somewhere to keep our heads in the night. We can't just carry our things and enter the street.'
Obinna stared and then nodded.
He heard a knocking sound from the corridor now. Someone had dropped a bucket.
Soon, the curtain parted and Ore entered the room. A faded-blue towel covered her damp body from the chest down.
Obinna was beside Ahanna on a mat near the wall opposite the bed. Ore slept on the bed— a small rectangular mattress covered with a flower-patterned sheet.
Obinna shifted her legs for Ore to pass, though there was actually no need.
Beside him, Ahanna, face to the wall, was already snoring.
He hated that he was still awake, seeing Ore now apply cream to her skin. He closed his eyes and decided not to open them again till morning.
But when Ore turned off the light, he opened his eyes. Great darkness has stuffed the room now.
He inhaled and closed back his eyes.
The night far gone, the feel of a hand on him called him back from sleep. He twisted and opened his eyes.
He saw nothing; it was thickly dark still and the hand was gone.
He lay back to sleep.
Some minutes gone, he felt something again. For a second, he thought it was Ahanna and wanted to smack his head.
But Ahanna's snores were real, and Ahanna, he knew, was too straight to touch a fellow man in the night.
He quietly lay back to the mat, but this time kept alert.
Soon the trespassing hand came on him again and he caught it. From the softness of the skin, he could already tell who it was.
Ore.
He held the hand, not knowing what to do with it.
Ore left the hand for him and started using the other.
She reached into his boxers and covered his organ in her palm.
Obinna's heart beat a little quicker as his mind worked fast to think of how best to handle the situation.
Then the worst happened.
Ore pulled out his organ, slid down to him and buried all of it inside her mouth.
A chill sped down Obinna.
His response was quick and in a matter of seconds, his organ was rock-stiff in Ore's mouth.
Ore started sucking him like a baby at the mother's nipple— soft, gentle and wet.
He hated that he responded, hated that another woman was able to arouse him so swiftly.
A Lagos woman, to say the least.
Sugary sands of pleasure spread round him as Ore continued to work on him, ever so wetly, yet so silently.
The pleasure soared. He was near there when he quickly reached and pulled his hard self out of Ore's mouth.
Allowing himself to climax would mean complete betrayal to his wife.
He pulled up his boxers and walked out of the room. He stayed outside till morning.
Ore's greeted him with discomfort in the morning. He saw it all over her, that uneasiness caused by guilt.
She did things hastier that usual and left earlier than she usually did.
Obinna talked to Ahanna in the afternoon.
'Did you pour in her mouth?' Ahanna asked him.
Obinna knocked his head. 'Be wise for once, my friend!'
Ahanna continued to laugh. Then he quietened and told him he 'fucked up'. 'Nwanne, you fuck up o! Ordinary mmicha, wetin dey there na? It's not like you did the main thing.'
'When are we leaving?' he asked Ahanna.
'This evening,' Ahanna said.