by Nnenna Okolo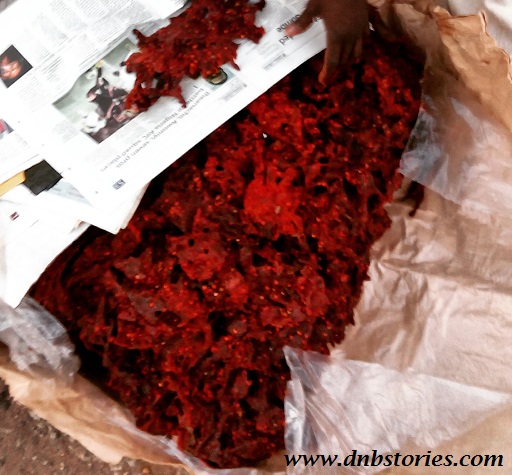 Chioma is her happiest today. She is finally going to see Grandma.
It's been some years now since she last saw her. Roughly 4 years ago— the evening she was leaving Nnobi to Onitsha.
She was to travel the next day and Grandma insisted she slept in Onitsha that night. In Aunty Philomena's house.
It'd be easier for her to start her journey from Onitsha, Grandma told her, and in thought the old lady added that Aunty Philo might give her something to add to what she already has.
Chioma had turned to hug Grandma when the bus to Onitsha stopped for her. Grandma tapped her when the bus driver honked the third time. 'Oya, go!'
Finally Chioma pulled out of Grandma and started towards the bus.
Inside, she kept on waving till Grandma disappeared out of sight.
'May all that is good meet you, my good child,' the old woman prayed as she turned to totter back home.
That night she refused to eat the cocoyam Eche roasted. 'Who will eat with me?' she asked Eche.
Eche readily carried back the plate. Unless it was food that had travelled, he saw no reason to be so sad.
After all, Sister Chioma was only going for a training in Kano and would most likely come back employed and rich.
And with more food.
'Driver, stop me here!' Chioma screamed.
The rickety yellow bus squeaked and finally danced to a halt by the corner of the road.
Chioma came down with her blue Echolac.
The first woman that saw her called her 'Chioma be anyi!' and went on to ask, 'Is this you?'
Chioma smiled and greeted her.
'Aru amaka gi!' the woman said, meaning wherever Chioma had gone to had favoured her skin.
Chioma kept smiling. 'Nne, dalu!'
Finally the woman allowed her to pass, still turning on and on to look back. 'Ezigbo nwa—good child!' Mama Ifenna murmured and shook her head.
At home, Grandma held her walking stick firm to the soil in the middle of the compound, singing and dancing.
The new wrappers and beads Chioma had gotten her were on the ground in her front.
Chioma stood back with Eche, smiling away in bliss.
Finally, Grandma stopped dancing and walked inside with her grandchildren.
Inside the sitting room, Grandma turned to Eche. 'Ori nri—food lover,' she called him, 'what have you started eating already?'
'Mama, it's kilishi,' Eche said.
'Ki-gini? Give me some.'
Eche cut some from the red sheet and gave to Grandma.
Grandma started coughing as soon as the peppered biltong entered her mouth.
'Go and bring her water,' Chioma told Eche.
Before the boy could return with the cup, Grandma was already on the floor, jerking badly with cough and spluttering blood.
'Go and call Ndu to bring his motorcycle!' Chioma screamed.
Before Ndu could arrive with Eche, Grandma had stopped coughing, but the old woman was no longer breathing.
Grandma is dead.
'Nooo!' Chioma screamed.
She came awake with a start in the big bus she was in.
She quickly reached into one of her bags and brought out the wrapped kilishi she'd bought at the park.
She asked the man sitting next to her to please shift. He did and she pushed the vehicle window back a little and threw out the meat.