by Ugochukwu E.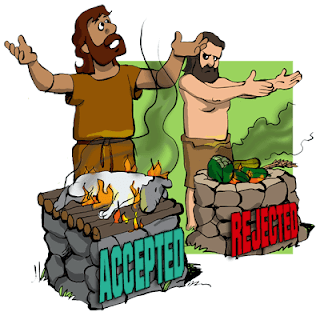 There is a church in Aba, Abia State where the pastor is chiefly known for one thing:
Accepting gifts for God.
According to Pastor Isaac, the only way to get anything from God is by first giving to Him.


Just like an investment, you'd get back according to how you've given.


Your offerings, tithes, seeds is for the church, says the fair-skinned pastor.


They matter, but not as important as your special gift to God.


Your Altar Sacrifice, he calls it.


'It goes directly to God,' he says. 'So be mindful of what you give lest you be like the case of Cain in the Bible.'


'Woe betide you if God finds your sacrifice unworthy and turns it down,' the pastor warns.


With this, all aspired to give their very best.


'To be sure your sacrifice is accepted, you must give to God that thing you cherish the most,' Pastor Isaac advised.


The Sunday I was there people were removing their SIMs and dropping their smartphones and tablets.


You can also write a big cheque, an amount with a lot of zeros.


This particular man danced to the altar with his slip of signed cheque.


The pastor picked the slip of paper as soon as he dropped it on the altar floor. He looked into it and shook his head.


'Brother, this can't be for God!' The speakers resounded with his voice amidst the loud music from the church band.


The man stared, appearing a bit confused.


'Give God something more befitting, Brother,' the pastor said again, extending the paper back to him.


The man collected his cheque back slowly.


'Do you have a car?'


The man nodded.


'Give it to God!'


The man's eyes came a little wider.


I was now watching, engrossed.


The mic to his lips again, the pastor asked, 'Brother, do you think your car is too big for God?'


The man shook his head.


'Then drop the keys!'


He was slow, but he finally bent and dropped the keys on the floor.


That was when I left.


Later, my cousin who had taken me to the church in the first place completed the story.


The vehicle, a 2013 Toyota Sienna, actually belonged to the man's wife.


She was a school proprietor and a no-nonsense lady.


That same Sunday she arrived the church on a bike, tying a wrapper and barefooted.


'She disrupted the entire second service,' my cousin narrated. 'She tore the Pastor's shirt and at several occasions moved in to chew him with her teeth.'


No one could restrain her.


But it was not certain if she was able to recover her car or not.


The sacrifice might have reached heaven at the time and already accepted.