Bad Hair Day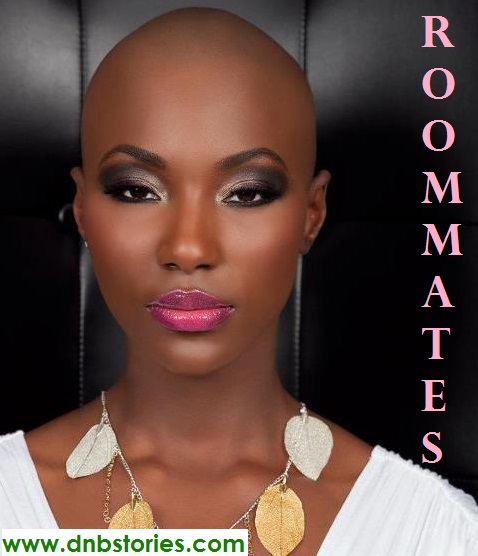 It was the girl called Araba that carried Georgina down to the chemist.
Kenneth was fast and skilled.
Inside the room at the back of his shop, he quickly laid Georgina flat on the bed and checked her pulse.

He splashed cold water over Georgina and yelled into her ears.
Georgina flew up, eyes wide and blank.
He gave her pain killers, applied pressure to the wound and allowed her to rest.
After some hours have passed, he came in with an electric razor to shave off all of Georgina's hairs.
'Must you shave all?' Georgina asked him as he worked.
'Yes,' Kenneth said. 'Don't worry, you will be fine.'
'Hey,' Georgina cried. 'How can I ever be fine without my hair?'
'You'll see.'
After the chemist has checked the wound and told them it was minor, he dressed it.
In front of the shop, Georgina sat on a bench and he gave her a mirror.
Georgina looked into it and looked away quickly, as though her own sight had stung her eyes.
April couldn't help but smile. 'You are still beautiful,' she told Georgina.
Georgina turned to her with a crumpled face. 'Are you sure?'
April nodded.
Rachel gave a small wave. 'Oh, come on, April, tell her the truth!' she said.
Georgina's eyes shifted to her.
'Girl, with that smooth scalp, you look nothing short of an alien from Mars,' Rachel told her.
Georgina opened her mouth wide and started to cry.
April smiled and pinched Rachel. 'Mean girl!'
Rachel smiled back. 'It's okay, GB,' Rachel said. 'To prove April wrong, I've volunteered to buy you your first wig.'
Georgina stopped crying. 'Is it a 16-inches Body Wave lace wig?'
'Girl, why go for 16 when you can have 20,' Rachel said.
Georgina spread her arms wide in the air.
Rachel bent and they hugged.
April came close and hugged her too.
When Araba moved in to hug her, Georgina extended a hand instead. 'Please, let me not get another injury, you hear,' she said.
The fat girl smiled and playfully hit the top of Georgina's shoulder.
April's phone rang then and she took the call.
The phone to her ear, April said, 'Hello.'
She quickly closed the phone with one hand and turned to Georgina and whispered, 'It's Abuchi.'
Georgina's lips burst open. 'Lie to him!' she said in a hushed voice.
'What lie should I tell?' April asked.
'Tell him…' Georgina paused, trying to get something. 'Tell him…tell him I'm dead.'
'Huh?' April's eyes came a little wide. 'I can't possibly tell him that.'
Rachel took the phone from April and put to her ear. 'Hello, young man,' she said.
She looked; Georgina and April were gesturing frantically, signalling to her not to tell Abuchi.
Ignoring them, Rachel completed, 'Be nice, young man, and get your ass down here fast, your girlfriend is having a bad hair day.'
She handed the phone back to April.
April and Georgina sent scowling eyes at her.
She shrugged. 'What?'
Georgina's eyes went narrow. 'I may be without my hair but that doesn't mean I am not still Georgina,' she said to Rachel.
'Oh, really?' Rachel said. She turned slightly to her back. 'Abuchi is here!'
Georgina stood and ran into the shop.
Rachel and April stood there laughing.
***
At the hospital, Harry dialled his dad.
The response he got shocked him.
'Dad, what do you mean it is for my own good?'
'Wait, you are aware of this?'
'Can't believe this! Since when has she become this caring Mary that is very interested in my welfare?'
'Dad?'
'Who said that? I feel strong already. I wonder why they've not allowed me to go yet.'
'What?'
'Which vacation?'
'With who?'
'My fiancée?'
'Jesus Christ! Dad, I never proposed to any lady, least of all Gift.'
'Dad, I'm telling you this is all her scheme.'
'I'm perfectly okay. I'm not interested in any leave or vacation, I need to get back to work.'
'Dad?'
'Dad?'
After the phone call, Harry stood and walked out of his room.
But the doctors did not allow him to go.
When he insisted, two tall men in suit came in from outside and carried him back into his ward.
Locked up in the hospital room and very confused, he only thought of one person to call:
April.
***
At the hostel room, Rachel asked April and Georgina to sit.
They did.
'Promise me you will not shout,' she said to them.
They promised.
And with that, Rachel started her story.
April was first to scream. 'Blood of Christ, what sort of animal is he?' April's features were mussed up in great disbelief.
'For how long were you two married?' Georgina asked.
'A little over two years now.'
'How did you manage to escape?' Georgina again.
'I told him I was going to the salon. On the road, I asked the driver to go back.'
'When did you file for divorce?'
'Early this year.'
April shook her head. 'I can't believe this! You persistently batter and abuse someone. She finally decides she could no longer bear it and asks for a divorce and the next thing, you lock her up and turn her into a prisoner?'
'I've seen and heard worse,' Georgina said.
April continued to shake her head. 'That wasn't your mum that called the other time, was it?' April asked.
Rachel shook her head. 'I was merely faking it.'
'Do you really have a brother here?' Georgina asked.
Rachel nodded. 'Once, a cousin of mine had told me he's gotten an admission in this school. He mentioned the name of this lodge.'
'What of your parents?' April asked. 'Are they aware?'
Rachel remained quiet for long. 'I have none,' she said, finally.
A lump went down April's throat.
'Are you pregnant?' Georgina asked.
Rachel nodded.
'Oh my God, does he know?' April asked.
Rachel shook her head. 'No. I don't want him to. I don't.'
'Well, I must tell you, running never gets any problem solved,' Georgina said. 'You should confront your fears.' She took Rachel's hand. 'Don't worry, we will help you.'
April nodded and joined her hand to theirs. 'Yes, we will.'
A line of tear sped down Rachel's cheek and she stroked it off with a finger. 'Thanks so much, girls.'
April and Georgina nodded.
'How did you even meet the monster in the first place?' April asked.
Rachel turned her eyes straight, casting a wistful look. 'He came at a time I was in pieces—I just lost my dad, with a great promise of hope. Joshua. He'd come coated all over in sugar, but the inside is nothing but rancour.'
April turned suddenly to Rachel. 'Wait, what did you just call him?'
'His name is Joshua.'
'Josh?'
Rachel nodded. 'Josh Adams, yes.'
'Oh my God!' April stood and ran into the bathroom.
Georgina was staring at Rachel with her jaw dropped. 'It was you that day at the supermarket…it was you!'
'I don't understand.' Confusion covered up Rachel's face.
Beside them, April's phone came on and started to ring.
Outside the door, a chicken squawked.
Someone pounded the door.
The girls' eyes flew to it.