by Daniel Nkado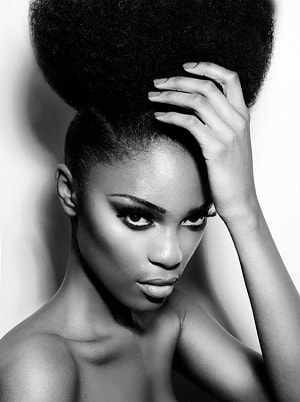 There was a time, in the eighties, or nineties or so, that Gladys Ekwocha was a pretty woman.
She knew luxury like no other woman in Lagos, Nigeria's most populous city.
Even amidst the instability and political noise that rocked the country front and back at that time, she flourished.

But the remarkable thing was that Gladys had come to Lagos a thin, starving young girl.
She had hid in the back of a rickety lorry, concealed in the heap of palm kernel bags that the old vehicle was transporting.
In the night, whenever the lorry stopped briefly so that the driver and his boys could ease themselves and rest, amidst her hunger and thirst, she would eat a few more of the kernels.
The journey had taken three days, and that were all she had to survive on.
Finally in Lagos, in a place now called Ogudu, the big old lorry stopped to unload.
The men carrying the bags of kernels down discovered her.
They were ugly and unpleasant men.
Very unpleasant.
They grabbed her and tried to molest her.
But the driver, short with a firm and protruding belly, saved her from his boys.
But only so she could serve him and him alone.
And this little Gladys did for many months.
Till one day that she ran away. Far away from the disgusting fat pervert that had taken her in.
She did menial jobs to survive and slept under the bridge at night.
Every night she kept a small knife by her side, to keep away rapists. At a time, the raping boys had all been cut and they kept their distance from her.
They called her omo-doti, the dirty bridge girl.
Yet, Gladys felt relieved to know that they had left her alone and concentrated her energy in battling the mosquitoes that attacked her every night.
And the cold that caused a crawling in her insides.
And the big rats that came to chew at her toes.
She fell sick often, from the cold and mosquito bites.
At a time, she could no longer tell if she was sick or not. She worked nonetheless in her weakness and body aches, because she must eat.
One afternoon, at a place called Obalende, something of note happened.
A woman had stopped her car to buy fruits from the sellers lining the street when her purse was snatched.
She screamed, but it was the muffled yell of the rich. People paid no attention.
But then she looked; a young girl was pursuing the thief.
The sight amazed the posh lady.
From behind, Gladys sent one of her legs with great force across the speeding legs of the bag thief, nothing like anything to be expected from a young starving girl of about only sixteen years of age.
The boy fell and she scooped the bag from him. And then she kicked him hard a few more times on the head before turning to walk back to the owner of the bag.
When she handed the bag over, Madam Elizabeth did not say something immediately.
She could not believe what a young girl had done.
Gladys was already walking away when she called her: 'Hello, excuse me,' she said, 'please come.'
Gladys turned and walked back to her.
'What is your name?' Elizabeth asked.
Gladys told her.
'Where do you live?'
Gladys pointed across the road, toward the huge flyover.
Elizabeth sighed and shook her head. 'Would you like to come and live with me?' she asked Gladys.
Gladys said nothing.
Elizabeth asked her to go and get her things and she shook her head. She owned nothing.
'It's okay, my dear,' she said. 'Get into the car.'
And that was how Gladys Ekwocha's life changed.
That evening, for the first time since her mother died in the village, she ate fish.
She was given a room in the large house in Victoria Island and in the night she slept on a comfortable bed.
There were no mosquitoes or rats and there was a clean blanket for the cold.
At school, when she started, because she was among the oldest, the other students called her Grandmother Gladys.
But she always resisted the urge to beat them with her hands.
She decided to beat them in other ways instead.
After some months, and her scores and essays and assignments continued to come first, their insult turned into respect.
At home, one Sunday afternoon, Elizabeth came into her room and asked her:
'Would you like to be my daughter?'
'Am I not your daughter already, aunty?' Gladys replied.
Elizabeth clung to her.
And that was how Gladys became the daughter Elizabeth never had.
It was in the same year a tyrannical head of state died that Elizabeth passed away, leaving behind for a heartbroken Gladys a large shop in Ikoyi, two big houses and four cars.
For many months, Gladys mourned the good woman that had taken her in as daughter.
But afterwards, she dusted herself and rose up to living again.
A certified medical doctor yet she never practised. She looked after the business her second mother had left behind.
And with her resolve and intelligence, it grew and flourished.
But then a great calamity came and Gladys became what she is today.
What exactly happened to Gladys?