SIXTEEN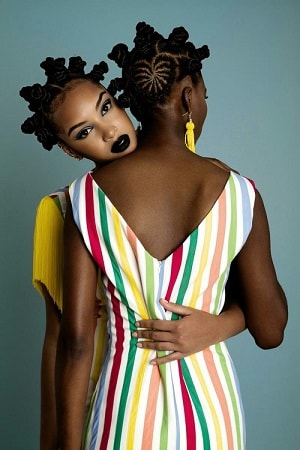 Sammy waited and waited, but Ejike did not come.
The night was cold, the moon dim and strange creatures giggling in the bush nearby.
Sammy wondered if she was just upset for being stood up or actually getting afraid of the night.
She turned and started back to the house.

Inside the room, Amaka asked her, 'Where did you go?'
'No place,' she answered. She climbed into the bed, pulling the bed wrapper and covering up herself.
The dull bulb above tinged everything in the room with a shade of yellow.
'Mummy, it's still there,' James mumbled, blinking. He was standing between his mother's legs.
Amaka pressed down the base of the boy's offending eye again. She blew gently at it. 'Is it gone now?'
James shook his head. 'It's still there.'
'Leave it, go and lie down and in the morning it would have come out.'
'No,' James cried. 'It's still there!'
Sammy threw the wrapper off her face and turned to them. 'Why not just breastfeed him so that he'll be quiet?' she snapped.
Amaka shot her a look.
'What?' Sammy asked, defensive.
'He is almost four!'
'And so? If it is breast milk that will get him to be quiet, just give him to suck!'
Amaka said nothing else to the woman. She stood and guided the boy to his small mattress on the floor.
Chinelo called from the sitting room.
When Amaka came, the old woman asked her to sit down.
Amaka did.
'Nwamaka?' Chinelo started, in that characteristic slow voice old women used to set a serious air.
'Ma.'
'What really transpired between you and your husband in Lagos?'
'Mama, everything I told you is the truth.'
'So he just packed his things and moved in with this woman?'
Amaka said nothing.
'Eh, gbo?'
'We had a slight quarrel, and he left.'
'Just like that?'
'Mama, stop asking me! Ajuzinam. You know who you gave birth to. You know him. He'd rather run away than stay and confront his troubles.'
'Why would you go to Lagos and start giving him troubles in the first place, eh? Is that what you travelled there to do?'
Amaka stood up and walked inside.
***
It rained all night, large rain drops drumming violently on the zinc roof.
Very deep into the night, Sammy, dreaming and twisting, started to caress Amaka.
Amaka came awake and tapped her on the shoulder.
'Mm?' Sammy said, drowsy.
'You were touching me.'
'Sorry,' Sammy said. 'I was dreaming.'
'About who?'
Sammy turned the other way, saying nothing.
***
Uzoma came by in the afternoon of the next day looking all sweaty in the face. Her fingers were muddy.
'Where is Mama Chibuzo?' she asked Amaka.
'She took Nnanna to school.'
'Oho, obele ebidogo akwukwo?'
'They will register him today,' Amaka said, 'but he won't start until next term.'
'Kamsi, schools should be thinking about closing by now.'
'Yes. He will start proper next term.'
'Okay…but I thought you teach him yourself?'
'I do, but I will not give him certificate na.'
'Eziokwu, it is true,' Uzoma said. She rubbed her soiled fingers on her dirty farm gown. 'Okay, I will come back later. Just wanted to tell her that I will borrow her white blouse for the women's meeting. I will come later.'
'Okay.'
From the other end of the compound, a short, zinc door creaked open.
Sammy, covered in a blue and brown-patterned wrapper from the chest down walked out. Her skin was damp, hair enclosed in a plastic net.
She joined her legs together, poured water and then dropped the bucket.
'Mama where are you coming from looking so dirty?' she asked Uzoma.
Uzoma turned to her with her crooked smile. 'I go my farm. I go clean my cocoyam farm.'
'Oh.'
'Yes,' Uzoma said. She smiled broader, and then in Igbo-mixed English added, 'Since you don't know what cocoyam is na, no need going on to tell you how it is weeded.'
Sammy returned the woman's smile. 'Why always cocoyam?' she asked, looking curious. 'Why don't you plant yam?'
Uzoma turned to Amaka with a face. 'Osikwa prant yam? Prant yam, am I a man that prants yam?'
'No, Mama,' Sammy said. 'You can plant whatever crop you want, no crop is meant only for a particular gender, okay?'
Turning to Amaka again, with the twisted face still, Uzoma said, 'O gini ka ona ako? What is she saying?'
Amaka explained.
Uzoma threw out a hollow laugh. 'So planting cocoyam makes me weak, inukwa! And to prove that I am a strong woman I will now go and carry the big hoe and dig four feet to plant yam, abia!' She turned to Sammy. 'Nne, anyi ejiyi afufu anyi isi, oh. We don't boast with suffering here.'
'What did she say?' Sammy asked Amaka with a confused smile.
Amaka explained to her.
Back to Amaka, Uzoma said: 'Tell your mother-in-law that I came when she comes back. I will return in the evening.'
Amaka nodded. 'Oh.'
'Imana osili ukpaka nwa?'
'Mba.'
'Okay. I will come later.'
The old woman walked away, smiling, murmuring and shaking her head.
When she got home, she met Jideobi in front of the house, washing Onyemaechi's motorcycle.
'Where is your father?' she asked the boy.
'Good afternoon.'
'Nna gi ano ebee? Where is your father?'
'He should be at the back.'
Uzoma started away.
'Mama, wait,' Jideobi said.
Uzoma stopped and turned to the boy, her face twisted in a frown.
Jideobi rubbed his hand on his shorts to wipe off soap foam. He reached into his pocket, brought out some naira notes and extended them to Uzoma.
Uzoma's face contorted further as she collected the money. 'What is this?'
'Money. For your goat.'
Uzoma counted the money. 'Five thousand?'
'Yes.'
'What am I going to do with five thousand?' Before the boy could utter a word, she added, 'If you give me five thousand for the mother goat, the kids in the belly nko?'
'Mama, that goat is not pregnant,' Jideobi said. 'I sold it because I needed money urgently to pay for my WAEC lesson. And remember it was the same goat Nne Ejimnkeonye gave to me when it was still a kid.'
Uzoma's face changed to even meaner. She took a step closer to the boy, Jideobi taking one step back. 'E-eh, so ikpacha anya mee ihe imelu? So you did what you did on purpose? Let me ask you, who is Nne Ejimnkeonye?'
Jideobi said nothing.
'Answer!'
'Your mother.'
'Good,' Uzoma said. 'Who gave birth to you?'
'You.'
'Good.'
'Who fed you till you are this size? Who cultivated the first cocoyam that passed through your lips?'
Jideobi was quiet.
Uzoma raised her palm. 'Answer me, before I disfigure this your ugly face!'
'You,' Jideobi murmured.
'And you know all these things and yet you didn't have any fear to go into my goat house and touch my goat?'
Jideobi only stared at his angry mother.
'Egwu atughi gi isolie ewum na afo ime, okwia? And now you are telling me it is not pregnant, that it is the goat Nne gi Ejimnkeonye gave to you, let me ask you, if I didn't bring you into this world, would you have known who Nne Ejimnkeonye is? Would you? Would you have even known what a goat is, let alone being able to differentiate a pregnant one from a non-pregnant one?'
Nothing came from the boy still.
Uzoma counted the money in her hand again. 'Okay. No problem. I will keep this money till I see my goat. Go and bring me my goat. I did not ask you to go and sell it. Even if it is not pregnant, is it not female? Will it not one day become pregnant? I na acho ewu di pregnant I wu mkpi?'
***
Onyemaechi was at the back of the house replacing the old ropes of his barn structure.
'Dalu,' Uzoma said to him.
Onyemaechi glanced at her. 'Nnoo.'
'Inukwa, your brother's grandson is starting school.'
'Whose grandson?'
'The boy they gave birth to nu. Nke ekoteru na ofo ogoli.'
'Oh. Chibuzo's child?'
'Eye.'
'Nkoo nwoke?'
'Eye nu.'
'He is starting school?'
'Eye.'
Onyemaechi turned to stare at his wife. 'How did you know?'
'Okwa ebe ahu kam si ugbua. I am just coming from there.'
Onyemaechi turned back to what he was doing. He threw the rope round the pole, drew it tight and began to knot. 'So why are you telling me?'
Uzoma made a face. 'Nothing, just that if you are looking for who to eliminate, you shouldn't leave the people that is really a threat and be bothered about those that mean no harm.' She walked away, leaving Onyemaechi's fingers frozen on the post, his eyes fixed into space.
***
When the dimness of night fell over the landscape once again, Sammy went out looking for Ejike again.
And this time around he came.
And it was a night full of activity for the two.
And while they rolled through the tryst, Onyemaechi called his other son to ask him some questions. Some very personal questions.
***
That same night, Rita in her room in Lagos, picked a scissors and started to trim down her hair.
The tresses fell to the floor in a dark heap. Afterwards, she looked herself in the mirror, rubbed her trimmed hair and then wound a brown scarf round her head.
Samson was yet to return from work, her daughter's break from school fast approaching.
Rita knew she needed to do all she needed to do before Fiona finally came home from school.