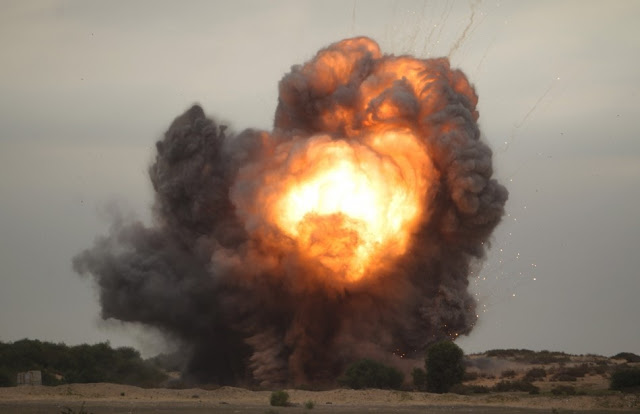 A Nigerian military jet has mistakenly bombed a refugee camp, killing more than 100 people, a government official has said.

The incident took place in Borno state in northeastern Nigeria, where the military has been waging a military campaign against the militant group Boko Haram.
Aid organisations and the local military said the air strike hit a camp for internally displaced people in Rann, part of the Kala-Balge local government area on the Cameroon border.
Regional military commander Major General Lucky Irabor told the Reuters news agency he did not know how many people were killed.
"Many civilians including personnel of International Committee of the Red Cross and Médecins Sans Frontières (MSF) were wounded," he said.
MSF said it was treating 120 wounded, while the Nigerian military said more than 100 had died (MSF).
Major General Irabor said he had ordered the mistaken attack, based on intelligence that Boko Haram fighters were in the region. It is believed to be the first time the Nigerian military has admitted to such an error.
An employee with the International Committee of the Red Cross, speaking on condition of anonymity, told the Associated Press 20 Red Cross volunteers were among the dead.
The bombing was condemned by MSF, which described the incident as "shocking and unacceptable".
A spokeswoman for MSF told The Independent the organisation was indeed active in the Kala Balge area, but was unable to verify whether its employees were among the victims.
She said MSF teams had seen 52 dead and 120 wounded as of Tuesday evening.
"Teams are trying to provide emergency first aid in its facility and are stabilising patients to evacuate wounded," she said.
"We are asking the authorities to put all measures in place in order to facilitate the emergency evacuation of the wounded. Our medical and surgical teams in Cameroon and Chad are ready to treat wounded patients."
Jean-Clement Cabrol, Director of Operations at MSF, said: "This large-scale attack on vulnerable people who have already fled from extreme violence is shocking and unacceptable.
"The safety of civilians must be respected."
Major General Irabor, commander for counterinsurgency operations in northeast Nigeria, said the Air Force had been given coordinates for where Boko Haram militants were alleged to be meeting. He said it was unclear what had caused the error and that an investigation was under way, but that the military would not deliberately target civilians.
Villagers in the past have reported some civilian casualties in near-daily bombardments in northeastern Nigeria.
Some of the nearly 300 Chibok schoolgirls kidnapped by Boko Haram in 2014 and freed last year have said three of their classmates were killed by Air Force bombardments, according to the freed girls' parents.