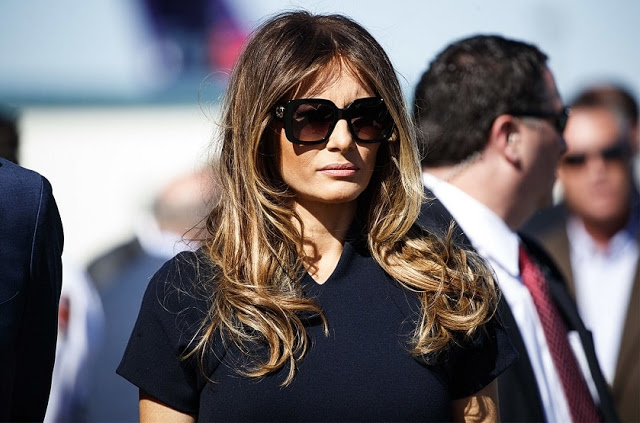 While her husband, Donald Trump, wields his power as president, first lady Melania Trump is struggling with the realities of her new role and the scrutiny that comes with it, insiders reveal in the new issue of Us Weekly.

"This life wasn't her dream. It was Donald's," Trump family friend and stylist Phillip Bloch tells Us.


"Truthfully, it's a lot to cope with."
Indeed, her unconventional living arrangement — she's staying in New York City while son Barron, 10, finishes school — has already made her a late-night punch line.

Jimmy Kimmel quipped February 8 that she's "trapped like Rapunzel" in her Trump Tower penthouse.
Vogue faced boycott threats after editor Anna Wintour said on February 9 that she expected Melania, 46, to appear on a future cover.
And Melania's libel lawsuit against U.K. paper Daily Mail, which she claims harmed her "unique, once-in-a-lifetime opportunity … to launch a broad-based commercial brand," has opened her up to criticism that she intends to cash in on the presidency.
The deluge has reportedly become too daunting for the deeply private Slovenia native, who moved to the United States in 1996 to launch a fashion career — not to preside over the East Wing.


"Melania is unhappy with how her life ended up," alleges a family source. "She is miserable."
***
Since inauguration day, Melania has spent most of her time holed up in her lavish apartment.
Never a fixture on the NYC social scene, "she is staying hidden more," claims Bloch.
(By contrast, Michelle Obama hosted an open house for select members of the public, plus a party for White House staffers during her first week on the job in 2009.)
According to a family source, not even Barron can get her out the gold-plated front door.


Pre-inauguration, Melania would shuttle her son in a chauffeured SUV to and from his private school. But that was before picketers took up residence outside her building.
Now, claims the source, "Melania has the Secret Service take Barron to school and retrieve him."
Melania has left her $100 million apartment a handful of times. But aside from one outing to run errands January 30, she has usually headed to her other (luxurious) home.
"Melania says she's most happy at Mar-a-Lago," says a source close to the first lady. "She loves Palm Beach!"

The first lady joined Donald, 70, at Mar-a-Lago, their $300 million estate in Palm Beach, Florida, the weekend of February 3.
The First Lady was recently photographed over the weekend in Del Ray Beach, accompanying Akie Abe, the wife of Japanese Prime Minister Shinzo Abe, to a local church and posing for pictures.
According to the US Weekly source, "Don't let her smile in those photos fool you. She hates this job."


***
Source: The Us Weekly