by Staff writer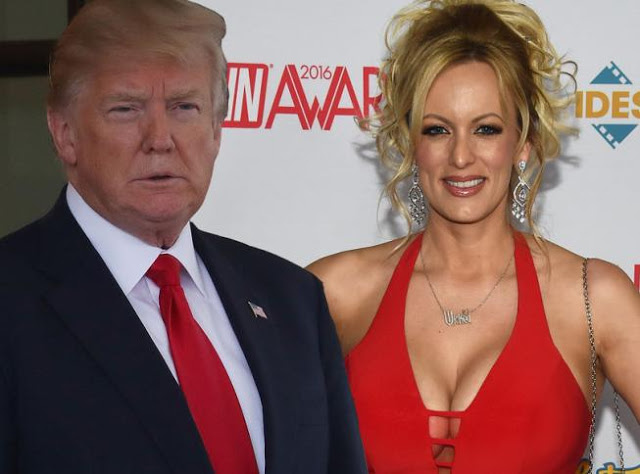 Stormy Daniels is a porn star who claims she had an affair with President Donald Trump.
The blonde adult actress says she slept with the married future US President after meeting him in 2006.

Stephanie Clifford, who became famous under the porn name Stormy Daniels, was born in Baton Rouge, Louisiana, on March 17, 1979.
She began her career as a stripper at the age of 17 before entering the porn industry.
In a 2011 interview with magazine In Touch, Daniels spoke about the alleged encounter with Trump claiming they had "textbook generic sex."
The 39-year-old claims that after the alleged hotel room romp, which Trump strongly denies, the future US President asked her to autograph one of her porn DVDs for him.
She said: "(The sex) was textbook generic. He was like, 'Come here'. And I was like, 'Ugh, here we go'.
"I actually don't even know why I did it, but I do remember while we were having sex I was like, 'Please, don't try to pay me'.
"And then I remember thinking, 'I bet if he did, it would be a lot'."
She said he invited her to dinner after they rode in the same golf buggy.
She added: "Who would pass up an opportunity to talk to someone so interesting? I wasn't trying to date him or anything like that."
The actress claims she arrived at Trump's hotel room to find him sprawled out in his pyjamas watching TV.
The pair then had dinner in his room but he waved off her questions about wife Melania.
Stormy added: "He goes, 'Oh don't worry about her'. He was very full of himself."
Stormy Daniels claims Trump chased her around a hotel room in his underpants.
The actress claims they then had sex, which she says was "nothing crazy"'
He also promised to get her on to his TV show, The Apprentice.
In Touch magazine claims Stormy took a polygraph lie detector test and passed "at the time of the interview."
***
The White House has strongly denied an explosive report claiming that Donald Trump paid Stormy $130k (£91k) hush money following a tryst in a hotel room.
It was alleged that the US President's team arranged payment to the adult actress a month before his 2016 election victory.
Trump allegedly hooked up with the X-rated star at the Edgewood Tahoe golf tournament a year after he married third wife Melania.
She also appeared to initially deny the affair, although another porn star, Alana Evans, came forward to claim that Daniels told her about it.
An attorney for the Trump Organisation set up the payment to keep her quiet, The Wall Street Journal reported.
Donald Trump's lawyer Michael Cohen released a letter on January 10 – signed by Stormy – denying any sexual relationship with the president.
The lawyer also delivered the statement from Daniels, which branded the WSJ article "absolutely false."
It reads: "My involvement with Donald Trump was limited to a few public appearances and nothing more.
"When I met Donald Trump, he was gracious, professional and a complete gentleman to me and EVERYONE in my presence.
"Rumours that I have received hush money from Donald Trump are completely false.
"If indeed I did have a relationship with Donald Trump, trust me, you wouldn't be reading about in the news, you would be reading about it in my book.
"But the fact of the matter is, these stories are not true."
He said the President "once again vehemently denies any such occurrence, as has Ms Daniels".
But in February 2018 sources revealed Stormy may have kept a "Monika Lewinsky" dress – which could provide DNA evidence her claims are true.
She is said to be planning on having the dress forensically tested to search for any DNA that proves she isn't lying about her tryst with the 71-year-old US leader, including samples of skin and hair.
***
In February 2018, Trump's lawyer Michael D Cohen paid Stormy £95k.
He told NYT: "Neither the Trump Organisation nor the Trump campaign was a party to the transaction with Ms Clifford, and neither reimbursed me for the payment, either directly or indirectly.
"The payment to Ms Clifford was lawful, and was not a campaign contribution or a campaign expenditure by anyone."
Cohen declined answering further questions, including those related to whether or not Trump knew about the payment.
Donald Trump has now issued a restraining order against Stormy Daniels to prevent her from going public about their alleged affair.
But Stormy had an interview with Anderson Cooper on CBS's 60 Minutes on Sunday, March 25, 2018.
She said she was physically threatened in 2011 by a man in Las Vegas who warned her against speaking out about her alleged affair with Trump.
The threat came after she sold her story for $15,000 to Bauer Publishing, she claimed, which published the interview in its magazine InTouch earlier this year.
***
Here are all the things Stormy Daniels revealed during the interview with CNN's Anderson Cooper about the night she had sex with President Donald Trump:
She ordered Donald Trump to drop his trousers so she could spank his bum with a magazine that had his face on.
They only had sex once – at a charity golf event in Lake Tahoe, in 2006.
Trump did not wear a condom during their sex romp.
She did not find him physically attractive.
Trump told her he and wife Melania slept in separate rooms.
Trump compared Stormy to his 'beautiful' daughter, Ivanka.
Trump made her watch shark attack documentaries when they met up weeks later.
Stormy would not say if she had sexy pics or videos of Trump.
She was threatened by a mystery man after her affair claims came out.