So it's International Women's Day and while everyone is celebrating the special women in their lives and society, wife of Canadian Prime Minister, Sophie Gregoire Trudeau in an Instagram post encouraged "girls and women" to celebrate their men too.

Sophie Trudeau's post featured a picture of her and her husband, Justin Trudeau, holding hands with the inscription:
"This week, as we mark International Women's Day, let's celebrate the boys and men in our lives who encourage us to be who we truly are, who treat girls and women with respect, and who aren't afraid to speak up in front of others."
In the post, she also asked Instagram users to take a picture holding hands with their "male ally" and share it using the hashtag #TomorrowInHand.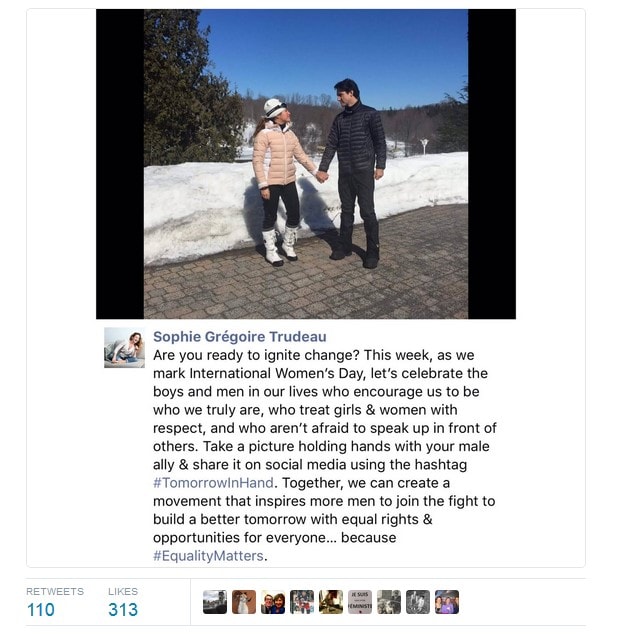 As you might expect, there was some backlash!
While some women did post pictures of themselves holding hands with the males in their lives, many interpreted Sophie's post as a slight to feminism.
"Celebrating Women's day by celebrating men!?!?! Really, I expected more," wrote one Instagram user.
Another person wrote: "What's next? 'Post your favourite white person to celebrate Black history month'? Or how about a float celebrating straight people in the pride parade? Allies are important but they don't get to be part of our day!!"
But the former TV host and women advocate replied her critics, saying her message was about "gender equality."
"Our goal is gender equality, and fighting for it is going to require men and women working together – raising our boys and girls to make a difference, hand-in-hand.
"This is about recognizing that we should be allies on this journey," Sophie explained in another post she put up later.