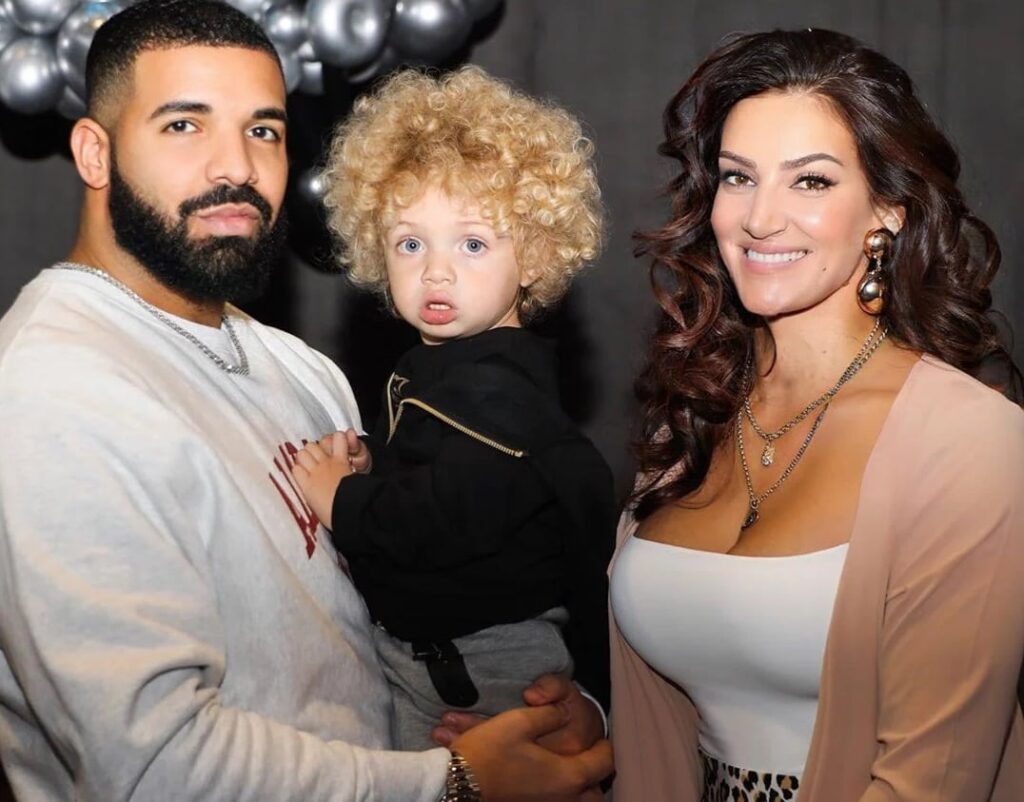 Who is Drake?
Drake is a Canadian-American rapper, singer, dancer and actor. He is one of the most influential figures in modern music and hip hop culture. Drake's trademark style of singing and lyrical rapping has won him a large following. Drake is known for hit songs like, "God's Plan" and "Toosie Slide."
Drake's full name is Aubrey Drake Graham. He was born on October 24, 1986, in Toronto, Canada to his parents: Sandra Graham and Dennis Graham. As of June 2022, Drake is 35 years old. Drake is also known by the nickname "Champagne Papi" by some of his fans.
About Drake's parents
Drake's mother, Sandra "Sandi" Graham is a Canadian of Ashkenazi Jewish heritage. She worked as an English teacher and a florist. Sandra Graham and Drake's father, Dennis Graham got divorced when Drake was 5 years old and Sandra got full custody of Drake after the split. Sandra Graham and her ex-husband appear to have a great relationship as he wished her a happy birthday in 2021.
Drake's biological father, Dennis Graham is a musician and a drummer. Dennis Graham is an American of African-American heritage. He was born in Memphis, Tennessee, the United States. Dennis Graham has performed alongside country musician, Jerry Lee Lewis. Apart from Drake, it is speculated that Dennis Graham has other children. After his divorce from Sandra Graham, he returned to Memphis. He was then incarcerated for some years on drug-related charges.
Upon his release, legal issues and limited finances made Dennis Graham remain in Memphis until Drake's early adulthood. In an interview, Dennis Graham claimed that Drake's accusations of him being an absentee father were embellishments designed to "sell records."
About Drake's siblings
There have been speculations that Drake has a half-sister from his father, Dennis Graham. In 2015, Drake posted a picture of himself with a young woman on his Instagram and referred to the woman as his "sister." Her name is Raemiah Julianna. While Raemiah Julianna's status as Drake's sister has not been officially confirmed, some reports claim that Drake and Raemiah look very much alike and could actually be siblings.
About Drake's marriage and wedding
As of June 2022, rapper Drake is not married and does not have a wife. He has however been involved in a series of high-profile relationships involving many beautiful and popular women. Despite being unmarried, Drake has been in relationships with stars like Rihanna and Nicki Minaj. He has a son, Adonis who was born to him by Sophie Brussaux, a French artist and former adult entertainer.
List of Drake's girlfriends
Drake has dated over 20 women, according to reports. Below is a comprehensive list of all the women Draka has reportedly dated or hooked up with:
Tyra Banks
Nicki Minaj
Rihanna
Jennifer Lopez
Sophie Brussaux
Jorja Smith
Rosalyn Gold-Onwude
Bella Hadid
Kylie Jenner
Raye
Naomi Sharon
Bella Harris
Johanna Leia
Tika Sumpter
Zoe Kravitz
Blac Chyna
Malaika Terry
Kim Kardashian
Serena Williams
SZA (pronounced as SAZA)
About Drake's relationship with Tyra Banks
Drake and supermodel Tyra Banks went on a date back in 2012. They went to Disneyland, California. On the Ellen DeGeneres show, Drake revealed that he and Tyra did not go on another date after their Disneyland outing. He said,
"I went on a date with her one time, yeah. We went to Disneyland in disguise actually, which was fun. I don't know if it was a date. It was a get-together. We're close as well."
Tyra Banks called Drake out for spilling the beans about their outing. She said:
"But why you gotta not kiss and tell but chill and tell."
In 2016, Tyra Banks appeared in Drake's music video for "Child's Play."
About Drake's relationship with Nicki Minaj
Drake and Nicki Minaj allegedly had a fling back in 2010. In an interview, Drake said that the first time he saw Nicki Minaj, he fell in love with her. He also added that while he had always had a crush on her, Nicki Minaj treated him like a little brother. Sometime later, Drake announced via Twitter that Nicki Minaj was the "Mrs Aubrey Drake Graham."
Nicki Minaj retweeted the post, saying:
"Yes, it's true. Drake and I tied the knot."
Nicki Minaj later said that the tweets were jokes. Afterwards, Drake was featured on Nicki Minaj's "Moment 4 Life." When asked about his tweets on the Ellen DeGeneres show, Drake said:
"I don't know if we were really pretending. I'd marry Nicki. I think Nicki would be one of the only people that would understand me at the end of all this and be able to love me."
Not long after, Drake and Nicki Minaj had a falling-out. Nicki Minaj was angry that Drake did not feature her or any of their Young Money family on his 2013 album "Nothing Was The Same."
She said:
"I'm Young Money till the death of me. Drake can do what Drake can do, but Nicki Minaj is a whole different person. I think your team is your team. I'm always going to want my team to be a part of my project, no matter what, in some way."
Then after the release of her Anaconda video, fans went wild after seeing the lap dance Nicki Minaj gave Drake. The two cleared the air about the relationship rumours on the iconic track, "Only" where Nicki rapped:
"I never fucked Wayne, I never fucked Drake."
On the same track, Drake also rapped:
"I never fucked Nicki, cause she got a man. But when that's over, I'm first in line."
Afterwards, they were not on speaking terms for a while. In Nicki Minaj's song with Sada Baby, "Whole Lotta Choppas", Nicki Minaj rapped:
"To be honest, I hope one day, we do playdate with Adonis."
To which Drake replied:
"Playdates come soon."
Since then, Drake and Nicki Minaj have collaborated alongside Lil Wayne on "Seeing Green" and appear to be good friends. Nicki Minaj is currently married to Kenneth Petty.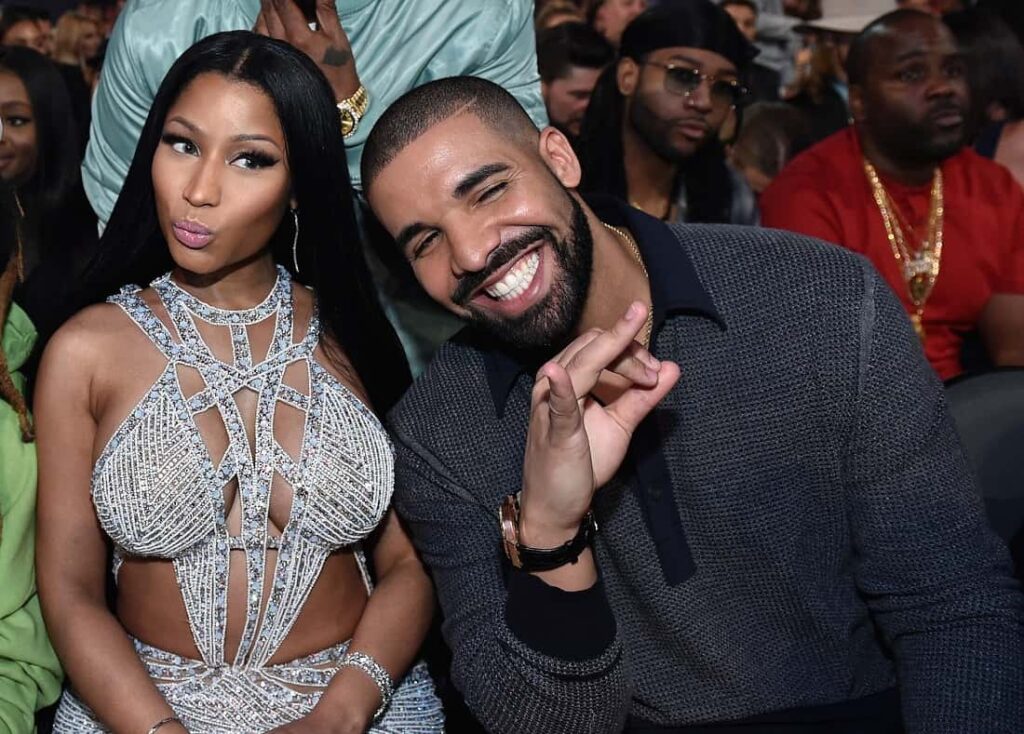 About Drake's relationship with Rihanna
Drake and Barbadian singer and songwriter Rihanna reportedly dated some years back. They had a series of music collaborations including the hit song, "Work." Apart from working together, Rihanna and Drake have also hit the stage to perform together. When Drake appeared on the Ellen DeGeneres show in 2013, he said that he and Rihanna "had their moment." Over the years, Rihanna and Drake were seen leaving clubs together and they have continued to show a lot of chemistry on their music videos. Fans even tagged the iconic duo, "AubRih."
Drake and Rihanna met in May 2009 at a bowling alley in New York. In a 2009 radio interview, Rihanna claimed that she and Drake were just friends. However, in January 2010, Drake said that he was "kind of " in a relationship with Rihanna. He said:
"People thought I was dating Rihanna and that was semi true."
There have been speculations that Drake's song, "Fireworks" was a reference to his first encounter with Rihanna. The two went on to collaborate on "What's My Name?" in October 2010. In February 2011, Rihanna and Drake performed together at the Grammys. They later collaborated on Drake's track, "Take Care." On the Ellen DeGeneres show in 2013, Drake said:
"Yeah, great girl. We had our moment. Always support and have love for her."
During the 2016 MTV VMAs, Drake handed Rihanna the Michael Jackson Video Vanguard award. He said:
"She's someone I've been in love with since I was 22 years old."
Rihanna said that the 2016 VMAs was "awkward" for her and that she's no longer friends with Drake. She said:
"We don't have a friendship now, but we're not enemies either. It is what it is."
While there have been speculations that Drake didn't like Rihanna and ASAP Rocky together, things appear to be civil between the two stars.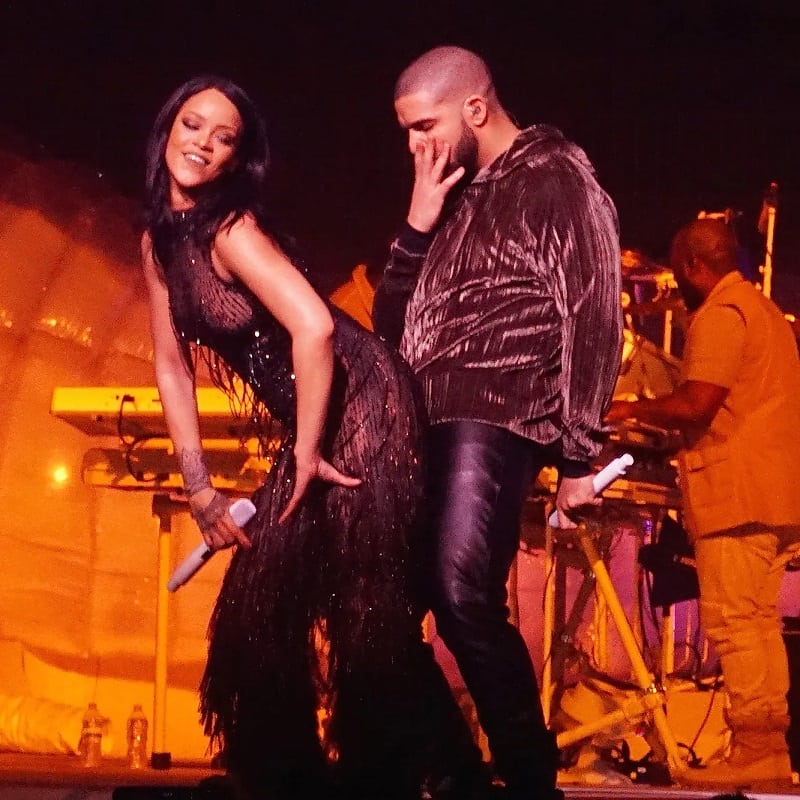 About Drake's relationship with Jennifer Lopez
Jennifer Lopez and Drake met at the 2013 Grammys. Later on, Drake made an appearance at one of Jennifer Lopez's shows in Las Vegas. The two made things official when they posted a picture of them cuddling on Instagram. Jennifer Lopez also wore Drake's chain to a party. Originally, Jennifer Lopez was featured in Drake's song, "Get It Together." However, the released track featured Jorja Smith instead. The relationship fizzled out and they broke up.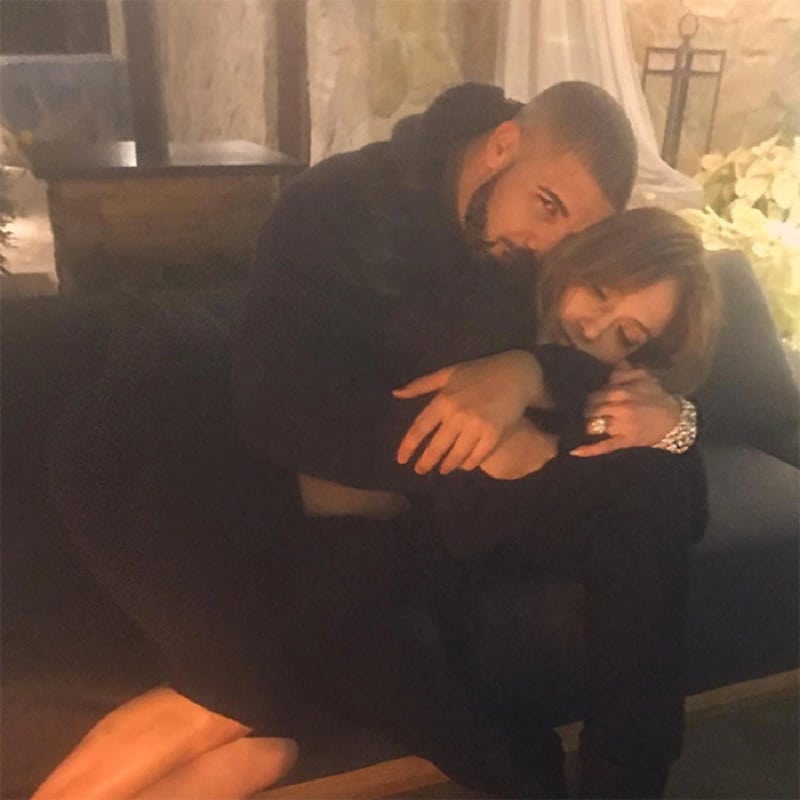 About Drake's relationship with Sophie Brussaux
Sophie Brussaux is a French artist and a former adult film star. She met Drake while he was on his "Boy Meets World" tour in 2017. Sophie Brussaux is Drake's baby mama. She is the mother of Drake's son, Adonis Graham, however, they were never in a relationship.
On his track, "When To Say When," Drake called Sophie Brussaux a fluke. He also said that Brussaux never met his mother before her pregnancy. Adonis's birth was kept a secret because Drake was not certain that he was the father. Currently, Drake and Brussaux are trying to co-parent.
He said:
"I'm still learning to communicate with a woman, who, you know, we've had our moments. I do want to be able to explain to my son what happened. But I don't have any desire for him to not love his mother. I don't ever want the world to be angry at his mother."
About Drake's relationship with Jorja Smith
Jorja Smith and Drake allegedly dated in 2017. After she opened his "Boy Meets World" tour in Birmingham, it was rumoured that Jorja Smith was Drake's girlfriend and that his tattoo of the number "11" was dedicated to her birthday, June 11th and her debut EP, "Project 11". There were also speculations that Drake's song, "Jaded" was about Jorja Smith.
Jorja said:
"No that's definitely not me. If he has, I haven't seen it. I'm sure if he had tattoo of me, it would be on the internet somewhere."
About Drake's relationship with Rosalyn Gold-Onwude
NBA Sports broadcaster, Rosalyn Gold-Onwude and Drake attended the 2017 NBA Awards together. However, it has been revealed that they have been "casual friends" for years. An insider revealed:
"She's not starstruck, and that's important to him. He likes how normal she is and she has her head in straight. They laugh and are getting to know each other."
About Drake's relationship with Kylie Jenner
Reality TV star and entrepreneur, Kylie Jenner and Drake were allegedly romantically involved in 2019 after her split firm Travis Scott. Before that, Drake performed at Kylie's sixteenth birthday party. A source said:
"He and Kylie have been spending time together recently. They've been friends for a long time and Drake is very close to the family."
About Drake's relationship with Blac Chyna
From Tyga, to Bow Wow, to Future, Blac Chyna has been involved with several rappers. In 2010, Drake shouted Blac Chyna out in his 2010 song, "Miss Me." He rapped:
"Call the King of Diamonds and tell Chyna it'll be worth the flight."
During his feud with Tyga, Drake also liked some of Blac Chyna's pictures on Instagram. In 2014, Drake claimed that he had "smashed" Blac Chyna in a Twitter spat with Tyga.
About Drake's relationship with Kim Kardashian
After the release of Drake's song, "In My Feelings" with lyrics "Kiki, do you love me?" many people thought the Kiki Drake was referring to is Kim Kardashian. It was rumoured that Kim Kardashian and Drake had a secret relationship. When Drake and Ye feuded, it was speculated that Drake hooked up with Kim Kardashian as payback. However, the rumours were debunked when Kim Kardashian tweeted:
"It never happened. End of story."
About Drake's relationship with SZA
In 2020, Drake was featured in a song called, "Mr Right Now." In his verse, Drake said he and SZA dated back in 2008. He rapped:
"She said she wanna fuck to some SZA, wait, cause I used to date SZA back in '08."
SZA, on the other hand, said that Drake's timing was wrong and that the relationship happened in 2009 rather than 2008 as Drake claimed. SZA tweeted:
"I just didn't want anybody thinking anything underage or creepy was happening. Completely innocent. Lifetimes ago."
About Drake's relationship with Johanna Leia
Model Johanna Leia and Drake dated in 2021. They were first seen at the Sierra Canyon basketball game. Later, Drake rented the entire LA Dodgers stadium for a private dinner with Leia. They were said to have met a few months before the private dinner date through high school basketballer, Amari Bailey who is Johanna Leia's son. Johanna Leia was often referred to as Drake's "sugar mummy" due to their age difference. However, the relationship fizzled out and ended in October 2021.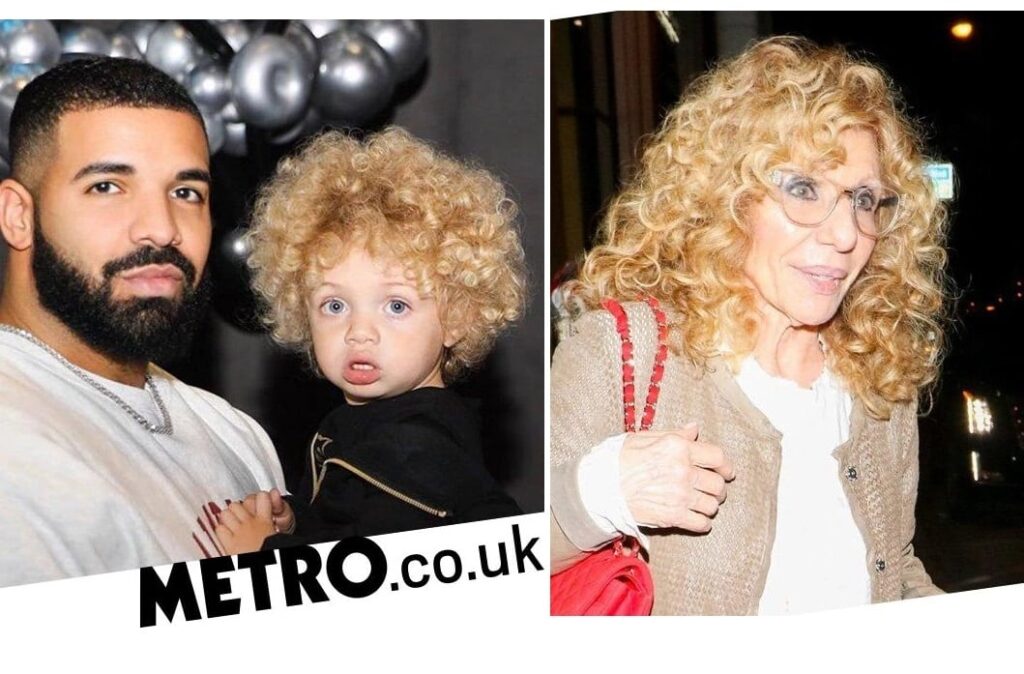 About Drake's children
As of June 2022, Drake has one son named Adonis Graham with French artist and former adult entertainer, Sophie Brussaux.
Adonis Graham: Adonis Graham was born on October 11, 2017, to Drake and Sophie Brussaux. As of June 2022, Adonis Graham is 3 years old. Adonis Graham looks a lot like Drake's mother, Sandra Graham.