by Staff writer
Sister Cecilia Maria lived in Saints Teresa and Joseph Monastery in Santa Fe, Argentina, dedicated to prayer and the contemplative life.

She passed away in June 23, 2016, aged 42.
After graduating as a nurse at 26 years of age, Sister Cecilia Maria made her first vows as a discalced Carmelite (men and women who dedicate themselves to a life of prayer).
The Carmelite nuns live in cloistered (enclosed) monasteries and follow a completely contemplative life.
In 2003, Sister Maria made her final profession.
Thirteen years after, she was diagnosed with cancer of the tongue and the disease metastasized into her lungs.
In her time living at the monastery, she played the violin and was known for her sweetness and constant smile.
In the final weeks of her illness, her condition worsened and she had to be hospitalized. From her bed she never stopped praying and offering up her sufferings with the certainty that her encounter with God was near.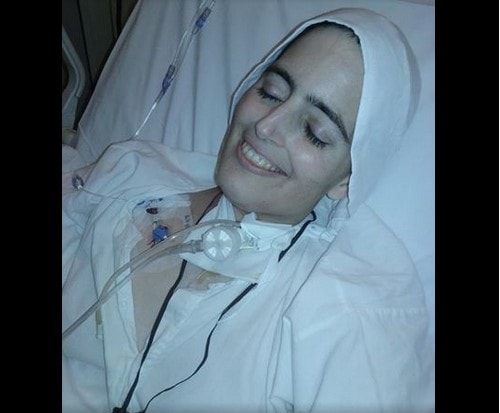 Sister Maria on her hospital bed

She wrote her last wish on a piece of paper:
"I was thinking about how I would like my funeral to be. First, some intense prayer and then a great celebration for everyone. Don't forget to pray but don't forget to celebrate either!"
The discalced Carmelites announced her death as follows:
"Jesus! Just two lines to let you know that our dearly beloved sister gently fell asleep in the Lord, after such a painful illness, always borne with joy and her surrender to her Divine Spouse. We send you all our love, grateful for your support and prayer during this entire time, so painful yet so wonderful at the same time.
"We believe she flew directly to heaven, but we also ask you to not cease commending her to your prayers, so from heaven she may repay you. A big hug from her Sisters in Santa Fe."