by Daniel Nkado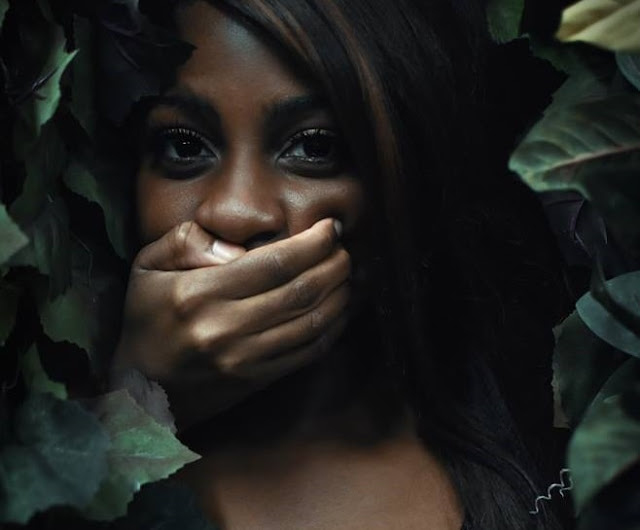 *** Read previous chapters HERE.
TEN
Cecilia threw the sheets away and rose from the bed.
For over an hour, she's been on the bed, trying to sleep. She had wanted to quell all the thoughts surging through her and sleep the night away, till morning that she would go home and meet with her cousin—she was the one with all the plans—but sleep proved unachievable.

Now she was pacing round the room, hands folded behind her back.
She pinned a thought and halted. She picked her phone from the table and dialed a number.
Putting the phone to her ear, she said, 'Sister, hello.'
She and her cousin spoke entirely in their native language, Cecilia gently hitting the desk with her fist all the while they talked.
In the end, she nodded and said okay before dropping the phone.
The next morning, while Oga and Madam were away at work, her cousin visited.
Unlike Cecilia, Elizabeth was slim. And probably that was why she appeared to be quite taller.
Grace never knew that Cecilia had a visitor. And because Cecilia never expected anyone would barge in on them, she thought little about locking the door.
And so as the door suddenly swung open, the two women sitting on the bed, designing evil, appeared startled.
'I'm sorry, Aunty Cecilia, I came to tell you the water has boiled,' Grace said, her eyes on the white bottle in Elizabeth's hand. Grace remembered she had seen one like that once in the kitchen.
'Do you ever hear of knocking?' Cecilia barked.
'I'm sorry.'
'Get away!'
Grace left and Cecilia turned back to Elizabeth.
'Is that the girl?' Elizabeth asked.
'Yes. The silly brat.'
'Good. And then you must know what to do. Since plotting to send her away obviously will not work in this case, I think we have no other choice than to explore other options.'
Cecilia nodded.
'Take.' Elizabeth extended the white bottle she was carrying to Cecilia. It was half-filled with a dark-brown liquid. 'This one will completely roast all that is woman in her.'
Cecilia collected the bottle from her, a smile ripening on her plump face. 'Thank you, sister. What could I have done without you?'
Elizabeth returned the smile. 'Let me give you something for the girl.' She picked her handbag from the ground. Dipping one hand into it and scrabbling for a short time, she brought out a small bottle the size of a regular bottle of cough syrup. It contained a brownish liquid that looked no less like a cough medicine. 'Just a drop is okay,' Elizabeth said, extending the bottle to Cecilia.
Cecilia nodded and took the bottle from her.
ELEVEN
Grace had brought out all the pots and pans and drainers. But the bottle was truly not there. Now that she wanted to really check whatever liquid that was in the bottle she couldn't find it again.
Cecilia has changed its location.
'Grace?'
She heard Cecilia's voice and quickly started packing all the items back into the cabinet. The kitchen door came open almost at the same time she slammed the cabinet door shut.
'Oh there you are, I've been calling you,' Cecilia said.
Grace did not say a word. As long as she could remember, that was the calmest Cecilia has ever sounded to her.
Then she did the worst.
She took Grace's hand and folded it in hers. Grace endured her touch.
'I know, dear, that I've been quite hard on you since your arrival,' Cecilia started. 'I want to say that I'm sorry and I truly apologize to you now.'
Grace was watching her.
'You see, I've been battling great health problems for some years now,' Cecilia continued. But thankfully to God, the doctor says I'm getting well.'
Grace shook her head, the way people do to show pity. 'I'm so sorry, Aunty Cecilia, I did not know.'
Cecilia nodded slowly. 'I know you didn't.'
'Was that why you are taking the herbal medicine?'
Cecilia nodded, sniffling. 'Bitter as shit, but do I have a choice?' She wiped at her eyes and threw herself into Grace. 'Oh, Grace, I have suffered,' she cried. 'I have truly truly suffered. You can only try to imagine how very happy this news made me.'
Slowly, Grace hugged her back. 'It's okay, Aunty Cecilia. Stop crying, please. You will be fully well soon. I will pray for you.'
Behind her, Cecilia nodded, but she didn't stop making sniffling noises.
That night like every other night since she arrived, Grace knelt down beside the bed in her room and prayed for the whole family. Her parents in the village always came last.
That night there were a few additions though.
Instead of asking God to bless Aunty Eunice with a child, she prayed that God ensured she has eggs enough to give Aunty Eunice one, and that the procedure would be successful so that Aunty Eunice returned happy, pregnant and grateful. So that she would suggest to her about a big Thanksgiving in church.
After that, she covered Uncle Andrew's business with the precious blood of Jesus. And then she prayed that Akpan continued being the happy man he'd always been and that if it pleased Him, He can make him a little taller.
Instead of asking God to arrest Cecilia and show her His Light, she prayed that He healed her of all her sickness and kept her ever in his Light.
Then she prayed for Mama and Papa in the village before she said the Grace and climbed onto the bed.
But while Grace said all these prayers for everyone, she never knew that she was the one that needed prayers the most.
***