by Staff writer
On Wednesday Mavis Wanczyk, from Chicopee, was a hospital worker.

On Thursday, she became the winner of the largest undivided lottery jackpot in North American history — winning for herself some $758.7 million!
She is no longer a hospital worker at Mercy Medical Center in Springfield and is currently being guarded by police escorts.
"This is a great thing," Officer Michael Wilk, a spokesman for Chicopee police, said Friday, adding that a police car is parked in Wanczyk's driveway.
"We want her to know we're there if she needs us."
Wanczyk took a lump-sum payment of $480 million, leaving her $336 million after taxes.
According to the Associated Press, "members of the media and others have descended on the neighborhood."
Officer Wilk told the AP that neighbors reported other people hanging around, "knocking on doors and asking people where she lives. We're not going to tolerate her being harassed or bothered."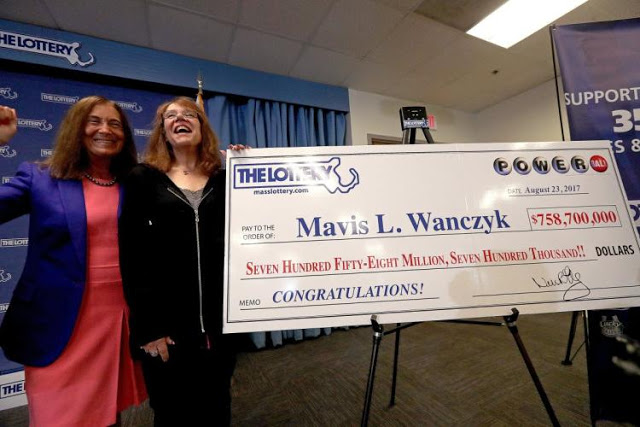 53-year-old Mavis Wanczyk rose to fame last week when she came forward as the winner
of the largest Powerball jackpot awarded to a single player.
Winning lotteries can be a huge a blessing but there is also an associated risk.
In November 2015, Craigory Burch Jr. matched all five numbers in the Georgia Fantasy 5 drawing and won a $434,272 jackpot, The Washington Post's Lindsey Bever reported.
Two months later, police said, Burch was killed in his home by seven masked men who kicked in his front door.
His family members said the public announcement of the lottery winnings had made him a target.
Losing your privacy and your name being used to carry out all sorts of fraud and scams is another thing.
There are now many fake accounts of Mavis Wanczyk circulating round the social media, on Facebook, Instagram and Twitter, where people are asked to follow and drop their account details so they can win some money from Wanczy's prize.
Police in Chicopee are already warning people of such scams.
"We are well aware of many fake accounts being created on Twitter, Facebook, and Instagram stating they are Mavis Wanczyk and that following and answering private messages will result in you getting money," police in the small Western Massachusetts city said on Facebook.
"PLEASE do not fall for these scams. DO NOT give out any personal information to these accounts. Do not fall victim to a scammer by releasing ANY of your information."
Police urged residents to report any such accounts to the social media platform where they found them.
"So does that mean she isn't giving me 1 million dollars," someone wrote in response to the warning.