by Staff writer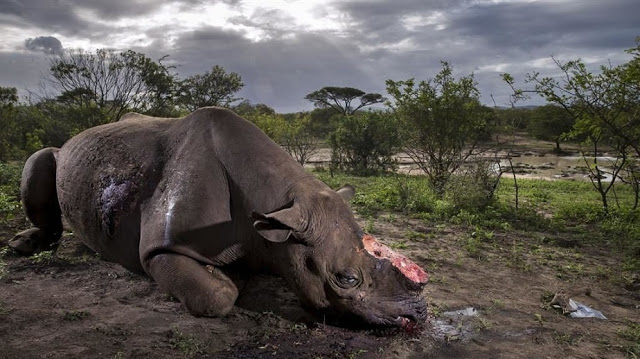 This heartbreaking image of a de-horned black rhino has just earned a photojournalist the prestigious Wildlife Photographer of the Year award for 2017, beating out nearly 50,000 entries from 92 countries.

Photojournalist Brent Stirton was the grand title winner for his image "Memorial to a Species", which shows a recently shot and de-horned black rhino in South Africa's Hluhluwe Imfolozi Game Reserve.
Black rhinos are critically endangered due to poaching and the illegal trade of rhino horn around the globe.
The slain animal was "one of more than 30" the photographer saw while covering the story.
The killers of the rhino were likely from a local community but were "working to order," according to the Natural History Museum in London, which is running the competition.
They entered the Reserve at night, the museum said, and shot the rhino using a silenced gun.
"Working fast, they hacked off the two horns and escaped before being discovered by the reserve's patrol," a statement said.
"The horns would have been sold to a middleman and smuggled out of South Africa, probably via Mozambique, to China or Vietnam. For the reserve, it was grim news, not least because this is where conservationists bred back from near extinction the subspecies that is now the pre-eminent target for poachers, the southern white rhino."
Sir Machel Dixon, director of the Natural History Museum said: "Brent's image highlights the urgent need for humanity to protect our planet and the species we share it with.

"This shocking picture of an animal butchered for its horns is a call to action for us all."