by Michael Goble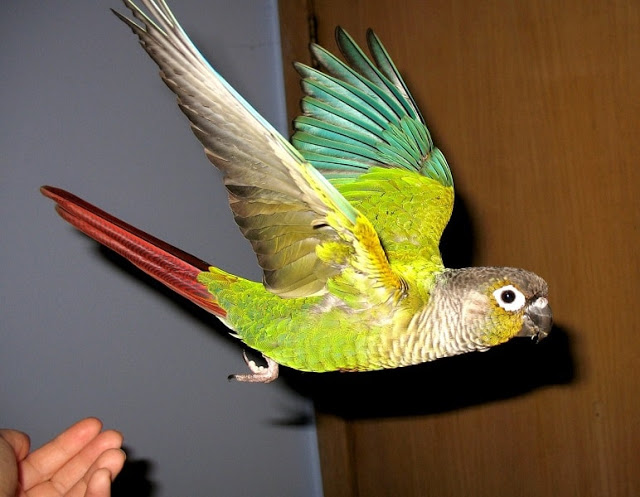 I have owned parrots for almost 20 years and dogs for almost 30 years.
One of my parrots, a green-cheeked conure, has the largest vocabulary I've ever seen.

However, I've always wondered if he really knows what he is saying, or merely repeating sounds…
I will give you some examples and then maybe you can tell me what you think:
When I come downstairs in the morning, he chants, "Good morning, good morning."
When he can see me come round the corner, he switches to "Hello daddy, hello daddy."
He then reverts to "Good morning, good morning" when he hears my wife coming and then switches to "Hello mummy, hello mummy" when she appears.
He also says "hello bird" and "good bird" and "hello good bird" but he will never mix up the word order.
When I head for the front door, he will say "Goodbye daddy."
When I tell our dog to go outside to do her business, he says "Good dog, good Brandy, outside, outside."
He sits on my shoulder when we watch TV in the evening.
When he needs to relieve himself, he says "Go potty" so I take him to the bathroom and hold him over the toilet.
He always performs appropriately, never ever messes on my shirt.
In the evening, as soon as I switch off the TV or put down the book I was reading, he starts saying "Goodnight."
Now you tell me, does he know what he is saying or is he just imitating sounds?