by Miz Tee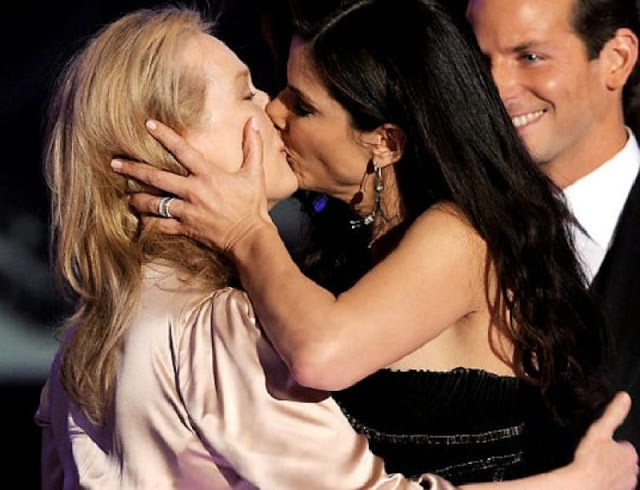 Remember that infamous kiss between Sandra Bullock and Meryl Streep at the 2010 Critics' Choice Awards?
When they got on stage, Bullock jokingly blurted, "This is bulls—" before locking lips with Streep.
As the audience cheered, Bullock exclaimed, "This is an honor."

In her acceptance speech, Bullock said she and Streep have a lot in common. She said she loves "food and sex like Meryl. … That's how similar we are. You guys just didn't notice it until now."

Bullock ended her speech by admitting, "Meryl is a good kisser."

After the show, Bullock – clad in Alberta Ferretti – told UsMagazine.com she was "so happy. I got to share the stage with Meryl Streep. I mean, she's just a good woman with a great head about this business and a sense of humor. I just adore her."

Streep also praised Bullock, telling reporters that the actress has "passion, feeling, everything. When she's funny, it's always from a real centered place in her emotional life, and that's as good as it gets."

At the time, we didn't think there was much more to the story, but as Bullock explains later on an episode of BBC's "The Graham Norton Show," the kiss is all about what goes on behind the scenes.

"What was the award show when you locked lips?" the British host asks in the video, after bringing up the time Bullock beat out Streep for "Best Actress."

"You mean where she asked for it?" Bullock quips.

"She was egging me on this entire time," Bullock continues, recalling when Streep sent her flowers after she won the Academy Award in 2010.

"Up comes this nice bottom part with three dead orchids on it and note that said 'Die, bitch. Love, Meryl.'"

So Bullock was determined to get her back.

Streep may be one of the greatest actresses, but she's also known for her sense of humor, which means Bullock may be speaking the truth.